Model Information: This MDC Roundhouse body style models a 50 Foot Hi-Cube Boxcar with a single plug door, riveted sides and no roofwalk. the model is reasonably close in detail to a typical Plate-F prototype boxcar such as is made by Greenbrier. The molds were acquired by Athearn/Horizon Hobbies in 2006 and are being re-released with upgrades (body-mount couplers and metal wheelsets) as of late (2017).
Prototype History
: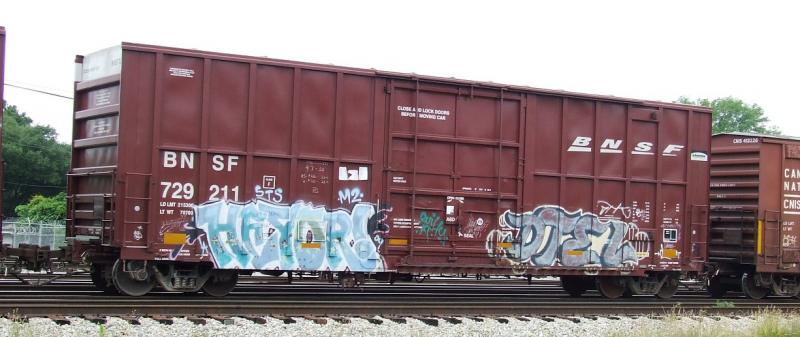 While the 40-foot boxcar was a standard design, and it did come in different setups depending on the type of freight being transported, it was not large enough for efficient mass commodity transportation. The 50-foot boxcar made its first appearance in the 1930s and steadily grew in popularity over the years, which further improved redundancies by allowing for even more space within a given car. Today, the 50-footer remains the common boxcar size. After the second world war ended, and steel became once again readily available, steel became the go-to choice for construction of boxcars. Pullman Standard and ACF were some of the most prolific builders of these cars.
In the 1960s, the flush, "plug" style sliding door was introduced as an option that provides a larger door to ease loading and unloading of certain commodities. The tight-fitting doors are better insulated and allow a car's interior to be maintained at a more even temperature.
The 50 foot hi-cube boxcar fleet is similar to a 50 foot standard car with an additional 2 feet of interior height. This is known as a "Plate F" boxcar. 50 foot Hi-Cube boxcars typically have a load capacity of 100 tons and are equipped with cushion underframes and plug doors. These cars are used primarily in rolled paper service as the extra height is needed to accommodate the larger rolls that are now commonplace. They can also be used for similar commodities handled in other 50' or 60' boxcars.
Road Name History
: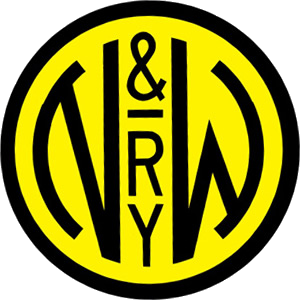 The Norfolk and Western Railway (reporting mark NW), was a US class I railroad, formed by more than 200 railroad mergers between 1838 and 1982. It was headquartered in Roanoke, Virginia, for most of its 150-year existence. Its motto was "Precision Transportation"; it had a variety of nicknames, including "King Coal" and "British Railway of America" even though the N&W had mostly articulated steam on its roster. During the Civil War, the N&W was the biggest railroad in the south and moved most of the products with their steam locomotives to help the South the best way they could.
NW was famous for manufacturing its own steam locomotives, which were produced at the Roanoke Shops, as well as its own hopper cars. Around 1960, NW became the last major American railroad to convert from steam locomotives to diesel motive power but didn't retire its last remaining Y class locomotives until 1964 and 1965. By 1965, steam on class I railroads was gone but steam wasn't gone on class II railroads until 1974 and class III and mining railroads retired their steam locomotives from their active roster until 1983. By 1983, steam in America on class I, II, III, and mining railroads had finally closed the chapter on America's 150 years of steam from 1830 - 1983.
In December 1959, NW merged with the Virginian Railway (reporting mark VGN), a longtime rival in the Pocahontas coal region. By 1970, other mergers with the Nickel Plate Road and Wabash formed a system that operated 7,595 miles (12,223 km) of road on 14,881 miles (23,949 km) of track from North Carolina to New York and from Virginia to Iowa.
In 1980, NW teamed up with the Southern Railway, another profitable carrier and created the Norfolk Southern Corporation holding company by merging its business operations with the business operations of the Southern Railway. The NW and the Southern Railway continued as separate railroads now under one holding company.
On December 31, 1990, the Southern Railway was renamed "Norfolk Southern Railway" to reflect the Norfolk Southern Corporation and on the same day, the renamed Norfolk Southern Railway gained full control of the Norfolk and Western Railway with the Norfolk and Western being transferred from the holding company to the renamed Norfolk Southern Railway, this began the final years of Norfolk and Western which was absorbed into the renamed Norfolk Southern Railway seven years later in 1997 (1990 to 1997 the Norfolk and Western continued operating by using paper operations).
In 1997 during the Conrail battle with CSX, Norfolk Southern Corporation's principal railroad, the renamed Norfolk Southern Railway, absorbed the Norfolk and Western Railway into their rail system, ending the existence of the Norfolk and Western Railway and having the renamed Norfolk Southern Railway becoming the only railroad in the entire Norfolk Southern system after that.
Brand/Importer Information
:

MDC Roundhouse was founded in California in 1938 and relocated in 1993 to Carson City, Nevada due to statewide restrictions on painting. MDC Roundhouse was a producer of both RTR (Ready-to-Run) and kit versions of N Scale rolling stock as well as RTR locomotives. They entered the N scale market in 1979 with a Thrall Hi-Side Gondola and a Hi-Cube Single Door Box Car. MDC Roundhouse was purchased by Horizon Hobbies in June of 2004, when its owner since 1938 C. H. Menteer retired, and merged into their Athearn line.
Unlike many of their contemporaries which contracted with European firms to produce their products, MDC made their own toolings. They made several popular body styles and produced them for road names that many other vendors (even Micro-Trains) wouldn't touch. This made them popular with modelers. Also, their un-assembled "kits" permitted a lower price point so they were popular with "runners" as well as "modelers".
Of particular interest was the attention given to modern 50 foot steel boxcars. They made some attempt to accurately mold the differences into distinct models to represent each of the major prototype manufacturers products. They have distinct toolings not only for the different products from FMC, BFF and PS, but also multiple models for each of these manufacturers including "standard" vs "Youngstown" doors and "waffle" vs. "rib" sides. In total they produced 13 different versions of the 50 foot steel boxcar.
Item created by:
gdm
on 2016-12-08 11:38:42. Last edited by
baggedbird
on 2023-06-25 18:17:21
If you see errors or missing data in this entry, please feel free to
log in
and edit it. Anyone with a Gmail account can log in instantly.