Model Information: This model was introduced in 1971 in kit form for four different road names. It was produced in Atlas' New Jersey factory and it served to replace the Roco made models that they had started importing in 1967. By 1977, the model was being produced in RTR (Ready-to-Run) form with new product numbers and two new road names. The original model was equipped with Rapido couplers and the ubiquitous Nickel-Silver plated wheels. This release comprised four more road names. In the 1990s, the tooling was moved to China for the more recent releases which sport injection-molded plastic wheels and Accumate couplers.
Prototype Description: 40' stock cars with its steel roof and ends were a common sight in the 1940s and 1950s.
Road Name History
: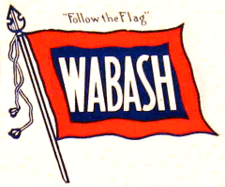 Wabash was the product of an 1889 restructuring (under the leadership of Jay Gould) of several railroads centered around the Wabash St. Louis & Pacific. Wabash was unusual in that it evenly straddled the border between "eastern railroads" and railroads west of the Chicago-St.Louis-Memphis-New Orleans border. In the west, Wabash connected Kansas City, Omaha and Des Moines. Heading east from those points, Wabash reached St. Louis, Decatur, and Chicago. Then, clearly in the eastern territory, Wabash reached Fort Wayne, Detroit, Toledo and finally Buffalo. Total length was about 2500 miles. The Detroit to Buffalo line cut though southern Ontario, Canada on Canadian National trackage rights. That route also required a car float operation across the Detroit River. As a result, Wabash's Buffalo traffic was a fraction of that of competitors Nickel Plate and New York Central. However, Wabash's Detroit-Kansas City and Detroit-St. Louis service was a force to be reckoned with and well patronized by Michigan's automakers. The Wabash Cannonball was the name of the daytime passenger run between Detroit and St. Louis. The song of the same name was a hit long before it was ever applied to the train itself. Wabash bought control of the Ann Arbor in 1925 and soon after, Wabash and Delaware & Hudson jointly bought control of the Lehigh Valley (Wabash's principle connection in Buffalo.) This got the attention of the Pennsylvania Railroad who bought control of Wabash under the auspices of their "Pennsylvania Company" subsidiary in 1928.
As PRR planned their merger with New York Central, it became obvious that they could not take Wabash with them. The first step was to transfer control of Ann Arbor from Wabash to Detroit Toledo & Ironton (also in the Pennsylvania Company family.) Up to that point, Ann Arbor was routinely included in the official Wabash system map. Then PRR arranged for Wabash to be included in the Norfolk & Western-Nickel Plate-Pittsburgh & West Virginia merger that was being planned. PRR didn't overtly control the N&W but they did have considerable influence over them. The deal was made and the new, larger Norfolk & Western leased the Wabash for 50 years in October of 1964. At that point, Wabash became a paper railroad. They were finally merged out of existence by N&W successor Norfolk Southern in the 1990s.
Brand/Importer Information
: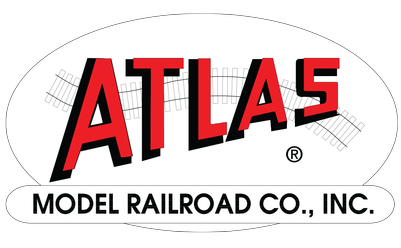 In 1924 Stephan Schaffan, Sr. founded the Atlas Tool Company in Newark, New Jersey. In 1933 his son, Stephan Schaffan, Jr., came to work for his father at the age of sixteen. Steve Jr. built model airplanes as a hobby and frequented a local hobby shop. Being an enterprising young man, he would often ask the owner if there was anything he could do to earn some extra spending money. Tired of listening to his requests, the hobby-store owner threw some model railroad track parts his way and said, "Here, see if you can improve on this".
In those days, railroad modelers had to assemble and build everything from scratch. Steve Jr. created a "switch kit" which sold so well, that the entire family worked on them in the basement at night, while doing business as usual in the machine shop during the day.
Subsequently, Steve Jr. engineered the stapling of rail to fiber track, along with inventing the first practical rail joiner and pre-assembled turnouts and flexible track. All of these products, and more, helped to popularize model railroading and assisted in the creation of a mass-market hobby. The budding entrepreneur quickly outgrew the limitations of a basement and small garage operation. Realizing they could actually make a living selling track and related products, Steve and his father had the first factory built in Hillside, New Jersey at 413 Florence Avenue in 1947. On September 30, 1949, the Atlas Tool Company was officially incorporated as a New Jersey company.
In 1985, Steve was honored posthumously for his inventions by the Model Railroad Industry Association and was inducted into the Model Railroad Industry Hall of Fame in Baltimore, Maryland. In addition, Steve was nominated and entered into the National Model Railroad Association Pioneers of Model Railroading in 1995.
In the early 1990s, the Atlas Tool Company changed its name to
Atlas Model Railroad Company, Inc.
Manufacturer Information: 'Atlas Model Railroad' represents the New Jersey manufacturing facility for Atlas brand model railroad products. Atlas also imported European made models in their early years and those items will be noted as having manufacturers set appropriately. In the 1990s Atlas moved all their toolings to China.
Item created by:
gdm
on 2017-01-20 11:04:56. Last edited by
gdm
on 2020-07-24 07:28:55
If you see errors or missing data in this entry, please feel free to
log in
and edit it. Anyone with a Gmail account can log in instantly.