Specific Item Information: Limited edition - one time run of these car numbers In service 1990s to the present Carries 20', 40' & 48' containers in well and up tp 53' containers stacked Operated as stand-alone and five-unit cars Die cast metal body for maximum weight & outstanding performance Accumate(R) trucks and knuckle couplers Add Walthers SceneMaster(TM) 40' (#949-8800 series) & 48' Containers (#949-8840 series) for more realism, both available separately.
Model Information: Model introduced by the end of the 1990's (single cars and 5-articulated car sets). These ready-to-run models feature authentically painted die-cast metal bodies for maximum weight and performance. Cars come equipped with free-rolling trucks.
Prototype History
: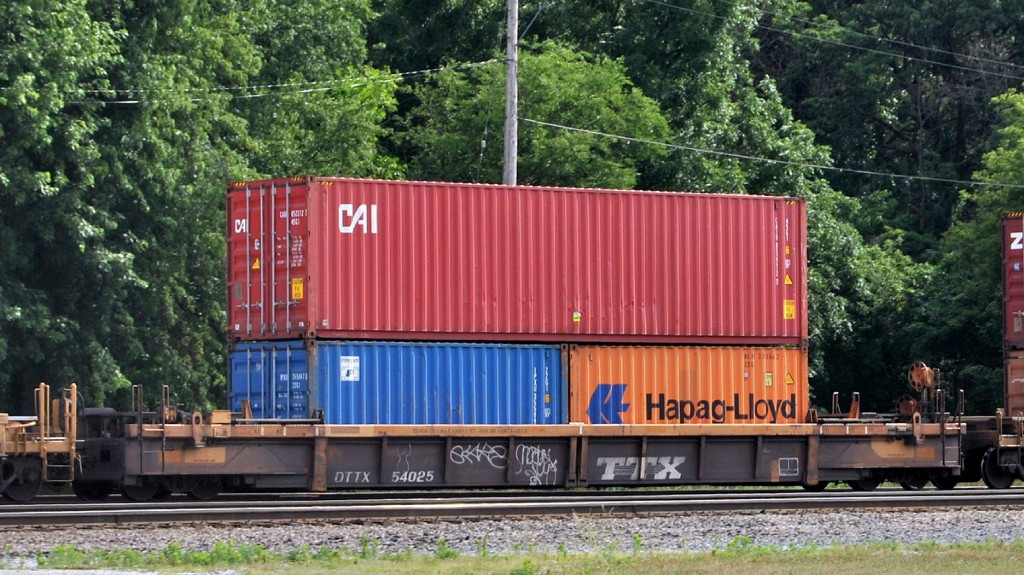 Gunderson cars were selling like crazy. So well in fact that Gunderson couldn't keep up with the orders. Thrall wanted in on the business, but couldn't use Gunderson's proprietary design, so they came up with their LoPac 2000 low sided container car. The distinctive rib sides of the Thrall are a ready spotting feature that Thrall cars carry to this day. The Thrall cars were designed to take a 40 foot container in the bottom and a forty footer on top. Some of the cars were equipped with hard points to attach 2 20 footers in each well. All were able to carry a 40, 45, or 48 foot container in the upper position, once the use of IBC's (Inter Box Connectors) became common practice.
The LoPacs were contemporaries of the Twinstack, and sales efforts between the two companies were fevered. The Thrall group reached the lucrative APL company with their car, and snagged a number of sales. They made two distinct versions of the car for APL, and then sold them to other entities. The first was a "normal" well car for use with dry box containers. The second version was a powered version specifically designed to carry reefers. The car was colored red and a generator was mounted at one end. Extension cords were strung from the generator to each individual container to provide power to the reefer units mounted there. The Thrall braking arrangement on this car is the same as the Gunderson on the twinstack- one brakewheel at the B end. In later versions, there is a brakewheel painted orange at both the A and the B end. This arrangement indicates the longer 48 foot wells and dual braking system installed on the more recent production. Thrall has remained a force in Intermodal railroading with their more recent all purpose well car, continued 5 unit production, and many many spine cars. Their most recent product in the intermodal world is a three unit car capable of carrying 53 foot containers in the upper and lower positions of each well.
Road Name History
: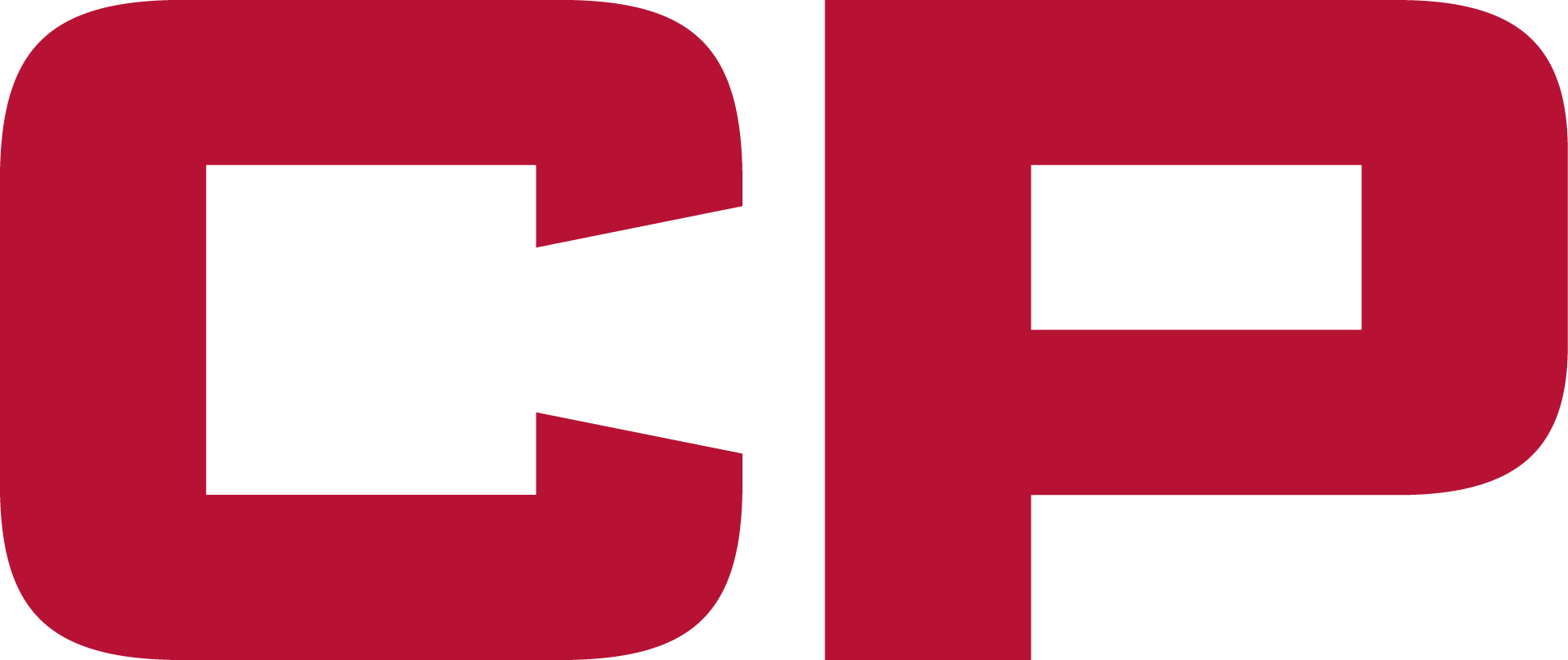 The Canadian Pacific Railway (CPR), formerly also known as CP Rail (reporting mark CP) between 1968 and 1996, is a historic Canadian Class I railroad incorporated in 1881. The railroad is owned by Canadian Pacific Railway Limited (TSX: CP, NYSE: CP), which began operations as legal owner in a corporate restructuring in 2001.
Headquartered in Calgary, Alberta, it owns approximately 23,000 kilometres (14,000 mi) of track all across Canada and into the United States, stretching from Montreal to Vancouver, and as far north as Edmonton. Its rail network also serves major cities in the United States, such as Minneapolis, Milwaukee, Detroit, Chicago, and New York City.
The railway was originally built between Eastern Canada and British Columbia between 1881 and 1885 (connecting with Ottawa Valley and Georgian Bay area lines built earlier), fulfilling a promise extended to British Columbia when it entered Confederation in 1871. It was Canada's first transcontinental railway, but currently does not reach the Atlantic coast. Primarily a freight railway, the CPR was for decades the only practical means of long-distance passenger transport in most regions of Canada, and was instrumental in the settlement and development of Western Canada. The CP became one of the largest and most powerful companies in Canada, a position it held as late as 1975. Its primary passenger services were eliminated in 1986, after being assumed by Via Rail Canada in 1978. A beaver was chosen as the railway's logo because it is the national symbol of Canada and was seen as representing the hardworking character of the company.
The company acquired two American lines in 2009: the Dakota, Minnesota and Eastern Railroad and the Iowa, Chicago and Eastern Railroad. The trackage of the ICE was at one time part of CP subsidiary Soo Line and predecessor line The Milwaukee Road. The combined DME/ICE system spanned North Dakota, South Dakota, Minnesota, Wisconsin, Nebraska and Iowa, as well as two short stretches into two other states, which included a line to Kansas City, Missouri, and a line to Chicago, Illinois, and regulatory approval to build a line into the Powder River Basin of Wyoming. It is publicly traded on both the Toronto Stock Exchange and the New York Stock Exchange under the ticker CP. Its U.S. headquarters are in Minneapolis.
After close of markets on November 17, 2015, CP announced an offer to purchase all outstanding shares of Norfolk Southern Railway, at a price in excess of the US$26 billion capitalization of the United States-based railway. If completed, this merger of the second and fourth oldest Class I railroads in North America would have formed the largest single railway company on that continent, reaching from the Pacific coast to the Atlantic coast to the Gulf Coast. The merger effort was abandoned by Canadian Pacific on April 11, 2016, after three offers were rejected by the Norfolk Southern board.
Read more on
Wikipedia
and on
Canadian Pacific official website
.
Brand/Importer Information
:

Wm. K. Walthers, Inc., was founded in Milwaukee in 1932 -- but really, it started years earlier, when seven-year-old Bill Walthers got his first taste of the hobby with a small, wind-up toy train for Christmas. He continued with the hobby and eventually had an attic layout comprised primarily of his own scratch-built creations. After he wrote a series of articles on building train control and signaling systems, he got so many letters from other modelers that he began manufacturing them. The first ad (in the May issue of The Model Maker) offered a 24-page, 15c catalog that listed rail, couplers, and electrical supplies. Sales were over $500.00 for the first year, and the fledgling company was off to a strong start.
Within five years, Walthers had grown so much that larger quarters were needed. Space was found on Erie Street, where everything -- from milled wood parts to metal castings to decals -- was made in-house. 1937 also saw a new line in HO Scale, featured in its own catalog. Bill brought operating layouts to the 1939 World's Fair, which gave the hobby a big boost. Soon, though, the growing possibility of war overshadowed these successes, and supplies were becoming increasingly difficult to obtain.
During the war, model manufacturers were ordered to stop production in order to conserve critical metal supplies. Walthers produced what it could from nonessential materials. A series of ads in 1943 saw Bill literally scraping the bottom of a barrel! The postwar boom meant rapid growth for the hobby; however, small homes and new families left no room for O scale layouts, and many modelers moved to HO Scale.
The next twenty years brought great change. In 1958, Bill retired and his son Bruce took over. Just as full-size railroads were being hard-hit by new technology, so too were model railroads. Leisure time was spent in front of the TV set, not the train set. In 1960, Walthers became a full-line distributor of other manufacturers' products while continuing expansion of the Walthers lines. By the start of the 1970's, business was booming again, and Bruce's son Phil joined the company.
Expansion and diversification continue under Phil's tenure. The establishment of the Walthers Importing Division added several international lines. The manufacturing plant was modernized. Code 83 track was introduced in 1985, giving layouts more realistic proportions. In 1990, the Cornerstone Series buildings were unveiled. Combining a freight car with a related industry, the Cornerstone Series makes it possible for modelers to duplicate authentic operations, enhancing layout realism. The Train Line Deluxe Sets and locomotives debuted in 1994. These sets feature the detailing of serious models and an affordable price -- allowing newcomers to get started, and then build-on to their first set, rather than replacing it.
In 2005, Walthers purchased Life-Like from Lifoam Industries. With this purchase Walthers acquired the Proto Lines that have become the backbone of their locomotive and rolling stock segments.
Today, Walthers continues to expand, improve and develop a wide range of products. Their latest selection can be found throughout
Walthers.com
and their printed catalogs, along with items from over 300 other manufacturers.
In December 2017,
Lowell Smith announced
the 'purchase of tooling' of the Walthers line of N Scale passenger cars (sleeper, coach and baggage cars), and in June 2018,
Atlas announced
that it will purchase all N scale locomotive and rolling stock tooling owned by Walthers, including the Walthers N tooling as well as former Life-Like tooling. This divestment puts an end to Walthers involvement as a manufacturer of N scale rolling-stock, though it will continue its range of N scale structures.
Item created by:
gdm
on 2017-01-27 08:30:46
If you see errors or missing data in this entry, please feel free to
log in
and edit it. Anyone with a Gmail account can log in instantly.