Specific Item Information: Limited edition - one time run of these car numbers In service 1990s to the present Carries 20', 40' & 48' containers in well and up tp 53' containers stacked Operated as stand-alone and five-unit cars Die cast metal body for maximum weight & outstanding performance Accumate(R) trucks and knuckle couplers Add Walthers SceneMaster(TM) 40' (#949-8800 series) & 48' Containers (#949-8840 series) for more realism, both available separately
Model Information: Model introduced by the end of the 1990's (single cars and 5-articulated car sets). These ready-to-run models feature authentically painted die-cast metal bodies for maximum weight and performance. Cars come equipped with free-rolling trucks.
Prototype History
: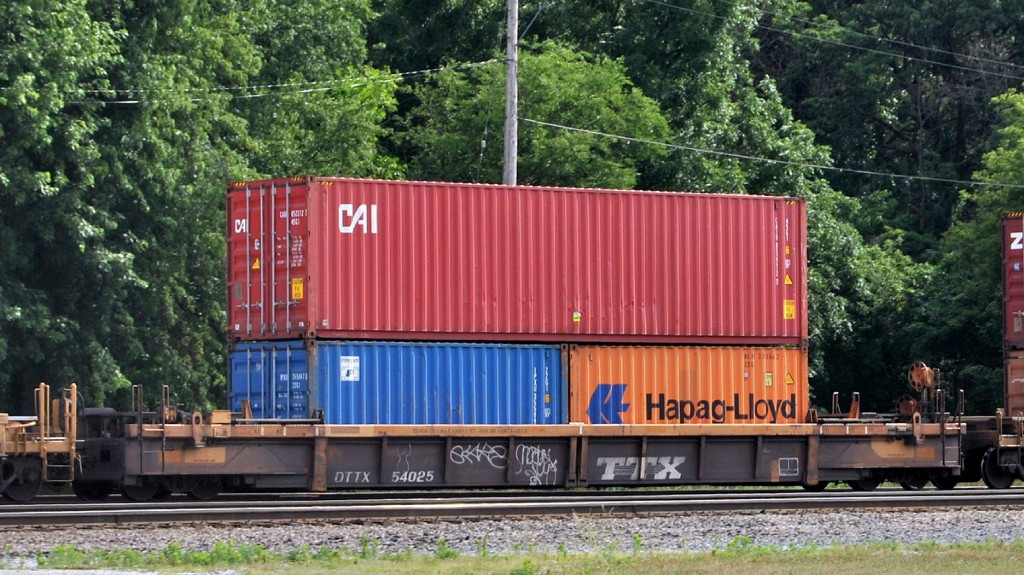 Gunderson cars were selling like crazy. So well in fact that Gunderson couldn't keep up with the orders. Thrall wanted in on the business, but couldn't use Gunderson's proprietary design, so they came up with their LoPac 2000 low sided container car. The distinctive rib sides of the Thrall are a ready spotting feature that Thrall cars carry to this day. The Thrall cars were designed to take a 40 foot container in the bottom and a forty footer on top. Some of the cars were equipped with hard points to attach 2 20 footers in each well. All were able to carry a 40, 45, or 48 foot container in the upper position, once the use of IBC's (Inter Box Connectors) became common practice.
The LoPacs were contemporaries of the Twinstack, and sales efforts between the two companies were fevered. The Thrall group reached the lucrative APL company with their car, and snagged a number of sales. They made two distinct versions of the car for APL, and then sold them to other entities. The first was a "normal" well car for use with dry box containers. The second version was a powered version specifically designed to carry reefers. The car was colored red and a generator was mounted at one end. Extension cords were strung from the generator to each individual container to provide power to the reefer units mounted there. The Thrall braking arrangement on this car is the same as the Gunderson on the twinstack- one brakewheel at the B end. In later versions, there is a brakewheel painted orange at both the A and the B end. This arrangement indicates the longer 48 foot wells and dual braking system installed on the more recent production. Thrall has remained a force in Intermodal railroading with their more recent all purpose well car, continued 5 unit production, and many many spine cars. Their most recent product in the intermodal world is a three unit car capable of carrying 53 foot containers in the upper and lower positions of each well.
Road Name History
:

TTX Company (formerly Trailer Train until 1991) is a leading provider of railcars and related freight car management services to the North American rail industry. TTX's pool of railcars (over 220,000 cars and intermodal wells) is ideal for supporting shippers in the intermodal, automotive, paper & forest, metals, machinery, wind energy and other markets where flatcars, boxcars and gondolas are required.
Owned by North America's leading railroads, TTX's free-running pools provide fungible assets that minimize total empty miles, further lowering costs and minimizing risk for the industry, helping the railroads conserve their capital for other critical infrastructure needs. Customers easily recognize TTX's bright yellow cars as a consistent, high quality, well-maintained fleet that serves many transportation needs.
Brand/Importer Information
:

Wm. K. Walthers, Inc., was founded in Milwaukee in 1932 -- but really, it started years earlier, when seven-year-old Bill Walthers got his first taste of the hobby with a small, wind-up toy train for Christmas. He continued with the hobby and eventually had an attic layout comprised primarily of his own scratch-built creations. After he wrote a series of articles on building train control and signaling systems, he got so many letters from other modelers that he began manufacturing them. The first ad (in the May issue of The Model Maker) offered a 24-page, 15c catalog that listed rail, couplers, and electrical supplies. Sales were over $500.00 for the first year, and the fledgling company was off to a strong start.
Within five years, Walthers had grown so much that larger quarters were needed. Space was found on Erie Street, where everything -- from milled wood parts to metal castings to decals -- was made in-house. 1937 also saw a new line in HO Scale, featured in its own catalog. Bill brought operating layouts to the 1939 World's Fair, which gave the hobby a big boost. Soon, though, the growing possibility of war overshadowed these successes, and supplies were becoming increasingly difficult to obtain.
During the war, model manufacturers were ordered to stop production in order to conserve critical metal supplies. Walthers produced what it could from nonessential materials. A series of ads in 1943 saw Bill literally scraping the bottom of a barrel! The postwar boom meant rapid growth for the hobby; however, small homes and new families left no room for O scale layouts, and many modelers moved to HO Scale.
The next twenty years brought great change. In 1958, Bill retired and his son Bruce took over. Just as full-size railroads were being hard-hit by new technology, so too were model railroads. Leisure time was spent in front of the TV set, not the train set. In 1960, Walthers became a full-line distributor of other manufacturers' products while continuing expansion of the Walthers lines. By the start of the 1970's, business was booming again, and Bruce's son Phil joined the company.
Expansion and diversification continue under Phil's tenure. The establishment of the Walthers Importing Division added several international lines. The manufacturing plant was modernized. Code 83 track was introduced in 1985, giving layouts more realistic proportions. In 1990, the Cornerstone Series buildings were unveiled. Combining a freight car with a related industry, the Cornerstone Series makes it possible for modelers to duplicate authentic operations, enhancing layout realism. The Train Line Deluxe Sets and locomotives debuted in 1994. These sets feature the detailing of serious models and an affordable price -- allowing newcomers to get started, and then build-on to their first set, rather than replacing it.
In 2005, Walthers purchased Life-Like from Lifoam Industries. With this purchase Walthers acquired the Proto Lines that have become the backbone of their locomotive and rolling stock segments.
Today, Walthers continues to expand, improve and develop a wide range of products. Their latest selection can be found throughout
Walthers.com
and their printed catalogs, along with items from over 300 other manufacturers.
In December 2017,
Lowell Smith announced
the 'purchase of tooling' of the Walthers line of N Scale passenger cars (sleeper, coach and baggage cars), and in June 2018,
Atlas announced
that it will purchase all N scale locomotive and rolling stock tooling owned by Walthers, including the Walthers N tooling as well as former Life-Like tooling. This divestment puts an end to Walthers involvement as a manufacturer of N scale rolling-stock, though it will continue its range of N scale structures.
Item created by:
gdm
on 2017-01-27 08:33:22
If you see errors or missing data in this entry, please feel free to
log in
and edit it. Anyone with a Gmail account can log in instantly.