Specific Item Information: This is one of the very first B&M N scale items produced. This box car was marketed by Revell here in the U.S. and manufactured by Arnold-Rapido. Other than the English Lone Star Treble-O-Lectric B&M box car this may very well be the earliest N scale B&M rolling stock ever produced This particular model is variation 1 of this car, with non-detailed metal underframe and cast on roofwalk and brake wheel, was manufactured during the 1960-1964 time frame. Detailing is pretty poor by today's standards and tolerances are a bit loose. Apparently this car has the general appearance on a 1937 AAR Standard box car, I can't really attest to that but most N scale rolling stock produced until the 1980s really only loosely matched any real prototype. Typically companies would simply offer the same old car in a different paint scheme or road name rather than further improve authenticity by investing in new tooling to produce a more accurate model. I'm not bothered by it, at that time major manufacturers just seemed to focus on producing at least one model of each major type of North American rolling stock (i.e. 40 / 50 ft box car, tank car, caboose, gondola, flat car, open / covered hopper) you get the picture.
Model Information: Arnold released this car in 1960. There has been several versions over years.

The early version came with two different underframes and its roofwalk was molded-on. From 1960 through about 1964, this car was part of the "Rapido 200" series and used metal trucks, huge plastic wheels and "Metal Hook" couplers; this early version shows a slot in the sides of the car where the shell is held in place on the underframe. In 1964, they switched to conventional Rapido couplers mounted on plastic trucks with metal wheels.
Arnold changed the body in 1969 to have a different door (looks more like a PS-1 now), different miscellaneous details and a separately glued on roofwalk.

The cars have also been imported by Walthers and Revell. They have not been made since Arnold closed their doors in 2005.
Prototype History
: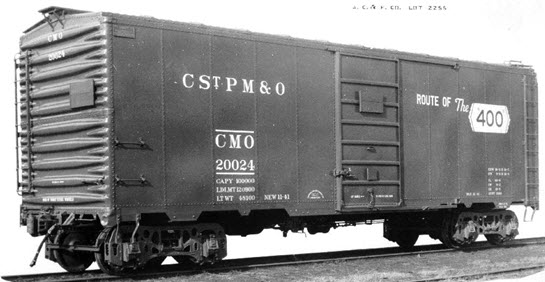 The Association of American Railroads had been establishing design standards for freight cars since the early part of the century. Each new design standard meant higher capacity, lighter, more durable cars.
The Modified 1937 AAR boxcar design was a result of the industries continued search for more freight volume per carload. The real first attempt at a standardized design had been the 1932 ARA steel boxcar with an inside height of 9'-4" . In 1936 the board of the AAR approved the 1937 AAR design with a 10'-0" inside height. This became a standard throughout the industry.
Road Name History
: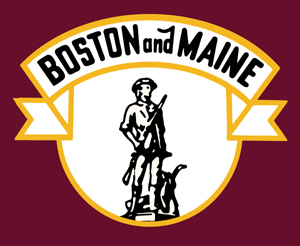 The Andover and Wilmington Railroad was incorporated March 15, 1833, to build a branch from the Boston and Lowell Railroad at Wilmington, Massachusetts, north to Andover, Massachusetts. The line opened to Andover on August 8, 1836. The name was changed to the Andover and Haverhill Railroad on April 18, 1837, reflecting plans to build further to Haverhill, Massachusetts (opened later that year), and yet further to Portland, Maine, with the renaming to the Boston and Portland Railroad on April 3, 1839, opening to the New Hampshire state line in 1840.
The Boston and Maine Railroad was chartered in New Hampshire on June 27, 1835, and the Maine, New Hampshire and Massachusetts Railroad was incorporated March 12, 1839, in Maine, both companies continuing the proposed line to South Berwick, Maine. The railroad opened in 1840 to Exeter, New Hampshire, and on January 1, 1842, the two companies merged with the Boston and Portland to form a new Boston and Maine Railroad.
The B&M flourished with the growth of New England's mill towns in the late 19th and early 20th centuries, but still faced financial struggles. It came under the control of J. P. Morgan and his New York, New Haven and Hartford Railroad around 1910, but anti-trust forces wrested control back. Later it faced heavy debt problems from track construction and from the cost of acquiring the Fitchburg Railroad, causing a reorganization in 1919.
By 1980, though still a sick company, the B&M started turning around thanks to aggressive marketing and its purchase of a cluster of branch lines in Connecticut. The addition of coal traffic and piggyback service also helped. In 1983 the B&M emerged from bankruptcy when it was purchased by Timothy Mellon's Guilford Transportation Industries for $24 million. This was the beginning of the end of the Boston & Maine corporate image, and the start of major changes, such as the labor issues which caused the strikes of 1986 and 1987, and drastic cost cutting such as the 1990 closure of B&M's Mechanicville, New York, site, the largest rail yard and shop facilities on the B&M system.
Guilford Rail System changed its name to Pan Am Railways in 2006. Technically, Boston & Maine Corporation still exists today but only as a non-operating ward of PAR. Boston & Maine owns the property (and also employs its own railroad police), while Springfield Terminal Railway, a B&M subsidiary, operates the trains and performs maintenance. This complicated operation is mainly due to more favorable labor agreements under Springfield Terminal's rules.
Read more on
Wikipedia
.
Brand/Importer Information
: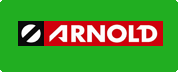 Founded in 1906 by Karl Arnold in Nuernberg, K. Arnold & Co. began its life producing tin toys and related items. They produced an extensive line of model ships, doll house items and other toys. In 1935, K. Arnold & Co. hired Max Ernst as their managing director. Ernst, not to be confused with the German realist artist of the same name, was a significant factor in the future of Arnold.
There are several distinct phases of Arnold's model train production. In the period of 1960 - 1962, Arnold marketed the Arnold Rapido 200 product line; this line was very crude yet it also was a sensation because of its much smaller size than TT.
The next phase was from 1963-1967, when the rapido product line begins to swing toward scale representations of the trains. It is during this period that the "Rapido Coupler" comes into production, beginning its widespread use by all model train manufacturers in N-Scale. It was in 1964 that the term "N-Scale" came into use. Between 1968 and 1970, rapido line of trains reached maturity, notably with its turntable and roundhouse. Arnold entered into a business relationship with the U.S. company Revell around 1968, beginning the marketing of Revell Rapido model trains. This relationship was marked by the beginning of production of more accurate North American prototype models by Arnold. This relationship continued for several years, ending in the late 1960s or early 1970s. Arnold continued their expanded production, with new models until the early 1990s.
On Max Ernst's 1976 retirement, Arnold employed perhaps 200 to 250 people, using three facilities in the Nurnberg area. The Company continued under family control until 1995, when Arnold went into bankruptcy and was sold to Rivarossi of Italy. Rivarossi, in turn, also went bankrupt, leading to the sale of all assets to Hornby of the United Kingdom. Production is carried out in China.
Item created by:
gdm
on 2017-03-02 13:08:28. Last edited by
gdm
on 2021-07-09 12:19:44
If you see errors or missing data in this entry, please feel free to
log in
and edit it. Anyone with a Gmail account can log in instantly.