Model Information: This car was first produced by Mehano in the late 1960s or early 1970s. It is essentially a knock-off of the Atlas/Roco 3-dome model from 1967. It was imported by MRC, Model Power and Life-Like. Life-Like later produced a Chinese knock-off of this car. Hence the Life-Like model is a knock-off of a knock-off. Meta-knockoff?
Prototype History
: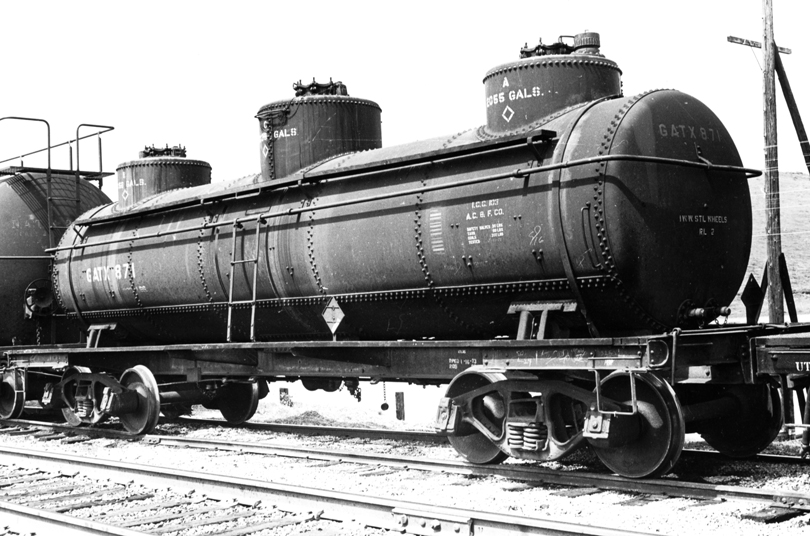 Triple Dome tank cars, while not as common as single-domes, are a railroad staple. They have been around since the first half of the 20th century.
The dome above tank cars serves as an expansion chamber as temperature affects the volume of any liquids contained within. With no dome, if the liquid did not 100% fill the tank, then it is possible for the liquid to slosh around inside the tank, causing instability and increasing the possibility of a derailment. The dome allows the tank to be slightly overfilled so that should the volume in the main section decrease due to colder temperatures or even a small leak, that there will still be sufficient liquid within to prevent sloshing. Similarly if temperature increases, the liquid can rise up inside the dome preventing excess pressure within the tank. While not as serious as an underfilled tank, an over-pressurized tank might present problems during unloading.
If you see
three
domes on a tank car it is because there are three separate compartments inside the tank car each containing a different liquid. This was desirable for many reasons.
Often times a delivery would consist of much less than a carload (LCL) of liquid. Remember the sloshing problem? So if you only had to fill a third of a tank with your commodity, then you can avoid the issue by using one of the three chambers within the tank car. Also, you might have several grades of a commodity to deliver such as unleaded, leaded and diesel fuel and you need them to be kept separate. Or you might be producing wine and you want your white wine kept separate from your red wine. Or maybe all three chambers had the same contents but were being delivered to three different customers. It can be very difficult to determine when one third of a single dome tank car has been discharged...
For all these reasons, three-dome tank cars were a common sight in the first half of the 20th century. However, with the rise of the interstate highway system and the modern trucking industry, LCL deliveries have primarily been accomplished with tanker trucks instead of tank cars and the three-dome tank car has gradually disappeared from the North American rail network.
Road Name History
: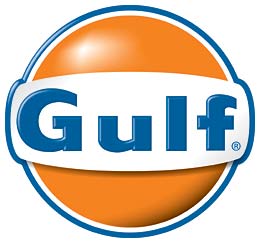 When the company that was to be known as Gulf was born in 1901 with an oil discovery in Spindletop, Texas, the primary commercial fuel was coal. By 1903, the age of mechanization had arrived and it was now up to the petroleum industry to keep pace, for the age could not proceed without it. Gasoline development, into which Gulf invested millions of dollars, responded to advances in automotive technology to make the modern motorcar possible. Within a dozen years of Spindletop, Gulf scored notable firsts with the world?s first drive-in service station, complimentary Gulf road maps and over water drilling at Ferry Lake. In 1917, the Gulfstream went into World War I service, along with the rest of Gulf's tanker fleet.
Gulf Oil, now headquartered in Wellesley Hills, Massachusetts was purchased by ArcLight Capital Partners, LLC, an industry leading Private Equity Sponsor, and has since merged with Petroleum Products Corporation. With an extensive distribution network, the company supplies motor fuels through 17 owned and operated terminals and more than 1,800 Gulf branded gas stations and service stations, as well as heating oil, diesel fuel, jet fuel and kerosene, across the East and Gulf Coasts. Through its highly diversified assets and experienced management team, Gulf plans to expand its footprint throughout the Gulf Coast and eventually through North America.
Brand/Importer Information
:

Life-Like Products LLC (now Life-Like Toy and Hobby division of Wm. K. Walthers) was a manufacturer of model railroad products and was based in Baltimore, Maryland.
It was founded in the 1950s by a company that pioneered extruded foam ice chests under the Lifoam trademark. Because ice chests are a summer seasonal item, the company needed a way to keep the factory operating year round. As model railroading was becoming popular in the post-war years, they saw this as an opportunity and so manufactured extruded foam tunnels for model trains. Over the years, Life-Like expanded into other scenery items, finally manufacturing rolling stock beginning in the late 1960s. At some point in the early 1970s, Life-Like purchased Varney Inc. and began to produce the former Varney line as its own.
The Canadian distributor for Life-Like products, Canadian Hobbycraft, saw a missing segment in market for Canadian model prototypes, and started producing a few Canadian models that were later, with a few modifications, offered in the US market with US roadnames.
In 2005, the company, now known as Lifoam Industries, LLC, decided to concentrate on their core products of extruded foam and sold their model railroad operations to Wm. K. Walthers.
In June 2018, Atlas and Walthers announced to have reached an
agreement
under which all Walthers N scale rolling stock tooling, including the former Life-Like tooling, will be purchased by Atlas.
Read more on
Wikipedia
and
The Train Collectors Association
.
Manufacturer Information
:

Mehano is a Slovenian toy manufacturer located in Izola, Slovenija. The company was founded as Mehanotehnika and was producing toys starting in June 1953. They first exhibited at the Nuerenberg Toy Fair in 1959. Mehano produced a number of different locomotives and rolling stock models for the North American market in the 1960s and 1970s. Companies such as Atlas and Life-Like imported a huge variety of their products. Generally they can easily be recognized as they are stamped "Yugosolavia" on the underframe. The company was formally renamed "Mehano" in 1990. Izola today is part of the country of Slovenia since the breakup of Yugoslavia.
Mehano filed for bankruptcy in 2008, but still continued to exist and operate. Since 2012, Mehano products are distributed by Lemke.
Item created by:
gdm
on 2017-03-29 09:41:30. Last edited by
CNW400
on 2020-06-09 12:11:49
If you see errors or missing data in this entry, please feel free to
log in
and edit it. Anyone with a Gmail account can log in instantly.