Model Information: Apparently dissatisfied with the Roco-produced 50 foot mech reefer from 1969, Atlas made a completely new tooling in 1975. This new version featured riveted sides (the Roco version had rib sides). The tooling was moved to China in the 1990s along with all their other molds and production. By December 2006, this tooling was a bit long in the tooth and Atlas reclassified the model and continued production under the Trainman® line.

Four of the early reefers in this sequence (3241, 3242, 3243 and 3244) do not seem to appear in any of the 1970s Atlas catalogs, but they definitely exist. Apparently Atlas was having some serious numbering issues with these reefers. The first four 3241..3244 (at least I think they were the first four) were assigned MPN's that had already been used for their Shorty Tank cars. Then they mis-numbered the 1978 catalog listings as 3551... which apparently was a catalog error, because no such reefers exist. Atlas finally settled on 3651... which is what *most* of the earliest releases used (the original 4 being the exception) and the 1980 catalog is corrected to reflect this. We believe the date of production for these cars was 1975.

This model was also repainted by several of the aftermarket redecorators including Aksarben and Bev-Bel.
Prototype History
: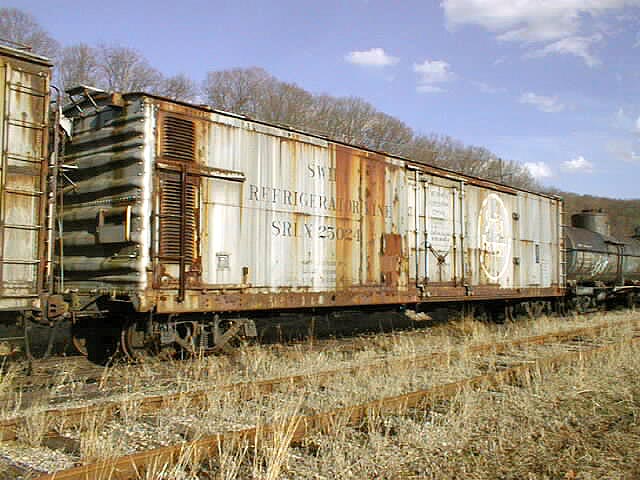 The purpose of a mechanical reefer is to keep perishable items cold. Early reefers were of all wood construction and used ice for cooling. By the 1940s, new reefers were being built entirely of steel. Insulating techniques improved to the point where economical refrigeration could be accomplished using steel side plates in place of wood sheathing. Fifty foot mechanical reefers date back to at least the late 50s / early 60s.
The mechanical reefers could keep a more regular temperature, and often times colder than what the ice bunker cars were capable of. Initially mechanical reefers were used primarily in frozen food service. This would soon change as mechanical refrigeration began to replace ice-based systems. Soon after, mechanical refrigeration units replaced the "armies" of personnel required to re-ice the cars.
Road Name History
:

Fruit Growers Express (FGE) was a railroad refrigerator car leasing company that began as a produce-hauling subsidiary of Armour and Company's private refrigerator car line. Its customers complained they were overcharged. In 1919 the Federal Trade Commission ordered the company's sale for anti-trust reasons. The company is now controlled by the CSX Corporation.
Incorporated on March 18, 1920 the firm took possession of 4,280 pieces of rolling stock, repairs shops at Alexandria, Virginia and Jacksonville, Florida, and numerous ice plants and other facilities scattered throughout the East Coast on May 1. By year's end, the Chicago and Eastern Illinois, New Haven, and Norfolk and Western railroads became major stockholders.
In order to compete with the Pacific Fruit Express and Santa Fe Refrigerator Despatch in the west, FGE and the Great Northern Railway formed the Western Fruit Express (WFE) on July 18, 1923, a move that added 3,000 cars to the equipment pool. By 1926, FGE had expanded its service into the Pacific Northwest and the Midwest through the WFE and the Burlington Refrigerator Express (BREX), its other partly owned subsidiary (formed in partnership with the Chicago, Burlington and Quincy Railroad (CB&Q) on May 1). That same year, FGE purchased 2,676 36-foot-long (11 m) reefers from the Pennsylvania Railroad.
In February, 1928 FGE formed the National Car Company as a subsidiary to service the meat transportation market. Customers included Kahns, Oscar Mayer, and Rath Packing.
From Wikipedia
Brand/Importer Information
:

Brooklyn Locomotive works is a hobby shop that is located in Manalapan, New Jersey. Pete A. Postel founded BLW in 1979. They specialize in N Scale although they claim to cover other scales as well. In addition to serving as a volume discounter with competitive pricing for N Scale hobbyists, Brooklyn Locomotive works also often works with various manufacturers to create their own line of branded special runs. These special runs are usually only available through their retail operation (online or storefront). They also worked for a limited time in the early 1980s as a custom decorator. They bought undecorated kits from Micro-Trains and painstakingly custom painted and decaled a series of cars for collectors.
Manufacturer Information: 'Atlas Model Railroad' represents the New Jersey manufacturing facility for Atlas brand model railroad products. Atlas also imported European made models in their early years and those items will be noted as having manufacturers set appropriately. In the 1990s Atlas moved all their toolings to China.
Commissioner Information
:
Brooklyn Locomotive Works
is a hobby shop, specialized in N-scale, located in Manalapan, New Jersey, that also sells on-line. BLW regularly commissions special runs.
The company was founded by Pete Postel who announced that he would retired by end of 2018. His brother Paul should continue the business from his own shop
Hogtrainz.com
.
Brooklyn Locomotive Works (BLW) released special runs from various manufacturers under its own brand until approx. the mid-1980s. Thereafter the special runs where sold under the manufacturer's name and denoted as special runs for BLW. Hence in this database, we assign the BLW brand in the former case, and the original manufacturer's brand in the latter.
Item created by:
gdm
on 2017-03-29 12:08:54. Last edited by
gdm
on 2021-02-10 16:19:22
If you see errors or missing data in this entry, please feel free to
log in
and edit it. Anyone with a Gmail account can log in instantly.