Specific Item Information: Fantasy model. CN never owned such locomotive type. Could pretend to be an Alco FPA-4, from far away.
Initially introduced in 3N version as ref. 034.
In catalog 1984-1989 (ref. 969)
Original price list in 1984: 3,150 Pesetas (ESP)
Model Information: Ibertren introduced this model somewhere around 1980. These models have a pretty strange mechanism. The frame consists of one piece of cast metal (contoured to follow the shape of the shell). The motor is attached to the rear truck and swivels right along with it on curves. All of the wheels on the rear truck are equipped with traction tires, so consequently all pick-up comes from the six wheels on the forward truck (with current ferried around via wires). The headlight is, amazingly enough, directional. Performance is not great. It's quite loud and pickup is iffy (not surprising, given all the traction tires).
Prototype History
: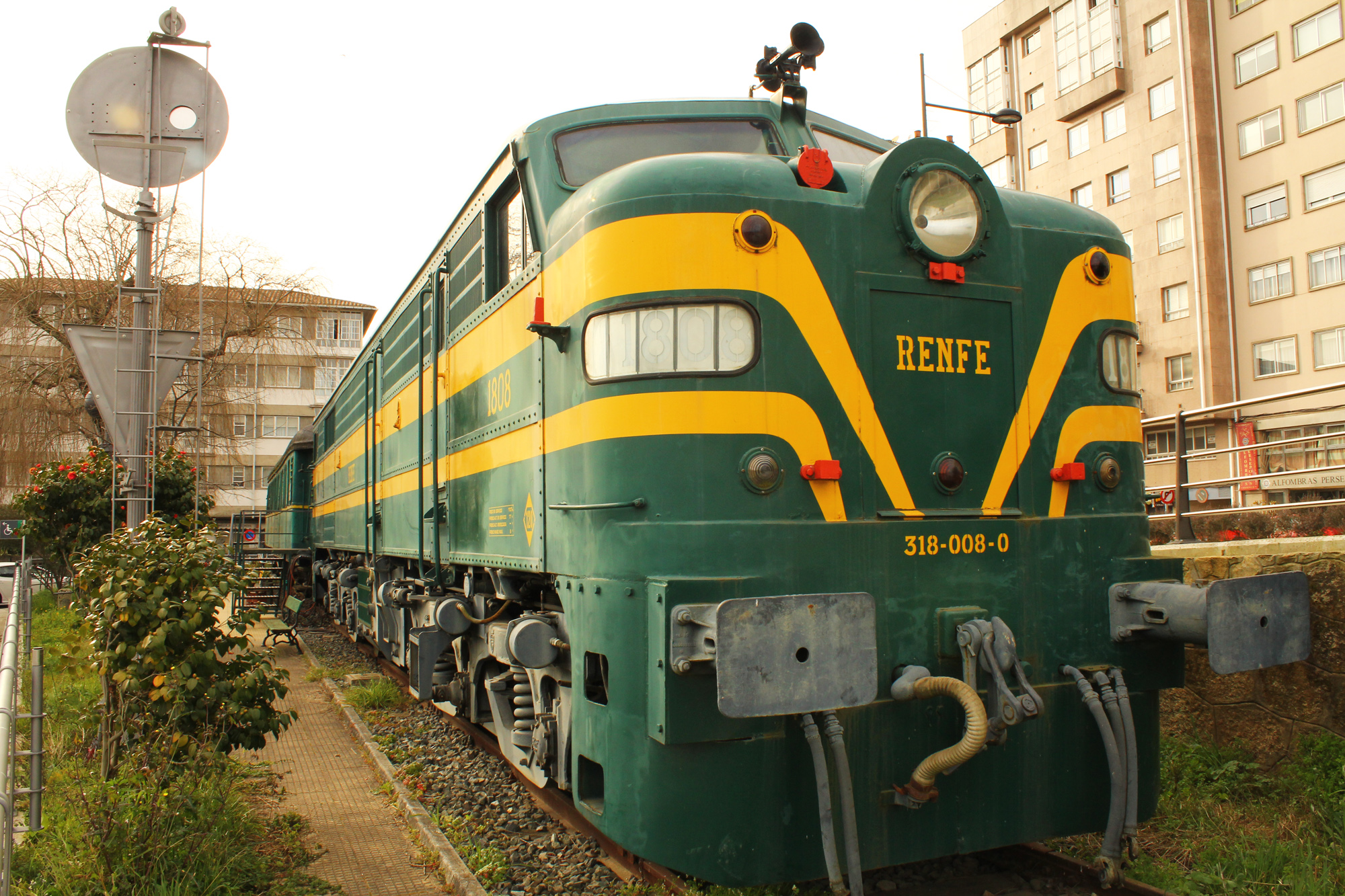 Alco "World Locomotive" DL-500 series, introduced in 1953, were designed for export markets. The first DL-500 originated as a newly designed demonstrator based on the FA-2. The first 25 DL-500s used the model 244 engine rated at 1,600 horsepower (1,200 kW). Later DL-500s were like the FPA-4 and utilize the Alco model 251B diesel engine as the prime mover and are rated at 1,800 horsepower (1,300 kW). All DL-500s were built with Co'Co' trucks, but B-B or paired A-1-A trucks were offered as an option. A total of 369 DL-500 locomotives were built by Alco, A. E. Goodwin (in Australia) and MLW between May 1953 and December 1967.
DL-500 locomotives were sold to Australia, Argentina, Greece, India, Iraq, Pakistan, Peru and Spain.
In Spain, Renfe ordered several versions of the Alco DL-500:
- Serie 316 (initially Serie 1600) - DL-500-A (FPD-5) - 1,600 hp (Alco 244) - Read more about Renfe Serie 316 (in Spanish) on
Wikipedia
and on
www.ferropedia.es
.
- Serie 318 (initially Serie 1800) - DL-500-C (FPD-7) - 1,800 hp (Alco 251 B) - Read more about Renfe Serie 318 (in Spanish) on
Wikipedia
and on
www.ferropedia.es
.
- Serie 321 (initially Serie 2100) - DL-500-S (FPD-9 ) - 2,180 hp (Alco 251 C), with two cabs - Read more about Renfe Serie 321 (in Spanish) on
Wikipedia
and on
www.ferropedia.es
.
Full list of Alco DL-500 export "World Locomotives" on
The Diesel Shop
.
Full Alco DL-500-B/C data sheet on
The Diesel Shop
.
Road Name History
:

The Canadian National Railway Company (reporting mark CN) is a Canadian Class I railway headquartered in Montreal, Quebec that serves Canada and the Midwestern and Southern United States. CN's slogan is "North America's Railroad". CN is a public company with 24,000 employees. It had a market capitalization of 32 billion CAD in 2011. CN was government-owned, having been a Canadian Crown corporation from its founding to its privatization in 1995. Bill Gates was, in 2011, the largest single shareholder of CN stock.
CN is the largest railway in Canada, in terms of both revenue and the physical size of its rail network, and is currently Canada's only transcontinental railway company, spanning Canada from the Atlantic coast in Nova Scotia to the Pacific coast in British Columbia. Its range once reached across the island of Newfoundland until 1988, when the Newfoundland Railway was abandoned.
Following CN's purchase of Illinois Central (IC) and a number of smaller US railways, it also has extensive trackage in the central United States along the Mississippi River valley from the Great Lakes to the Gulf of Mexico. Today, CN owns about 20,400 route miles (32,831 km) of track in 8 provinces (the only two not served by CN are Newfoundland & Labrador and Prince Edward Island), as well as a 70-mile (113 km) stretch of track (see Mackenzie Northern Railway) into the Northwest Territories to Hay River on the southern shore of Great Slave Lake; it is the northernmost rail line anywhere within the North American Rail Network, as far north as Anchorage, Alaska (although the Alaska Railroad goes further north than this, it is isolated from the rest of the rail network).
The railway was referred to as the Canadian National Railways (CNR) between 1918 and 1960, and as Canadian National/Canadien National (CN) from 1960 to the present.
Read more on
Wikipedia
.
Brand/Importer Information
:

Ibertrén is a model train manufacturer based in Barcelona, Spain. Ibertren started its business in 1973, as a subsidiary of Model-Iber. Its objective was the manufacture of toy trains to scale. It was intended to offer a quality toy that at the same time created public for rail modeling. In 1992, Model-Iber ceased its activity due to financial problems. The manufacture of Ibertren was stopped in that year, ending its first period. In 2004 the activity of the brand was resumed, dedicated to rail modeling directed to adults in scale H0 and abandoning completely the sector for youngsters. In 2008 the production of elements in scale 2N re-emerged. The company full name after relaunch is "Ibertrén Modelismo S.L.".
Ibertrén started producing N (1: 160) scale models, which they called 3N, with a dedicated 3rd-rail power pick-up. The system was not performing well and was also incompatible with the system commonly used by other manufacturers. It was finally abandoned in favor of the conventional N 2-rail power pick-up that Ibertrén called 2N that was introduced in the early 1980's.
Documentation including all catalogs and price lists from 1973 to 1992 can be found on
www.TrenMiniatura.es shared space
.
Item created by:
Alain LM
on 2017-07-09 09:42:21. Last edited by
Alain LM
on 2020-12-02 09:36:27
If you see errors or missing data in this entry, please feel free to
log in
and edit it. Anyone with a Gmail account can log in instantly.