Specific Item Information: Erie Railroad was early to adopt this design with the first cars arriving in 1934. This paint scheme featuring the large diamond logo was adopted in 1947. In addition to bituminous coal and anthracite traffic, Erie also moved a considerable amount of sand, stone and ore.
Model Information: Bluford Shops is proud to announce our fourth new body style in N scale for July 2017. Our new 2-Bay Offset Side hopper features a die cast slope sheet-hopper bay-center sill assembly; injection molded plastic sides, ends and hopper doors; fully molded brake tank, valve and air lines; body mounted brake hose detail; load; body mounted magnetically operating knuckle couplers; and Fox Valley Models metal wheel. Each road name will be available in multiple road numbers. MSRP is $24.95 per car.

A 2-bay hopper design with offset sides was first proposed in the 1920s and first appeared in the form seen here in 1934. The AAR adopted it as a standard design the following year. The offset design permitted greater interior capacity than a rib side car with the same outside dimensions. It was thought this more than made up for the car's higher cost of construction. The last new 2-bay offset side hoppers were built in 1960.

All road names are available in multiple road numbers. For instance, order a single, a 2-pack and a 3-pack to get all six road numbers on a run. (Some road names will be available in just three road numbers.)
Prototype History
: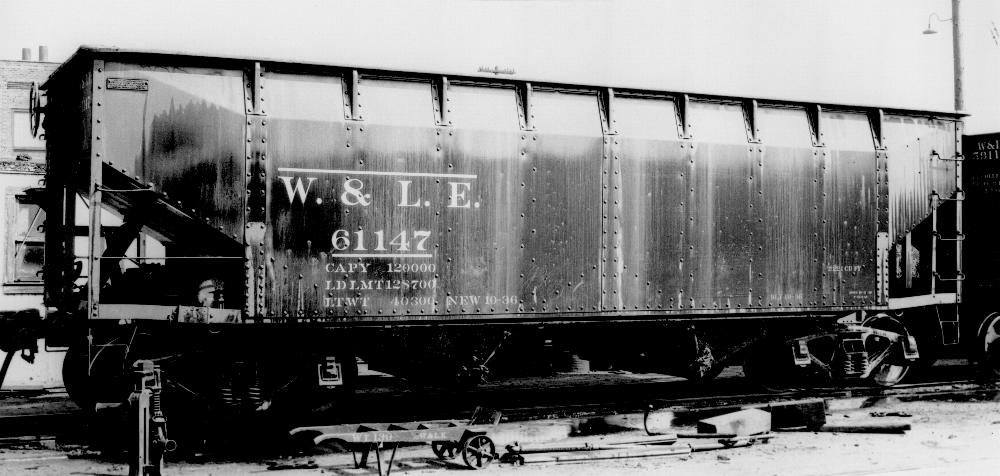 The late 1920s saw the introduction of the AAR standard "offset-side" 50- and 70-ton hoppers. The design went through several variations in the late 1920s and early 1930s before settling on two versions of the 50-ton car and one 3-bay, 70-ton car in 1935. Most roads went for the AAR standard designs, but the N&W, VGN, and Pennsy were notable holdouts. World War II brought the famous "war emergency" hoppers (only the N&W and MP bought the 70-ton version) and several composite versions of existing designs. After the war, AC&F found some brief success with a welded outside-stake hopper design, but the weld joints broke under the stress of loading and unloading rather than flexing like riveted joints. The offset-side design also had problems: the inside stakes were more prone to corrosion, and they suffered worse from loading and unloading stress than outside-staked hoppers. The design waned in the 1950s and was all but abandoned for new cars by 1960. Some roads (notably the C&O, the B&O, and the L&N) made the best of a bad situation by rebuilding their offset-side cars with all new outside-staked sides in the late 1950s and early 1960s.
Road Name History
: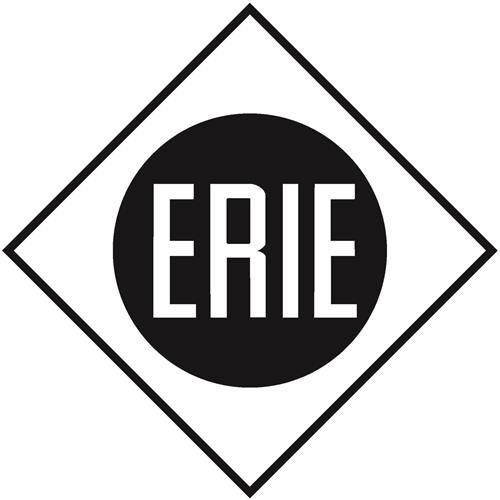 The Erie (the second railroad by that name) was formed in 1895 from the reorganization of the New York Lake Erie & Western which had cobbled together a Jersey City (across the Hudson from New York City) to Chicago route from the original Erie, the Chicago & Atlantic, Atlantic & Great Western and a few smaller lines. The route had been built to 6' gauge and had been standard gauged in 1880.
The New York – Chicago main was all double track with big rail. However, the mainline managed to miss every major city along the way. Binghamton, New York and Akron, Ohio were the biggest cities on the mainline between New York and Chicago. Buffalo, Rochester, Youngstown, Cleveland, Dayton, and Cincinnati were all at the end of branches from the mainline. Some said that "you could forget how much unpopulated land there was in the Northeast until you rode the Erie."
Erie and its predecessors were early victims of "robber barons" that saddled the company with debt that it would carry for over 100 years. The companies went bankrupt 3 times in the 19th Century and once during the Depression (in 1938, after most other lines ironically.) Erie promoted exclusively from within and management was rife with nepotism. It was called "Weary Erie", and "The Scarlet Woman of Wall Street."
Erie's steam fleet was varied although not terribly modern. The Erie passed through Pennsylvania's anthracite region so camelback locomotives were part of the mix. In fact Erie had the largest camelbacks ever built – 0-8-8-0's delivered in 1908. Erie was also one of only two roads to employ Triplexes, in this case with the 2-8-8-8-2 wheel arrangement. Their most modern steam consisted of heavy Berkshires delivered in 1929 when the company was under the influence of the Van Sweringen brothers who also controlled Nickel Plate, C&O, Pere Marquette and Hocking Valley. As a result, they dieselized fairly early primarily with EMD, and Alco road and passenger units and switchers from nearly every builder. Like future dance partner DL&W, Erie road switchers were setup for long-hood-forward operation.
Other than heavy commuter operations in New Jersey, passenger operations paled in comparison to other eastern trunk lines. Erie concentrated on freight. From about 1947 until 1955, the Erie was fairly healthy, although still paying way too much for debt service. They even paid dividends for much of this period. Quartets of F units dragged freights over 185 cars long across New York's scenic Southern Tier. Erie's big clearances (due to the original 6' track gauge) made Erie the go-to road for highly lucrative over-size loads. The Erie was much loved by communities along the line.
The mid-to-late 50s presented one disaster after another. Twin hurricanes damaged track (although not as bad as neighbor DL&W who really took it in the teeth), then strikes in the cement and steel industries cut traffic dramatically. Labor trouble in the tire center of Akron (where Erie was a major carrier) led to much of the tire industry leaving the area. Erie's net income fell in half the next year and then they began to lose money. Combining parallel routes and Jersey Shore terminals with the Lackawanna helped but not enough. In 1960, The Erie merged with the Delaware Lackawanna & Western. Here are Erie's stats in their final year: 2,215 route miles (about the same length as competitors Nickel Plate and Wabash); 484 diesels; 535 passenger cars; 20,028 freight cars.
Brand/Importer Information
:

Bluford Shops began in 2007 as a side project of two model railroad industry veterans, Craig Ross and Steve Rodgers. They saw a gap between road names available on N scale locomotives but not available on cabooses. They commissioned special runs of Atlas cabooses in Atlantic Coast Line, Central of Georgia, Monon, Boston & Maine and Southern plus runs on Grand Trunk Western and Central Vermont on the MDC wooden cabooses. While these were in process, they began to develop their first all new tooling project, 86' Auto Parts Boxcars in double door and quad door editions in N scale. By January of 2008, Bluford Shops became a full time venture. Along with additional N scale freight cars and their own tooling for new cabooses, they have brought their own caboose line to HO scale. They also have their popular Cornfields in both HO and N. The future looks bright as they continue to develop new products for your railroad.
The town of Bluford in southern Illinois featured a small yard on Illinois Central's Edgewood Cutoff (currently part of CN.) The yard included a roundhouse, concrete coaling tower (which still stands) and large ice house. Reefer trains running between the Gulf Coast and Chicago were re-iced in Bluford. Things are more quiet now in Bluford with the remaining tracks in the yard used to stage hoppers for mines to the south and store covered hoppers. Intersecting the IC line in Bluford is Southern Railway's (currently NS) line between Louisville and St. Louis. Traffic on this single track line remains relatively heavy.
Item created by:
gdm
on 2017-07-19 20:25:06
If you see errors or missing data in this entry, please feel free to
log in
and edit it. Anyone with a Gmail account can log in instantly.