Model Information: The "35" series "Offset" Cupola Caboose is an early Atlas body style introduced between 1979 and 1982. It replaced the earlier 6-window version of the offset cupola caboose that was made for Atlas by Roco. The model was first manufactured in Atlas' New Jersey facility but later moved to China. Its cupola is located towards one end of the body hence the nickname "End" or "Offset" Cupola Caboose. This body style has a roofwalk. It has five windows on one side and three on the other (hence it is known as the 8-Window version) as well as two separated windows on each side of the Cupola. It has ladders on each end which do NOT loop over the ends onto the roof.
Prototype History
: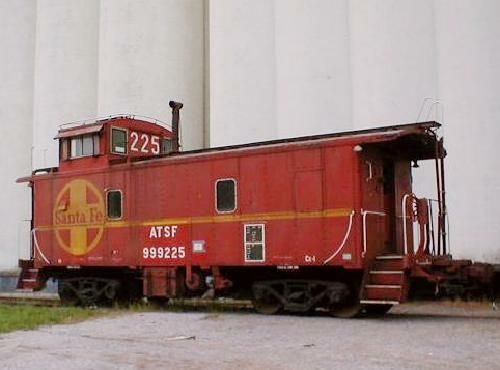 The origins of the railroad caboose appear to date back to the 1840s when Nat Williams, a conductor of the Auburn & Syracuse Railroad (a later affiliate of the New York Central) became fed up with cramped and uncomfortable quarters to do paperwork (a common job of the conductor, whose responsibility is general oversight and control of a train, passenger or freight), which was usually done in either a free space of a passenger car or combine/baggage car. To fix this problem, Williams found an unused boxcar and using a simple box and barrel, as a seat and desk, set up shop in the car to do his duties. Not only did he find out he had plenty of room to work but also figured that he could use the unused space to store tools (flags, lanterns, spare parts, etc.) and other essentials to have on board whenever needed (such things become commonly stored on the caboose).
Perhaps the most striking feature ever applied to the railroad caboose was its cupola. According to the story, conductor T.B. Watson of the Chicago & North Western in the 1860s reportedly used a hole in a boxcar's roof (which he was using as a caboose) to get a better vantage point of the train ahead. It is said that Watson was amazed by the view afforded from the position being able to not only see the train ahead but also from all sides, and to the rear as well. He apparently convinced C&NW shop forces to construct a type of open observation box onto an existing singe-level caboose with windows all around where one could sit and view their surroundings. The rest, as they say, is history and the common cupola was born.
Steel Cabooses replaced their wood-sheathed brethren after the second world war when the steel glut made the production and maintenance of steel cabooses far more efficient than wooden models. With the advancement of the End-of-Train device, cabooses slowly began to fall out of favor. However, in the early 2000's, "shoving platforms" began to appear as a place to safely house a crew when a reverse move was required. Instead of riding on the side of a freight car, the crew member now has a safe place to stand, while guiding the rear of a reverse move.
Road Name History
: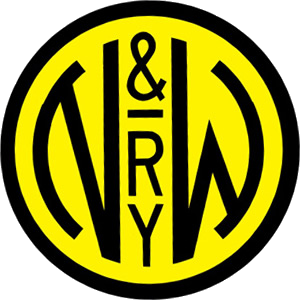 The Norfolk and Western Railway (reporting mark NW), was a US class I railroad, formed by more than 200 railroad mergers between 1838 and 1982. It was headquartered in Roanoke, Virginia, for most of its 150-year existence. Its motto was "Precision Transportation"; it had a variety of nicknames, including "King Coal" and "British Railway of America" even though the N&W had mostly articulated steam on its roster. During the Civil War, the N&W was the biggest railroad in the south and moved most of the products with their steam locomotives to help the South the best way they could.
NW was famous for manufacturing its own steam locomotives, which were produced at the Roanoke Shops, as well as its own hopper cars. Around 1960, NW became the last major American railroad to convert from steam locomotives to diesel motive power but didn't retire its last remaining Y class locomotives until 1964 and 1965. By 1965, steam on class I railroads was gone but steam wasn't gone on class II railroads until 1974 and class III and mining railroads retired their steam locomotives from their active roster until 1983. By 1983, steam in America on class I, II, III, and mining railroads had finally closed the chapter on America's 150 years of steam from 1830 - 1983.
In December 1959, NW merged with the Virginian Railway (reporting mark VGN), a longtime rival in the Pocahontas coal region. By 1970, other mergers with the Nickel Plate Road and Wabash formed a system that operated 7,595 miles (12,223 km) of road on 14,881 miles (23,949 km) of track from North Carolina to New York and from Virginia to Iowa.
In 1980, NW teamed up with the Southern Railway, another profitable carrier and created the Norfolk Southern Corporation holding company by merging its business operations with the business operations of the Southern Railway. The NW and the Southern Railway continued as separate railroads now under one holding company.
On December 31, 1990, the Southern Railway was renamed "Norfolk Southern Railway" to reflect the Norfolk Southern Corporation and on the same day, the renamed Norfolk Southern Railway gained full control of the Norfolk and Western Railway with the Norfolk and Western being transferred from the holding company to the renamed Norfolk Southern Railway, this began the final years of Norfolk and Western which was absorbed into the renamed Norfolk Southern Railway seven years later in 1997 (1990 to 1997 the Norfolk and Western continued operating by using paper operations).
In 1997 during the Conrail battle with CSX, Norfolk Southern Corporation's principal railroad, the renamed Norfolk Southern Railway, absorbed the Norfolk and Western Railway into their rail system, ending the existence of the Norfolk and Western Railway and having the renamed Norfolk Southern Railway becoming the only railroad in the entire Norfolk Southern system after that.
Brand/Importer Information
: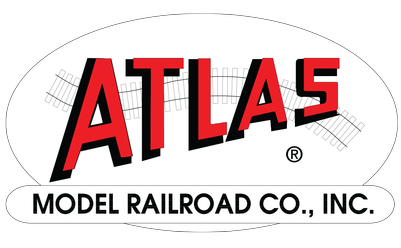 In 1924 Stephan Schaffan, Sr. founded the Atlas Tool Company in Newark, New Jersey. In 1933 his son, Stephan Schaffan, Jr., came to work for his father at the age of sixteen. Steve Jr. built model airplanes as a hobby and frequented a local hobby shop. Being an enterprising young man, he would often ask the owner if there was anything he could do to earn some extra spending money. Tired of listening to his requests, the hobby-store owner threw some model railroad track parts his way and said, "Here, see if you can improve on this".
In those days, railroad modelers had to assemble and build everything from scratch. Steve Jr. created a "switch kit" which sold so well, that the entire family worked on them in the basement at night, while doing business as usual in the machine shop during the day.
Subsequently, Steve Jr. engineered the stapling of rail to fiber track, along with inventing the first practical rail joiner and pre-assembled turnouts and flexible track. All of these products, and more, helped to popularize model railroading and assisted in the creation of a mass-market hobby. The budding entrepreneur quickly outgrew the limitations of a basement and small garage operation. Realizing they could actually make a living selling track and related products, Steve and his father had the first factory built in Hillside, New Jersey at 413 Florence Avenue in 1947. On September 30, 1949, the Atlas Tool Company was officially incorporated as a New Jersey company.
In 1985, Steve was honored posthumously for his inventions by the Model Railroad Industry Association and was inducted into the Model Railroad Industry Hall of Fame in Baltimore, Maryland. In addition, Steve was nominated and entered into the National Model Railroad Association Pioneers of Model Railroading in 1995.
In the early 1990s, the Atlas Tool Company changed its name to
Atlas Model Railroad Company, Inc.
Manufacturer Information: 'Atlas Model Railroad' represents the New Jersey manufacturing facility for Atlas brand model railroad products. Atlas also imported European made models in their early years and those items will be noted as having manufacturers set appropriately. In the 1990s Atlas moved all their toolings to China.
Item created by:
gdm
on 2017-09-09 15:13:54. Last edited by
gdm
on 2020-05-21 15:23:12
If you see errors or missing data in this entry, please feel free to
log in
and edit it. Anyone with a Gmail account can log in instantly.