Specific Item Information: This model is based on Ortner's rapid discharge coal hopper, painted in the 10,000TH Rapid Discharge Car commemorative scheme from 1977. Our car is painted dark blue, with the Ortner billboard lettering printed in light blue. The reporting marks and dimensional data are printed in white. The safety label is printed in red and white, while the consolidated stencil is printed in black and white. Black roller bearing trucks with Rapido couplers. Made in United States.
Model Information: Precision Master first released this body style in kit form in 1986. Later on, they released the same body as a RTR (Ready-to-Run) model. In 2005, Red Caboose acquired this tooling from PM. Red Caboose has released this model in RTR form. When Red Caboose folded its doors, Fox Valley acquired the tooling and produced releases with the Fox Valley brand.

Different releases had some fairly important differences. Some Red Caboose releases have their coal loads permanently glued in place. This is a shame because the loads are pretty cheesy and if they are permanently affixed, then they cannot be replaced by high quality third party loads such as are made by Hay Brothers. Trucks and couplers vary as well. Early Red Caboose releases feature Micro-Trains trucks and couplers with MT's "standard" wheels. Later Red Caboose releases use cheaper Chinese knock-offs of the MT trucks (to save a few $ we assume). Fox Valley versions have body-mounted (MTL-knockoff) couplers using the new adapter designed by Trainworx.

These models are overall pretty good with a typical 1980s level of detail in the molding. The printing on all the manufacturers' models is quite good. However, the underframe is so awful it looks almost MELTED. Flipping it over and comparing it side-by-side with a 1960s vintage Roco-made hopper really shows off what a complete mess the underside of this car is. The Roco hopper is not just a little, but a LOT superior in terms if the molding. Also, let us be clear, for the models that include loads, these included loads are only a small step up from trash. An early 1960s coal load from an Arnold car looks better! If you are going to run these, make sure you only buy ones that do not have their loads glued in and be prepared to shell out some cash for a Hay Brothers (or equivalent) high quality N Scale load.
Prototype History
: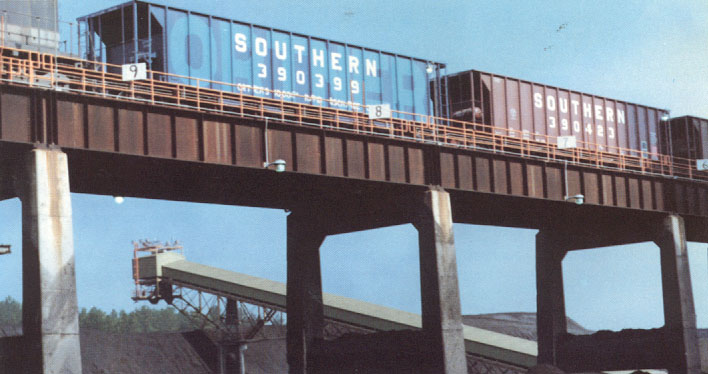 The 1960s brought about a growth in car size (and capacity). Railroads that transported coal moved away from the older 2-bay 55-ton USRA standard to newer railcars. The Ortner Rapid discharge car has a capacity of 100 tons. Over 10,000 cars of this kind were produced. Robert Ortner and a team of engineers created the rapid-discharge door system in the early 1960s. The original unit train consists were operating for Muskingum Electric Railroad (now AEP) and the Missouri Public Service Co.
Unloading a train of rapid discharge cars takes 30 minutes to an hour as opposed to four hours or longer for other unloading systems. Southern developed the unit train concept in 1960. Unit trains shuttle back and forth between mines and power plants. The first unit trains, composed of aluminum gondolas, went to power plants with rotary dumping facilities. Today, Southern has 14 unit coal trains on line; six in immediate prospect; and several others in longer range planning. While passing over a 900-foot long trestle, rapid discharge cars unload their coal in motion. Doors in the bottom of the cars are activated electrically.
Trinity Industries Inc. purchased Ortner Freight Car in late 1986 and continues to develop the rapid-discharge system with both updated transverse and longitudinal door applications. Trinity currently offers aluminum hoppers featuring the RDVI and RDL door systems.
Road Name History
:

The Southern Railway (reporting mark SOU) (also known as Southern Railway Company) was a US class 1 railroad that was based in the Southern United States. It was the product of nearly 150 predecessor lines that were combined, reorganized and recombined beginning in the 1830s, formally becoming the Southern Railway in 1894.
At the end of 1970 Southern operated 6,026 miles (9,698 km) of railroad, not including its Class I subsidiaries AGS (528 miles or 850 km) CofG (1729 miles) S&A (167 miles) CNOTP (415 miles) GS&F (454 miles) and twelve Class II subsidiaries. That year Southern itself reported 26111 million net ton-miles of revenue freight and 110 million passenger-miles; AGS reported 3854 and 11, CofG 3595 and 17, S&A 140 and 0, CNO&TP 4906 and 0.3, and GS&F 1431 and 0.3
The railroad joined forces with the Norfolk and Western Railway (N&W) in 1982 to form the Norfolk Southern Corporation. The Norfolk Southern Corporation was created in response to the creation of the CSX Corporation (its rail system was later transformed to CSX Transportation in 1986). The Southern Railway was renamed Norfolk Southern Railway in 1990 and continued under that name ever since. Seven years later in 1997 the railroad absorbed the Norfolk and Western Railway, ending the Norfolk and Western's existence as an independent railroad.
Brand/Importer Information
:

Eastern Seaboard Models was founded in 1987. They are a manufacturer of N scale reproductions of North American eastern railroad prototypes. The have both decorated other manufacturers' models as well as designed body styles of their own. They are located at PO Box 301, Waldwick, New Jersey 07463-0301 U.S.A.
Their 2016 lineup includes ready-to-run gondolas, well cars, hoppers, tank cars and boxcars. They also produce craftsman quality kits in their "Made in America" series. ESM products may be purchased directly from their website.
Item created by:
gdm
on 2017-10-20 09:13:13
If you see errors or missing data in this entry, please feel free to
log in
and edit it. Anyone with a Gmail account can log in instantly.