Specific Item Information: Marked Trailer Train.
Car under-sill is marked 1996 Atlas China.
Model Information: Atlas introduced this model in 1996. Only three versions were created, two for Trailer Train and one undecorated. It was very short lived. These cars have great detail. Close to the prototype with a heavy die-cast metal construction. Any railroad running modern mixed freight should have a few of these in there rolling stock roster . We also really like the idea that you can just move trailers around to different cars for a whole new look.
Prototype History
: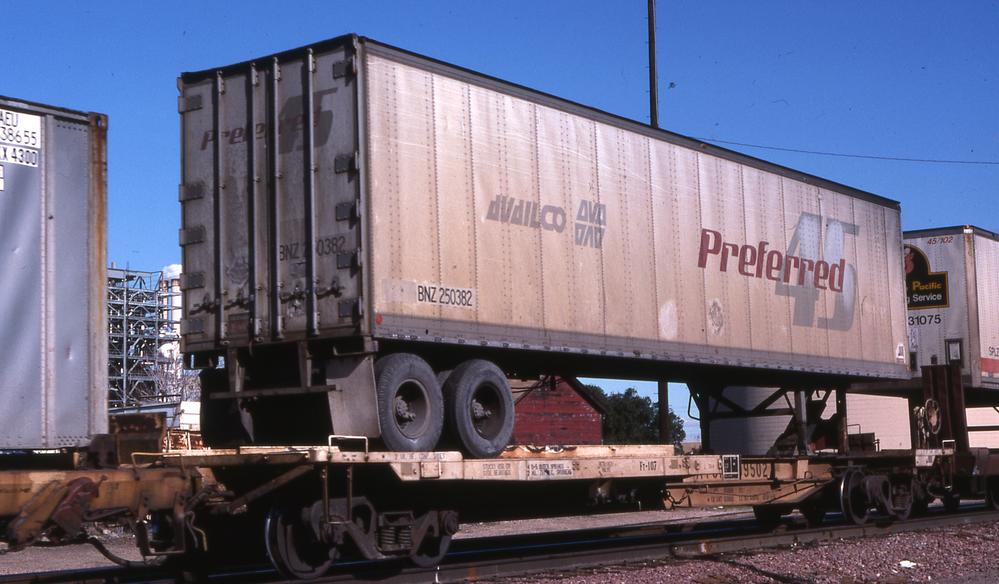 When piggyback service began by the railroads back in the 1950s, truck trailers were short enough that they could be hauled on standard size flat cars. As trailer lengths began to increase, so did flat cars. Eight-five, 86 and 89 foot flats became the norm, but as trailers approached 45 and 48 foot lengths, the railroads began to see a problem. No longer could two trailers fit on a flat. Trailers would need to be hauled on single flats, which were less cost effective. So the railroads called on the car builders to come up with new innovative rail cars for piggyback service that would combat these increased operating expenses at a time of expanding rivalry. After all, the railroads were in direct competition with over-the-road trucking. Trailer Train, known today simply as TTX, answered the request for trailer-on-flatcar (TOFC) equipment. The company, who provides intermodal car pool service to the railroads, contracted with various car builders to construct several thousand skeletonized freight cars called Front Runners. These four wheeled trailer-on-flatcars were constructed with a backbone like center sill which supports the single-axle rail trucks, the end platforms, the tire-carrying platforms, and a non-retractable trailer hitch. Front Runners can carry trailers 40 to 48 feet in length with or without front mounted refrigeration units. Load capacity is 65,000 pounds per unit. These lightweight cars, which average only 26,000 pounds, have a length over the end sills of 50 feet 6 inches.
The Front Runners went into production in 1983 with several manufacturers supplying cars based on this single design including: Pacific Car & Foundry, Portec, Thrall Car Co., Trinity Industries, and Bethlehem Steel. Trailer Train originally designated these cars as TTUX, but sometime in the early 1990s TTX changed the markings to read TTOX. Front Runners can be found almost anywhere other Intermodal equipment is used. Some railroads run them together in groups, or they may be found indiscriminately scattered throughout a train's consist.
While some Front Runners still remain in use, it appears that they are going to be retired soon from intermodal service. Today, containers without trailers hauled in Stack unit trains have become a much more cost-effective method of transport. Unlike TOFC flats and the articulated four-runner piggyback trains that can carry either trailers or containers, Front runners are designed only to haul trailers due to their rigid hitch stand. In fact, the Museum of Transport in St. Louis, MO recently received a Front runner (TTOX #130059) for their collection donated to them by the TTX Corporation.
Road Name History
:

TTX Company (formerly Trailer Train until 1991) is a leading provider of railcars and related freight car management services to the North American rail industry. TTX's pool of railcars (over 220,000 cars and intermodal wells) is ideal for supporting shippers in the intermodal, automotive, paper & forest, metals, machinery, wind energy and other markets where flatcars, boxcars and gondolas are required.
Owned by North America's leading railroads, TTX's free-running pools provide fungible assets that minimize total empty miles, further lowering costs and minimizing risk for the industry, helping the railroads conserve their capital for other critical infrastructure needs. Customers easily recognize TTX's bright yellow cars as a consistent, high quality, well-maintained fleet that serves many transportation needs.
Brand/Importer Information
: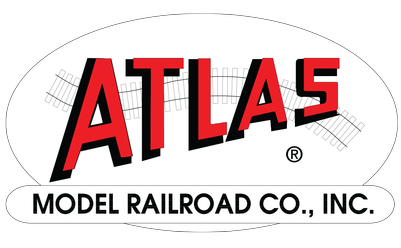 In 1924 Stephan Schaffan, Sr. founded the Atlas Tool Company in Newark, New Jersey. In 1933 his son, Stephan Schaffan, Jr., came to work for his father at the age of sixteen. Steve Jr. built model airplanes as a hobby and frequented a local hobby shop. Being an enterprising young man, he would often ask the owner if there was anything he could do to earn some extra spending money. Tired of listening to his requests, the hobby-store owner threw some model railroad track parts his way and said, "Here, see if you can improve on this".
In those days, railroad modelers had to assemble and build everything from scratch. Steve Jr. created a "switch kit" which sold so well, that the entire family worked on them in the basement at night, while doing business as usual in the machine shop during the day.
Subsequently, Steve Jr. engineered the stapling of rail to fiber track, along with inventing the first practical rail joiner and pre-assembled turnouts and flexible track. All of these products, and more, helped to popularize model railroading and assisted in the creation of a mass-market hobby. The budding entrepreneur quickly outgrew the limitations of a basement and small garage operation. Realizing they could actually make a living selling track and related products, Steve and his father had the first factory built in Hillside, New Jersey at 413 Florence Avenue in 1947. On September 30, 1949, the Atlas Tool Company was officially incorporated as a New Jersey company.
In 1985, Steve was honored posthumously for his inventions by the Model Railroad Industry Association and was inducted into the Model Railroad Industry Hall of Fame in Baltimore, Maryland. In addition, Steve was nominated and entered into the National Model Railroad Association Pioneers of Model Railroading in 1995.
In the early 1990s, the Atlas Tool Company changed its name to
Atlas Model Railroad Company, Inc.
Item created by:
Powderman
on 2017-12-29 16:27:01. Last edited by
Alain LM
on 2022-03-21 14:26:20
If you see errors or missing data in this entry, please feel free to
log in
and edit it. Anyone with a Gmail account can log in instantly.