Specific Item Information: Canadian National ET44AC
Road numbers: 3000 and 3019

Era: series 3000-3038, built 2015
Early production engine cab (long hood) with squared exhaust compartment roofline and separate exhaust stack
Front and rear deck-mounted operating ditch lights
Rear Canadian "rock pilot"
Cab roof antenna domes
GE Hi-Ad trucks with separately applied brake cylinders and air plumbing
"Late" front and rear end handrail profile
Nose door without window
Cab interior
Tinted cab side windows
Nathan AirChime K5HLR2 horn mounted on engine cab roof
Single fuel fill per side
Trucolor main color matches: TCP-35 CN Red/Orange
Model Information: The ScaleTrains.com N Scale Tier 4 GEVo (ET44AC, ET44AH, ET44C4, and C45AH) is a first in N Scale and officially licensed by GE. We worked closely with GE Transportation to ensure every dimension and detail is as accurate as possible. Our Tier 4 GEVo features roadname and road number specific details including three engine cab rooflines, high or low headlight, multiple versions of antennas and PTC antenna farm arrays, two types of trucks, and much more. Visit our website to view all seven roadnames and learn what makes each of the 11 Rivet Counter versions unique.
Features:
- Directional LED headlights
- Printed and LED lighted number boards
- Tread plate on walkways
- Factory-applied wire grab irons, snowplow, spare knuckles, trainline hoses, 3-hose MU clusters, uncoupling levers, windshield wipers, mirrors, sunshades, air tanks, brake wheel and more.
- Body mounted ScaleTrains.com plastic semi-scale E Type knuckle couplers
- All-wheel drive
- All-wheel electrical pick-up
- Dual flywheels
- Motor with 5-pole skew wound armature
- Printing and lettering legible under magnification
- Minimum Radius: 9 ¾"
- Recommended Radius: 11"
- Operates on Code 55, and 80 rail

Here is what ScaleTrains.com say about this model:


Just for giggles we put the ScaleTrains GEVO on the test track to get some sound measurements. We were very pleased to find that the preset levels for the various sounds are at less than half of max, and in some cases closer to only a third of max. Compared to the GTEL turbine whine of 76-78dB, the GEVO at idle is well below 60dB which is probably quieter than your car sitting at idle. When the engine ramps up to speed, it only peaks at about 62-64dB which is a "conversation level" in a quiet car. Even at speed with F2, which turns on both the horn and bell, it still doesn't exceed 68dB, and that is at 2 feet instead of the 3 feet test distance I used for all the GTEL tests. The 10dB difference between the GEVO and the GTEL is the equivalent of 8X the amount of amplifier power. (Every 3db is double the power)
DCC Information: Available either DCC-ready (Next18 (NEM 662) interface) or factory-equipped with ESU LokSound (#73198).
DCC & sound equipped locomotives feature:
- ESU-LokSound Next18 Select Micro DCC and sound decoder with "Full Throttle"
- "Sugar cube" type speaker, 11mm X 15mm sugarcube speaker
- Accurate GEVO-12 prime mover and auxiliary sounds, horn, bell, and more
- Operates on both DC and DCC layouts

Prototype History
: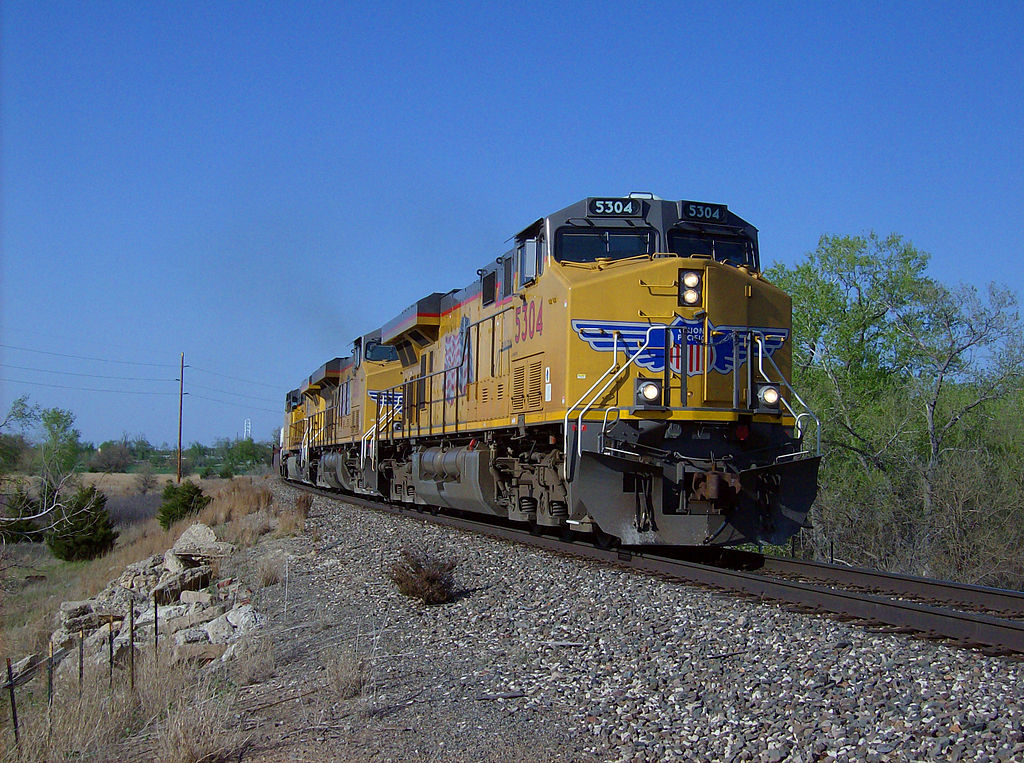 The Evolution Series is a line of diesel locomotives built by GE Transportation Systems, initially designed to meet the U.S. EPA's Tier 2 locomotive emissions standards that took effect in 2005. The first pre-production units were built in 2003. Evolution Series locomotives are equipped with either AC or DC traction motors, depending on the customer's preference. All are powered by the GE GEVO engine.
The Evolution Series was named as one of the "10 Locomotives That Changed Railroading" by industry publication Trains Magazine. It was the only locomotive introduced after 1972 to be included in that list. The Evolution Series, mainly the ES44DC, ES44AC, and ET44AC, are some of the best-selling and most successful freight locomotives in United States history, far surpassing the output of Electro-Motive Diesel.
ES44AC
The ES44AC (Evolution Series, 4400 HP, AC traction) replaced the AC4400CW model in the General Electric catalogue. The GE Evolution Series ES44AC locomotive represents an incredible combination of power, performance and efficiency. Originally designed to meet US EPA Tier 2 emissions, the ES44AC locomotive utilizes a 12-cylinder GE Evolution Series engine with 4-stroke combustion technology to maintain horsepower, reduce emissions, and lower fuel consumption compared to GE's predecessor 16-cylinder FDL engine. From 2005 to 2015, the ES44AC became GE's standard North American locomotive and a compelling platform for others worldwide.
ES44AH (C45AH)
The "H" in ES44AH stands for "heavy", which is in reference to a combination of subsystems that produce high levels of tractive effort at low speeds. UP's "AH" types are similar to CSXT's, except for their Hi-Ad trucks, and are designated C45AH's by Union Pacific.
ES44C4
The ES44C4 (Evolution Series, 4400 HP, AC traction, 4 powered axles) was introduced in 2009. While similar to the ES44AC, the ES44C4 has two traction motors per truck, instead of the conventional three such as on the ES44AC. The center axle of each truck is unpowered, giving an A1A-A1A wheel arrangement. BNSF Railway is the launch customer for this model.
ES44DC
The ES44DC (Evolution Series, 4400 HP, DC traction) replaced the Dash 9-44CW model in the General Electric catalogue. Primary users are BNSF Railway, CSX Transportation, and Canadian National Railway.
ET44AC
The ET44AC (Evolution Series Tier 4, 4400 HP, AC traction) replaces the ES44AC model. The GE Evolution Series ET44AC locomotive meets the U.S. Environmental Protection Agency's (EPA) stringent Tier 4 emission standards without the use of any aftertreatment, enabling railroads to gain significant savings through urea infrastructure cost avoidance and reduced operational costs. Part of the Ecomagination-certified Evolution Series, the ET44AC locomotive is designed to meet Tier 4 emissions standards by reducing emissions by 70% below Tier 3 requirements. GE Transportation has invested $600M in the Evolution Series since its introduction in 2005 and is the first supplier of Tier 4 locomotives for Class 1 railroads.
ET44AH (C45AH)
Successor of the ES44AH.
ET44C4
Successor of the ES44C4.
From Wikipedia
From GE transportation website
Read more on
American-Rails.com
Road Name History
:

The Canadian National Railway Company (reporting mark CN) is a Canadian Class I railway headquartered in Montreal, Quebec that serves Canada and the Midwestern and Southern United States. CN's slogan is "North America's Railroad". CN is a public company with 24,000 employees. It had a market capitalization of 32 billion CAD in 2011. CN was government-owned, having been a Canadian Crown corporation from its founding to its privatization in 1995. Bill Gates was, in 2011, the largest single shareholder of CN stock.
CN is the largest railway in Canada, in terms of both revenue and the physical size of its rail network, and is currently Canada's only transcontinental railway company, spanning Canada from the Atlantic coast in Nova Scotia to the Pacific coast in British Columbia. Its range once reached across the island of Newfoundland until 1988, when the Newfoundland Railway was abandoned.
Following CN's purchase of Illinois Central (IC) and a number of smaller US railways, it also has extensive trackage in the central United States along the Mississippi River valley from the Great Lakes to the Gulf of Mexico. Today, CN owns about 20,400 route miles (32,831 km) of track in 8 provinces (the only two not served by CN are Newfoundland & Labrador and Prince Edward Island), as well as a 70-mile (113 km) stretch of track (see Mackenzie Northern Railway) into the Northwest Territories to Hay River on the southern shore of Great Slave Lake; it is the northernmost rail line anywhere within the North American Rail Network, as far north as Anchorage, Alaska (although the Alaska Railroad goes further north than this, it is isolated from the rest of the rail network).
The railway was referred to as the Canadian National Railways (CNR) between 1918 and 1960, and as Canadian National/Canadien National (CN) from 1960 to the present.
Read more on
Wikipedia
.
Brand/Importer Information
:

ScaleTrains.com, Inc. is an upstart HO and N Scale model manufacturer that was founded by a team with more than 125 years of accumulated experience in the model railroad hobby and industry.
ScaleTrains is specifically focused on the tiny details in the printing and quality of the construction. The four friends who founded the company are all avid modelers themselves. Their factory is located in Tennessee. Unlike most other companies, they offer a range of different levels of complexity in their offerings so as to be able to provide products for both the budget-conscious collector as well as the detail-focused model enthusiast without compromising on quality for either.
They range covers the following, by increasing level of detailing:
Operator™ trains are built for modelers who enjoy running high-quality, realistic trains at an affordable price. Designed from builder's drawings and photographs, Operator models have fewer factory-applied parts and simplified printing. For added versatility, super-detail parts are available separately.
The Rivet Counter™ line strives to create the most accurately detailed models imaginable. The real-world counterpart is meticulously researched to ensure prototype fidelity. Each model features numerous factory applied parts including roadname and road number specific details whenever possible.
Museum Quality™ models are historically accurate replicas of the most famous locomotives in North American railroading history. Exhaustive research and a commitment to perfection combine to create the ultimate scale model. Museum Quality trains establish new standards which make them just as legendary as the original.
Item created by:
Powderman
on 2018-01-01 15:34:29. Last edited by
Alain LM
on 2020-05-22 16:03:00
If you see errors or missing data in this entry, please feel free to
log in
and edit it. Anyone with a Gmail account can log in instantly.