Model Information: This model has pretty much every feature associated with "modern" diesel models:
- IE, all-metal / split-frame chassis, skew-wound 5-pole motor, dual flywheels, low-friction drive/pickup, all-plastic gearing, bi-directional LED lighting, low-profile blackened wheels, shell-mounted Rapido-style couplers, fine shell detailing, crisp paint, etc.
DCC Information: The model is not DCC-Ready. Like all Life-Like of that vintage (early 2000s), it has split light boards. Installation of a wired-decoder is possible pending a bit of milling and soldering.
Prototype History
: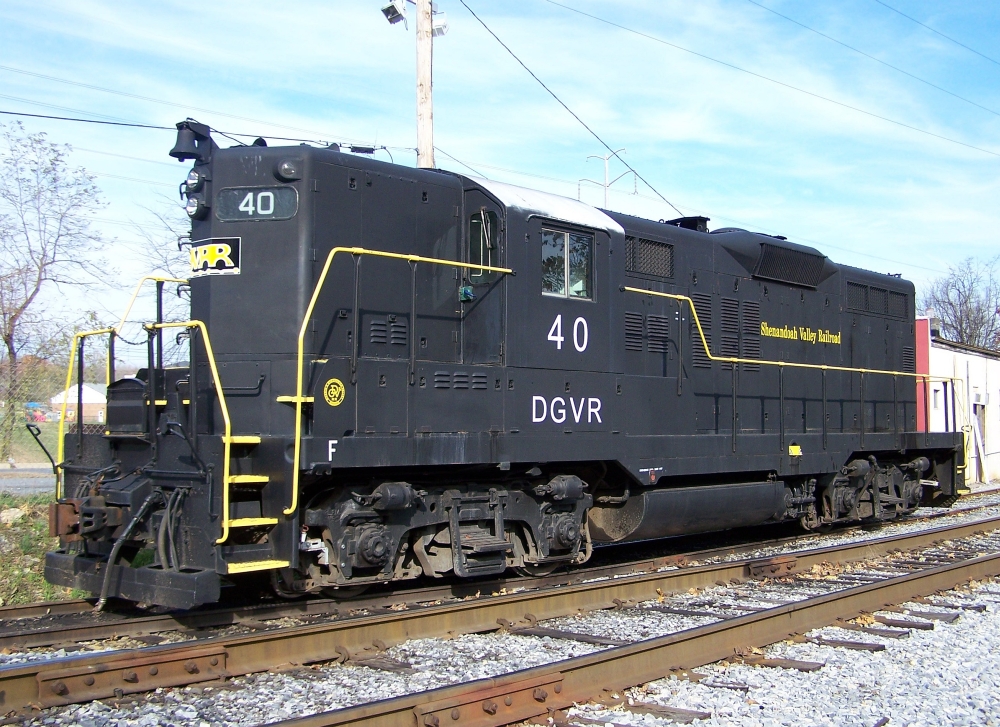 An EMD GP9 is a four-axle diesel-electric locomotive built by General Motors' Electro-Motive Division in the United States, and General Motors Diesel in Canada between January, 1954, and August, 1963. US production ended in December, 1959, while an additional thirteen units were built in Canada, including the last two in August, 1963. Power was provided by an EMD 567C sixteen-cylinder engine which generated 1,750 horsepower (1.30 MW). This locomotive type was offered both with and without control cabs; locomotives built without control cabs were called GP9B locomotives. All GP9B locomotives were built in the United States between February, 1954, and December, 1959.
One option available for locomotives without dynamic brakes, was to remove the two 22.5 in × 102 in (571.5 mm × 2,590.8 mm) air reservoir tanks from under the frame, and replace them with four 12 in × 150.25 in (304.80 mm × 3,816.35 mm) tanks that were installed on the roof of the locomotive, above the prime mover. These "torpedo tubes" as they were nicknamed, enabled the fuel and water tanks to be increased to 1,100 US gallons (4,200 l; 920 imp gal) each, although some railroads opted for roof-mounted air tanks and 2,200 US gallons (8,300 l; 1,800 imp gal) fuel tanks on their freight 'Geeps'.
From Wikipedia
Road Name History
:

The Great Slave Lake Railway (GLSR) was incorporated to build a line from a point at or near Grimshaw, Alberta, on the Northern Alberta Railways, to Hay River, Northwest Territories and east to the mineral claims of Pine Point Mines Ltd., south of Great Slave Lake.
The Canadian National Railway Company (reporting mark CN) is a Canadian Class I railway headquartered in Montreal, Quebec that serves Canada and the Midwestern and Southern United States. CN's slogan is "North America's Railroad". CN is a public company with 24,000 employees. It had a market capitalization of 32 billion CAD in 2011. CN was government-owned, having been a Canadian Crown corporation from its founding to its privatization in 1995. Bill Gates was, in 2011, the largest single shareholder of CN stock.
CN is the largest railway in Canada, in terms of both revenue and the physical size of its rail network, and is currently Canada's only transcontinental railway company, spanning Canada from the Atlantic coast in Nova Scotia to the Pacific coast in British Columbia. Its range once reached across the island of Newfoundland until 1988, when the Newfoundland Railway was abandoned.
Following CN's purchase of Illinois Central (IC) and a number of smaller US railways, it also has extensive trackage in the central United States along the Mississippi River valley from the Great Lakes to the Gulf of Mexico. Today, CN owns about 20,400 route miles (32,831 km) of track in 8 provinces (the only two not served by CN are Newfoundland & Labrador and Prince Edward Island), as well as a 70-mile (113 km) stretch of track (see Mackenzie Northern Railway) into the Northwest Territories to Hay River on the southern shore of Great Slave Lake; it is the northernmost rail line anywhere within the North American Rail Network, as far north as Anchorage, Alaska (although the Alaska Railroad goes further north than this, it is isolated from the rest of the rail network).
The railway was referred to as the Canadian National Railways (CNR) between 1918 and 1960, and as Canadian National/Canadien National (CN) from 1960 to the present.
Read more on
Wikipedia
.
Brand/Importer Information
:

Life-Like Products LLC (now Life-Like Toy and Hobby division of Wm. K. Walthers) was a manufacturer of model railroad products and was based in Baltimore, Maryland.
It was founded in the 1950s by a company that pioneered extruded foam ice chests under the Lifoam trademark. Because ice chests are a summer seasonal item, the company needed a way to keep the factory operating year round. As model railroading was becoming popular in the post-war years, they saw this as an opportunity and so manufactured extruded foam tunnels for model trains. Over the years, Life-Like expanded into other scenery items, finally manufacturing rolling stock beginning in the late 1960s. At some point in the early 1970s, Life-Like purchased Varney Inc. and began to produce the former Varney line as its own.
The Canadian distributor for Life-Like products, Canadian Hobbycraft, saw a missing segment in market for Canadian model prototypes, and started producing a few Canadian models that were later, with a few modifications, offered in the US market with US roadnames.
In 2005, the company, now known as Lifoam Industries, LLC, decided to concentrate on their core products of extruded foam and sold their model railroad operations to Wm. K. Walthers.
In June 2018, Atlas and Walthers announced to have reached an
agreement
under which all Walthers N scale rolling stock tooling, including the former Life-Like tooling, will be purchased by Atlas.
Read more on
Wikipedia
and
The Train Collectors Association
.
Item created by:
Powderman
on 2018-02-06 15:28:17. Last edited by
Alain LM
on 2020-12-13 03:02:54
If you see errors or missing data in this entry, please feel free to
log in
and edit it. Anyone with a Gmail account can log in instantly.