Specific Item Information: Nose Headlight, Late Truck
Model Information: Kato introduced the SD70 model in 2003. The first version was the SD70MAC. They followed up in 2005 with the SD70M. In 2006 they added the 'Flat Radiator' SD70M version. In 2009 they introduced the SD70ACe and revised the SD70M. All versions of this model share the same internal mechanism and only show minor differences in the shell. The internal mechanism was heavily revised/evolved in the 2009 release.

The revised versions are typical modern Kato release with a split-frame design, dual flywheels, chemically-blackened wheels and up-gradable to DCC with a drop-in decoder. They pull well and run quietly. The have very nice details like separately applied (rather than molded) hoses. Due the the 6-axle configuration, they do not run well in curves of less than 11 inches.
DCC Information
: Models accept the following plug-in decoders:
-
Digitrax DN163K1C
: 1 Amp N Scale Mobile Decoder for Kato N scale SD40-2 locos made from year 2006 onward.
-
Digitrax SDN144K1E
: 1 Amp N Scale SoundFX/Mobile/FX3 Function Decoder for Kato SD40-2 and similar locos.
-
TCS K1D4
: 4 Function Drop-In for Kato N-Scale EMD SD40, EMD SD70MAC, EMD SD70/75M, GE C44-9W, GE AC4400W, Athearn F45.
-
TCS K1D4-NC
: 4 Function Drop-In for Kato N-Scale EMD SD70ACe, EMD SD70M, EMD SD40-2, and GG1.
-
MRC 1644-2
: N-Scale Sound Decoder for Kato SD70MAC & AC4400
-
MRC 1960
: N-Scale Sound Decoder for Kato SD45/SD70MAC/AC4400
Prototype History
: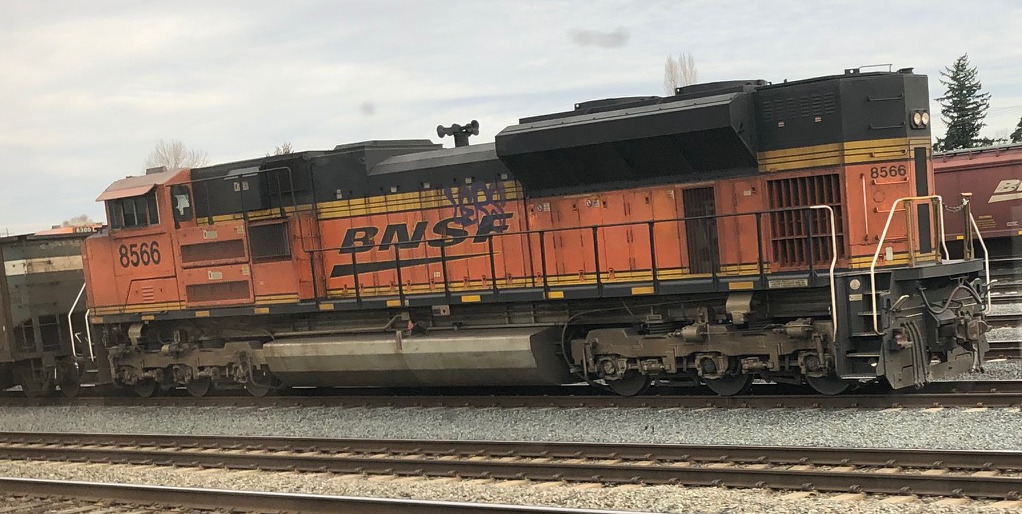 The EMD SD70 is a series of high-powered, single engined 4,000hp to 4,300hp, diesel-electric locomotives produced by Electro-Motive Division (EMD). All locomotives of this series are hood units with C-C trucks. Production commenced in late 1992 and since then over 4,000 units have been produced. The most produced models of the series are the SD70M, SD70MAC and SD70ACe models. All SD70 models were delivered with the self-steering radial truck HTCR , then from SD70ACe and SD70M-2 models, with non-radial HTSC truck. The radial truck allows the axles to steer in curves which reduces wear on the wheels and railhead.
The SD70ACe AC-traction diesel locomotive (most in the industry simply call them SD70 "Ace" or "Aces") is the successor to the older SD70MAC. It was first introduced in 2004, and has been in production since 2005. It was originally designed to comply with EPA Tier 2 locomotive emissions regulations. Beginning in 2012, newly built SD70ACe's were EPA Tier 3 compliant. SD70ACes are equipped with EMD's 16-710-G3C-T2 prime mover, rated at 4,300 horsepower (3,200 kW); later Tier 3 models are rated at 4,500 horsepower (3,400 kW). The model is still in production as EMD's primary long-haul domestic locomotive.
Although mechanically similar to earlier SD70 units, the SD70ACe rides on a new underframe and uses mostly new sheet metal above the frame. Electrical cables and air lines have been routed beneath the walkways on opposite sides, allowing easier access for maintenance. Continuing the designs of the SD80 and SD90 series, the radiator on the locomotive is nearly as wide as the cab, the center hood section is a step down below the roofline, and the dynamic brakes have been moved to the rear of the hood. The SD70ACe uses the cab design of late-model SD90MAC-H units, which uses rectangular window glass and is externally different from the two cab variations used on earlier SD70M and SD70MAC units. In 2008, EMD standardized the isolated cab on subsequent SD70ACes after non-isolated cab units were restricted from leading on BNSF Railway due to excessive cab vibration. Purchasers included ArcelorMittal, BNSF Railway, Canadian National Railway, CSX Transportation, Ferromex, Kansas City Southern Railway, Montana Rail Link, Norfolk Southern Railway, CVG Ferrominera Orinoco, Union Pacific Railroad, Quebec North Shore and Labrador Railway, BHP Billiton, and shortline Arkansas and Missouri Railroad.
Read more on
Wikipedia
, on
American-Rails.com
and on
Locomotive wiki
.
Full EMD SD70ACe data sheet on
The Diesel Workshop
.
Road Name History
: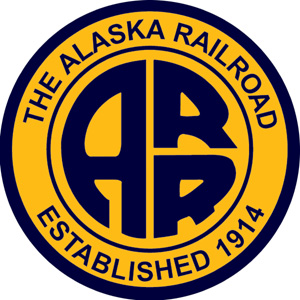 Born in 1923 with the consolidation and connection of the Tanana Valley and Alaska Northern railroads, the line was owned by the Federal Government (under the Department of the Interior) from the outset, later becoming the responsibility of the Department of Transportation in 1967. In the mid-80s it was sold to the State of Alaska.
The Alaska Railroad links Anchorage with the port of Whittier and Seward to the south, and Fairbanks and environs to the north. Total mileage is about 525 putting it between Bangor & Aroostook and New York Ontario & Western in relative size. Alaska does run its own passenger service over the length of the railroad. Although the Alaska Railroad is disconnected from the rest of the North American rail network, they do interchange with other railroads. A trio of sea-going barges ferry rail cars from the port of Whittier to Prince Rupert, British Columbia, and Seattle, Washington. ARR had collected a fleet of Alco RS-1s (and a few RSD-1's) with cowls, effectively making them cab units unique to this line. These were later replaced by second generation EMD power. The big power on the line is a fleet of 28 SD70MACs. A dozen of these are equipped with HEP for use in passenger service.
The port of Whittier is hemmed in by the ocean on one side and mountains on the other. A 2.5 mile single track tunnel is the only way out of the port. The line through the tunnel is paved like street trackage so that highway traffic can use the tunnel. It is a single lane so highway traffic going south enters from the top of the hour until quarter after. Northbound traffic enters from the bottom of the hour until 45 after the hour. Trains get priority and proceed as soon as traffic has cleared.
Brand/Importer Information
:

KATO U.S.A. was established in 1986, with the first U.S. locomotive model (the GP38-2, in N-Scale) released in 1987. Since that time, KATO has come to be known as one of the leading manufacturers of precision railroad products for the modeling community. KATO's parent company, Sekisui Kinzoku Co., Ltd., is headquartered in Tokyo, Japan.
In addition to producing ready-to-run HO and N scale models that are universally hailed for their high level of detail, craftsmanship and operation, KATO also manufactures UNITRACK. UNITRACK is the finest rail & roadbed modular track system available to modelers today. With the track and roadbed integrated into a single piece, UNITRACK features a nickel-silver rail and a realistic-looking roadbed. Patented UNIJOINERS allow sections to be snapped together quickly and securely, time after time if necessary.
The Kato U.S.A. office and warehouse facility is located in Schaumburg, Illinois, approximately 30 miles northwest of Chicago. All research & development of new North American products is performed here, in addition to the sales and distribution of merchandise to a vast network of wholesale representatives and retail dealers. Models requiring service sent in by hobbyists are usually attended to at this location as well. The manufacturing of all KATO products is performed in Japan.
Supporters of KATO should note that there is currently no showroom or operating exhibit of models at the Schaumburg facility. Furthermore, model parts are the only merchandise sold directly to consumers. (Please view the Parts Catalog of this website for more specific information.)
Item created by:
gdm
on 2018-02-21 08:54:00. Last edited by
Lethe
on 2020-05-07 00:00:00
If you see errors or missing data in this entry, please feel free to
log in
and edit it. Anyone with a Gmail account can log in instantly.