Specific Item Information: 3-Pack. Made by Herpa, decorated by Ak-Sar-Ben.
Model Information: First appears in the 1973 Con-Cor catalog but may have been available for retail before then. Made by Herpa. Sold in packs of 2 or 3. Smoothside or Ribbed side. It is a model of a 40 foot box trailer.
Prototype History
: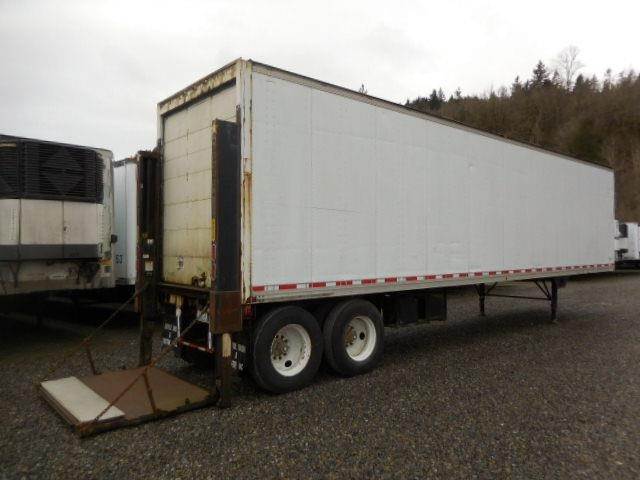 40-foot trailers are still widely used as inter-rail containers. 40 foot is a good length to fit on a 50 foot TOFC flatcar as they provide some room on both ends for safety and sloppy loading. They generally come with a 96" width and are rated for 55,000 pounds. They were never as popular as 48 foot trailers because of the more limited load size. Even 48 foot trailers gave way to 53' models when the laws governing highway transportation changed.
Box vans are known as such for their rectilinear proportions. Their simple design makes them easy to manufacture and maintain.
Road Name History
: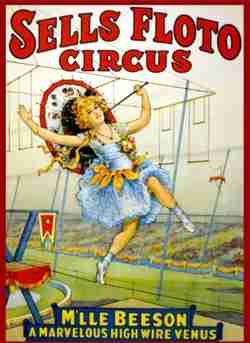 Harry Heye Tammen (born Mar. 6, 1856 in Baltimore Maryland) and Frederick Gilmer Bonfils (born Dec. 21, 1860 Troy, Missouri) became the owners of the "Denver Post" newspaper in 1895. In 1902 Tammen and Bonfils decided to start a circus. The circus was titled the "Floto Dog and Pony Show". The name Floto was selected because Tammen liked the name of the Denver Post's sports editor "Otto Floto". Unlike most circuses of the day starting small and working it's way up, this circus had the financial support of the Post. In 1906 Tammen and Bonfils hired William Sells to manage the show. The "Sells Bros Circus" (no relation to William Sells), toured from 1871 to 1895, and had developed a well known named in the U. S. and Tammen, wanting to take advantage of the "Sells Bros." name and reputation renamed his show the "Sells Floto Circus". In 1909 the Ringling Brothers who now owned the "Sells Bros Circus" title sued Tammen and Bonfils in an effort to stop them from using the Sells name. The circus was ordered not to use images of the original Sells Brothers in their advertisement. Since May 19, 1883, William F. "Buffalo Bill" Cody had operated his "Buffalo Bill's Wild west show, however the show went bankrupt in July 1913. After the bankruptcy Tammen hired Cody to perform in his show and renamed the circus the "Sells Floto and Buffalo Bill Circus" for the seasons of 1914 and 1915.
Tammen wanted to breed his elephants, three baby elephants were born however all three died shortly after birth. Tammen had one of the babies mounted and for many years it was displayed in a glass case in lobby the Denver Post offices. In 1919 Jerry Mugivan and Albert C. "Bert" Bowers owners of the "American Circus Corporation", purchased the "Sells Floto Circus" and "Buffalo Bill Wild West Show", they also added the "Yankee Robinson Circus" to their corporation that same year.
In 1929 the "American Circus Corporation" was purchased (which included the"Sells Floto Circus"), by John Nicholas Ringling for 1.7-million dollars. The Ringlings continued to operate the circus until 1938.
From Circuses and Sideshows
Brand/Importer Information
:

Ak-Sar-Ben Hobby Co
Information on AkSarBen Hobby and their history is sketchy at best. Of course, AkSarBen is Nebraska spelled backwards so one might assume that they got their start in the Husker state. The most recent evidence of their existence, however, was in the 2010 Model Retailer Hobby Industry Directory listing them in Jacksboro, TN. The phone number listed is disconnected, so, who knows for sure? What is known is that AkSarBen Hobbies was owned by Allen Miller and got their start in the 1980's producing very high quality custom, limited edition HO and N Scale products. They probably have left the model train business for more than 20 years ago.
Item created by:
gdm
on 2018-03-15 10:04:51. Last edited by
gdm
on 2020-05-26 11:53:30
If you see errors or missing data in this entry, please feel free to
log in
and edit it. Anyone with a Gmail account can log in instantly.