Model Information: This model was first created by E&C shops. The tooling was sold to the LBF Company and in turn when they went out of business in 2009, the model was passed on to Hubert's Model RR Mfg Group. They are available in both single and double door varieties.
Prototype History
: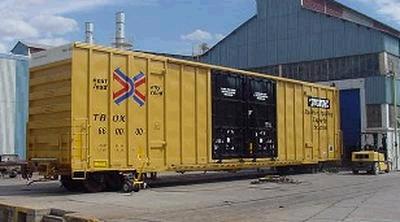 The modern 100 ton, high-cube, 60' boxcar has become ubiquitous in the modern rail scene. These cars are designed to carry a myriad of loads, from auto parts to forest products. This 60 foot box car design was produced by Gunderson, Incorporated, now part of the Greenbrier Companies from the early 1970s into the 2000s.
60' Heavy Duty Plate C Boxcar:
Designed for the can manufacturing industry, this 100-ton boxcar has two heavy-duty movable bulkheads and one standard moveable bulkhead for convenient loading of aluminum stock. Other features include end-of-car cushioning and 80,000-pound smooth steel flooring. All door type configurations are available.
60' High Cube Plate E Boxcar:
This 100-ton boxcar has smooth interior walls with recessed lading strap anchors. Extra strength at the side-to-floor connections and the door frame makes this an ideal car for loading and unloading heavy paper rolls. All door type configurations are available.
60' High Cube Plate F Boxcar - Auto Parts:
Designed for the auto parts industry, this 100-ton boxcar has 18-inch end-of-car cushioning, removable rub rails and a volume of 7,580 cubic feet, making it ideal for carrying auto parts and other high-volume products. All door type configurations are available.
60' High Cube Plate F Boxcar - Forest Products:
Greenbrier designed and built this 100-ton boxcar with 15-inch end-of-car cushioning and removable rub rails for carrying forest products. All door type configurations are available.
Road Name History
:

RailBox Company (reporting marks ABOX, RBOX, TBOX, FBOX), founded in 1974, was created to address a boxcar shortage in the United States in the 1970s.
The concept behind RailBox, as evidenced by their slogan "Next Load, Any Road!" was that since Railbox was owned by many of the railroads as a privately owned cooperative, their boxcars were not subject to load/empty rules. Railbox cars could be assigned for service anywhere in Canada, Mexico and the United States on lines where an AAR Plate-C loading gauge is permitted. Railbox purchased boxcars from many Manufacturers including American Car and Foundry (ACF), Farmers Machinery Company (FMC), and Pullman-Standard (P-S).
Under the ICC car routing rules in effect at the time, cars owned by operating companies were supposed to be routed back to their owning road as soon as possible or the host road would have to pay demurrage(car storage and handling) charges. This was the cause a shortage of available cars and not an actual shortage of boxcars numerically. As empty cars were required to be routed back to their home railroad instead of being loaded and routed to another destination.
RailBox cars are all boxcars and are painted yellow with black doors. RailBox cars had a bold graphic side logo, which was a stylized X made of red and blue intertwined arrows to symbolize free flow. During the 1970s many railroads had old fleets of railcars. Due to the poor financial state of many railroads these cars were dirty and grimy. Railbox cars stood out with their bright yellow paint and large logos. The company's car reporting marks, as noted above, ended in the letter "X". Under FRA designation reporting marks ending in "X" are assigned to private owner cars.
As of 2015, many RailBox cars are still in service. The rise of intermodal containerized freight (which began in the late 1980s and early 1990s) has reduced the demand for full carload boxcar service. Also deregulation in the 1980s eliminated the legacy car routing rules, reaching its peak with the elimination of the Interstate Commerce Commission in 1995.
RailBox (and the similar Railgon Company) are currently subsidiaries of TTX Company.
From Wikipedia
Brand/Importer Information
:

The LBF company was based in Roseburg Oregon founded by Fred Becker. LBF was the successor company to E&C Shops, also founded by Becker. LBF also did business under the name USA Plastics. USA Plastics/LBF opened for business in 1993. They produced N Scale models using toolings purchased from the E&C Company. Later, in 1998, LBF folded and the toolings were sold to Hubert's Model RR Manufacturing group which was also located in Roseburg. Hubert had been one of Becker's partners in LBF/USA Plastics. Later, when Hubert's operation folded, the toolings were acquired by InterMountain.
Item created by:
stevoblue
on 2018-04-02 11:57:25. Last edited by
gdm
on 2020-07-16 08:09:19
If you see errors or missing data in this entry, please feel free to
log in
and edit it. Anyone with a Gmail account can log in instantly.