Specific Item Information: with sound effects
Model Information
: 4-car set. Four separate runs between 2001 and 2011, featuring the two original TEE versions of SBB and NS, as well as the second-hand ONR Northlander.
- Motor cab is powered, cab-control car is not powered.
- Directional lights (White/Red).
- All 3 passenger cars are equipped with internal lights.
- Specific drawbars between the cars of this set.
- The couplers on the cab units are dummy Scharfenberg replica couplers.
- Motor is open-sided, skew-wound 5-poler, with dual flywheels.
- 10 wheels out of 12 provide pick-up; there is a traction tire on each truck. All 12 wheels are geared.
- Can run on the very tight Minitrix R1 curves (194,6 mm radius), to the expense of having the bottom of the non-powered cars' shell pivoting with the trucks, that is obviously not prototypical.
- Wheel flanges are reported to the a bit large to run on code-55 track.
Click here
to download the trainset manual.
DCC Information: Socket for NEM651-NMRA 6-pin DCC decoder.
The most recent runs are equipped with a DCC/Selectrix decoder and a sound generator (not a sound decoder though).
Prototype History
: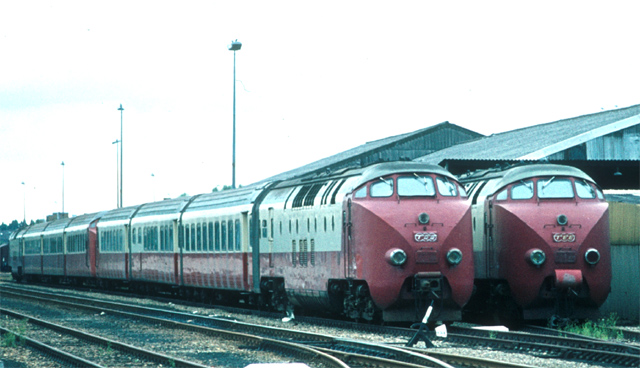 The Trans Europ Express, or Trans-Europe Express (TEE), is a former international first-class railway service in western and central Europe that was founded in 1957 and ceased in 1995. At the height of its operations, in 1974, the TEE network comprised 45 trains, connecting 130 different cities, from Barcelona, Spain in the west to Austria in the east, and from Denmark to Southern Italy.
The network was set up in 1957 following an idea of F.Q. den Hollander, then president-director of the Dutch national railway company (NS). TEE was a network jointly operated by the railways of West Germany (DB), France (SNCF), Switzerland (SBB-CFF-FFS), Italy (FS) and the Netherlands. Although some trains passed through Belgium from the beginning, the Belgian national railway company (NMBS/SNCB) joined the program only in 1964. Luxembourg (CFL) also joined at a later date.
The SBB-CFF-FFS RAm TEE I and NS DE4 were a class of five 4-car diesel-electric trainsets ordered for Trans Europe Express (TEE) service. Two were ordered by the Swiss Federal Railways (SBB-CFF-FFS) and three by Nederlandse Spoorwegen (NS). They were painted in the TEE colours of dark red (RAL 3004 purpurrot) and cream (RAL 1001 beige).
They operated between Zürich and Amsterdam as the TEE "Edelweiß'', between Amsterdam and Paris as "L'Étoile du Nord", and between Paris and Brussels as "L'Oiseau Bleu".
Three powerful diesel motors with a total of 1,700 kilowatts gave the train a speed of 140 km/h (87.5 m.p.h.). The motor car's truck configuration was A-1-A - A-1-A. The Powercars were manufactured by Werkspoor and the trailers by SIG.
None of the windows on these trains could be opened, because each car was fully air conditioned. As with all TEE trains, there were only first class cars; the total seating capacity for the "Edelweiß'' was 114. The dining car compartment could seat 32. The trains were basically composed of four cars: a compartment car, the dining car and an open seating car with the second engineer's cab for reversing direction in stub end terminals.
Due to the electrification of major European railroads, these diesel cars were retired in 1974. After an SBB train was taken out of service in 1971 due to damages in an accident, the second SBB train as well as the three NS trains were sold in 1977 to the Canadian Ontario Northland Railroad and converted to North American specifications. In 1979, EMD FP7 locomotives better able to withstand the winters in Canada were used to power the train, and only the passenger cars were used. The former TEE was in service as the "Northlander" until 1992 between Toronto and Timmins.
A few cars have been repatriated to Europe for restoration at the end of the 1990s, and can be seen in various museums in Switzerland, the Netherlands and Germany. All motor cars have been scrapped.
From Wikipedia
Road Name History
: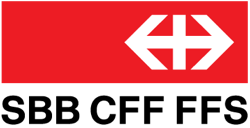 Swiss Federal Railways (German: Schweizerische Bundesbahnen (SBB), French: Chemins de fer fédéraux suisses (CFF), Italian: Ferrovie federali svizzere (FFS)) is the national railway company of Switzerland. It is usually referred to by the initials of its German, French and Italian names, either concatenated as SBB CFF FFS, or used separately.
The company is headquartered in Bern.
Read more on
Wikipedia
.
Brand/Importer Information
:

Trix is a German company that originally made Trix metal construction sets. one of its co-founders was Stephan Bing, the son of the pioneer toy-maker industrialist Ignaz Bing. In 1935 the company began producing the electrically powered model trains that it became famous for, under the Trix Express label. Prior to the outbreak of World War II the Trix company produced a small range of fairly unrealistic AC powered three rail models running at 14 volts.
N gauge models under the Minitrix brand were made from the late 1960s mostly of European prototypes (German and British primarily). North American prototypes were also manufactured and marketed under the Aurora "Postage Stamp" brand; later these items were sold under the American Tortoise, Model Power and Con-Cor brands. Trix sometimes utilized North American consultants to aid in the design of this portion of the product line. The "Hornby Minitrix' brand was used in the 1980s for a short lived range of British outline models using the earlier product tooling.
Trix's owner in the 1980s and 1990s was Mangold, which went bankrupt in the late 1990s and Märklin purchased the assets in January 1997. In part, this purchase was a reflection of Märklin's need for added production capacity; Trix had been manufacturing certain items for Märklin in previous years. The purchase was also in response to the earlier purchase of the Karl Arnold company by the Italian company Rivarossi; Märklin were very keen to take over Trix market share in 2-rail H0 and especially Minitrix, until then Märklin had not marketed N gauge models. In 2003, Märklin introduced its first N gauge models under the well established Minitrix brand. A number Märklin H0 scale three-rail AC locomotives have also been introduced in two-rail DC versions under the Trix logo and many models are shared between the two brands.
From Wikipedia
Item created by:
Alain LM
on 2018-08-18 13:33:50. Last edited by
CNW400
on 2020-07-10 11:21:07
If you see errors or missing data in this entry, please feel free to
log in
and edit it. Anyone with a Gmail account can log in instantly.