Specific Item Information:

Model Information: This model was originally produced by V-Line. Deluxe Innovations later acquired the tooling. The deLuxe models of these common cars are weighted with the same copper slugs used in their box cars for superior tracking and immunity to magnetism.

Most releases feature more than one paint scheme variation within a road name. For instance, the Missouri Pacific set features cars delivered with MP reporting marks and painted "corrosion resistant gray" that is actually a tan color, and cars lettered for MoPac subsidiaries Missouri-Illinois and St. Louis Brownsville & Mexico (both carrying the traditional buzz saw logo) that are painted in a more traditional gray color. Some of the more modern paint schemes including Delaware & Hudson and National Bureau of Standards have the four-color ACI tags. ACI stands for Automated Car Identification and worked like a grocery store bar code reader using a color TV camera instead of a laser. Unfortunately, the tags couldn't be read if they were dirty and the system fell out of favor by the early 1980's. This aspect of 70's railroading is rarely modeled but we include it on appropriate cars.
Prototype History
: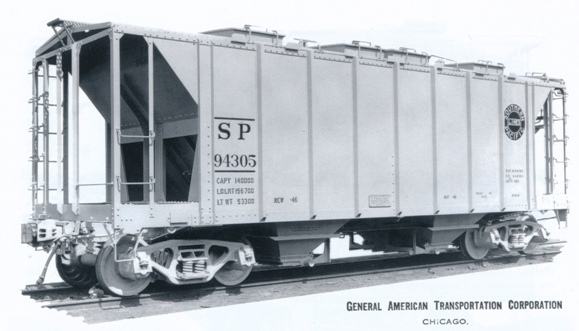 This design had a life span that is truly enormous. The last cars of this design were built in the 1960's -- three decades after the first cars were built for Santa Fe. Quite a few of these cars are still in service. Because you have to stand on the roof in order to open the hatches, these cars were immune from the "No Roof Walk" rule of 1964, but a number would be scrapped when friction bearing trucks were outlawed. Amazingly, some cars are now being retired because they have hit the Federal Railroad Administration's 50 year rule!
Originally designed at the height of the Great Depression, the first ten cars of this design were delivered to Santa Fe in an austere black paint scheme. Covered hoppers have always been used for any bulk cargo that had to be protected from the elements. Some have the impression that covered hoppers are used mostly for grain. Nothing can be further from the truth. In fact, moving grain in covered hoppers has only been commonplace since the 1960's. Before that period, most grain moved in 40' box cars with grain doors temporarily nailed over the doorways. In the steam era, covered hoppers were used for cement, sand, clay, talc, and other powders. The cargo was loaded through eight square hatches in the roof. To empty the car, the hatches at the bottom are opened and the load spills out. At this point, some low man on the company ladder would have to climb into the car with a broom and sweep out the corners and the center sill. The American Car & Foundry covered hopper design was such a success that it became a defacto standard for years. Even Pullman Standard (ACF's arch enemy) built cars to the same design. The distinctive open triangles in the sides make these cars easily distinguishable even from a distance. ACF would also develop a version without the open triangles which was not as prolific as the version presented here. Amazingly, many of these cars are still in use today, in MOW and lineside service. Many have been rebuilt as ballast hoppers, including for SP, CSX, Amtrak, and Santa Fe.
Road Name History
:

The Monon Railroad (reporting mark MON), also known as the Chicago, Indianapolis, and Louisville Railway (reporting mark CIL) from 1897 to 1956, was an American railroad that operated almost entirely within the state of Indiana. The Monon was merged into the Louisville and Nashville Railroad in 1971, and much of the former Monon right of way is owned today by CSX Transportation. In 1970 it operated 540 miles (870 km) of road on 792 miles (1,275 km) of track; that year it reported 1320 million ton-miles of revenue freight and zero passenger-miles. (It showed zero miles of double track, the longest such Class I railroad in the country.)
Read more on
Wikipedia
.
Brand/Importer Information
:

DeLuxe Innovations is a "wholesale manufacturer" of model trains. We manufacture scale replica train models and sell them to hobby shops and distributors worldwide. 2013 marked the 20 year anniversary of DeLuxe Innovations brand trains. There are over 25 body styles in our product line and all of the cars in our single and multi-car packs have different road numbers. DeLuxe Innovations, Inc. is owned by Dave Ferrari, founder of Squeak N Products. We are located in Midland Park, New Jersey. When Dave purchased the business it was located in Burbank, California which would have been a bit of a long commute so the move to the East Coast was planned. Our first East Coast location was in Whippany, NJ along the Whippany River.
The business was started in 1993 by George Johnsen and Roberta Liebreich in Burbank, California. They had a philosophy that just wouldn't allow using a coal car as a "stand in" for a woodchip car, or printing any and all boxcar paint schemes on a PS-1. Starting with the release of the first ever etched metal parts for a ready to run car (1994's Twinstack's metal walkways) through the full dimension underframe and etched metal roofwalk (1996's 1944 AAR Boxcar) to the challenging RoadRailer system (2000), our products have been accurate to target the modeler or enthusiast.
You can also follow DeLuxe on
Twitter
Item created by:
Powderman
on 2018-12-23 11:31:23. Last edited by
CNW400
on 2020-05-29 10:35:31
If you see errors or missing data in this entry, please feel free to
log in
and edit it. Anyone with a Gmail account can log in instantly.