Specific Item Information: POS = Paris-Ostfrankreich-Süddeutschland, for service in France, Germany and Switzerland.
Announced but never released. The two power cars are in World Record livery (574,8 km/h on April 3rd, 2007)
Model Information: Kato Introduced it first TGV model in 1983, the 10-091 6-Unit set.

The box sets consist of either a push-pull engine pair with transition coaches and standard coaches and the "add-on" sets consist of standard coaches only. With the push-pull sets, typically one engine is powered and one is a dummy. Coupler types vary from set to set and some sets even carry different couplers for different parts of the train. Newer sets have removable noses for prototypically accurate "double" trains. All the sets contain movable pantographs but none are operating in the sense they cannot draw power to the engine from catenary wires.

The Kato model has evolved over the years. The early engines were typical of 90's vintage kato mechanisms and run smoothly and quietly. Later engines sport Kato's "shock-absorber" design for even quieter operation.
Though we have created only one body style so far for all the Kato TGVs, they are actually quite different one from each other, and not only from the visual aspect reflecting the various evolutions of the prototype; the internal mechanism has also evolved over years. The engines of the initial model of 1983 were quite light, the ones from Eurostar of 1995 were very hefty with a metal chassis leaving very few space for a decoder both in the motorized and dummy engines, the ones from the Thalys, POS et Duplex were mostly plastic with a too light dummy engine.
They come presented in various packaging: the 8-car sets in the large Kato bookcase box, the 10-car sets of the 2000-2010ish in a large box with Unitrack straight tracks for display, and the most recent - post mid-2010s - 10-car sets in 2 small Kato bookcase boxes (without track).
DCC Information
: Only the most recent versions (from the mid 2010s) are factory-equipped with a NEM 651 6-pin decoder socket (but
not
the Eurostar).
However, all Kato TGVs,
starting from the original 1983 version
, are DCC friendly is the sense that the motor is isolated from the chassis, and the motor tabs are accessible from the top. They are all equipped with a circuit board (PCB) that can be modified to accommodate a wired decoder; meaning you have to cut a few traces, properly wire the LEDs (they are not always mounted the same way) and isolate the motor tabs.
For models released in the 2000-2010ish period, replacement PCBs equipped with 6-pin decoder socket were available as spare parts:
- For POS and Lyria: 14746-3G (M1 motorized engine) and 14755-3G (M2 dummy engine)
- For Thalys: K10918-25 (M1 motorized engine) and K10918-26 (M2 dummy engine)
The PCB costs as much as a decoder, and you still have to buy a decoder!
The Eurostar, even re-released in 2017, remains at the border of being DCC-Friendly, with very little room, just to install a small decoder like a Z-scale one.
Some
[1]
[2]
report to have installed a Digitrax DN163K0A though after having replaced the LEDs by the ones from the original model and some modifications of the shell.
The Thalys is a bit more easier to digitalize, though still requiring to
modify the PCB and solder a decoder
; again some
[3]
have achieved to use a Digitrax DN163K0A, with modifications.
Prototype History
: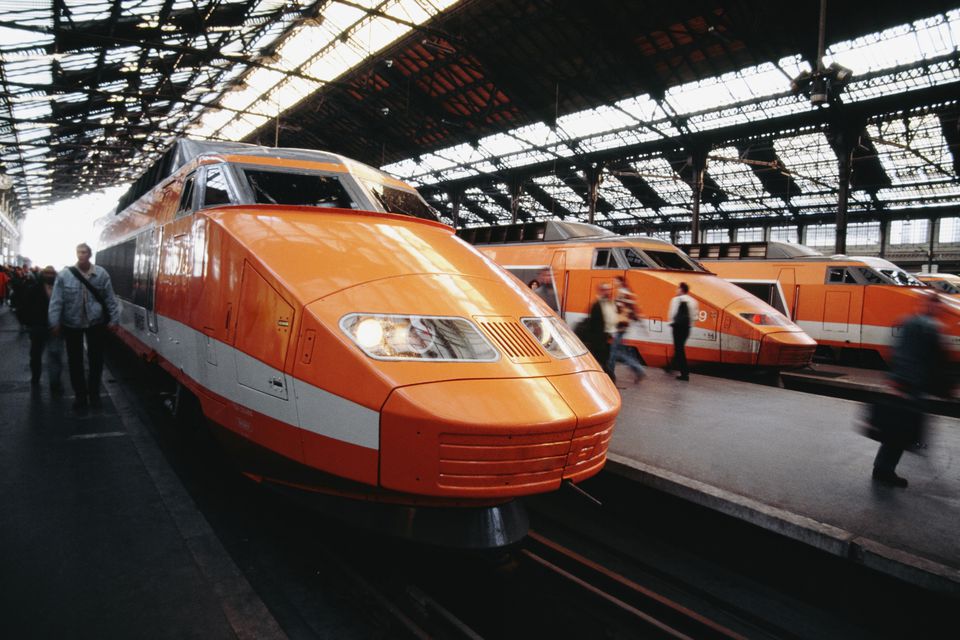 The TGV (French: Train à Grande Vitesse, "high-speed train") is France's intercity high-speed rail service, operated by the SNCF, the national rail operator. It was developed in the 1970s by GEC-Alsthom and the SNCF. Originally designed as turbotrains to be powered by gas turbines, TGV prototypes evolved into electric trains with the 1973 oil crisis. Following the inaugural service between Paris and Lyon in 1981 on the LGV Sud-Est (LGV for Ligne à Grande Vitesse; "high-speed line"), the network, centred on Paris, has expanded to connect main cities across France (Marseille, Lille, Bordeaux, Strasbourg, Rennes) and in adjacent countries on combinations of high-speed and conventional lines.
A TGV test train set the record for the fastest wheeled train, reaching 574.8 km/h (357.2 mph) on 3 April 2007. In mid-2011, scheduled TGV trains operated at the highest speeds in conventional train service in the world, regularly reaching 320 km/h (200 mph) on the LGV Est, LGV Rhin-Rhône, and LGV Méditerranée. Trains running from Paris to Marseille and Strasbourg can also reach 350 km/h (220 mph). According to Railway Gazette International reports in 2007, the world's fastest scheduled rail journey was a start-to-stop average speed of 279.4 km/h (173.6 mph) between the Gare de Champagne-Ardenne and Gare de Lorraine on the LGV Est, not surpassed until Railway Gazette International's 2013 reported average of 283.7 km/h (176.3 mph) express service on the Shijiazhuang to Zhengzhou segment of China's Shijiazhuang–Wuhan high-speed railway.
The commercial success of the first LGV, the LGV Sud-Est, led to an expansion of the network to the south (LGV Rhône-Alpes, LGV Méditerranée, Contournement Nîmes – Montpellier), and new lines in the west (LGV Atlantique, LGV Bretagne-Pays de la Loire and LGV Sud Europe Atlantique), north (LGV Nord and LGV Interconnexion Est), and east (LGV Est). Eager to emulate the TGV's success, neighbouring countries Italy, Spain, and Germany developed their own high-speed rail services. The TGV system itself extends to neighbouring countries, either directly (Italy, Spain, Luxembourg, Germany and Switzerland) or through TGV-derivative networks linking France to Belgium, Germany, and the Netherlands (Thalys), as well as France and Belgium to the United Kingdom (Eurostar). Several future lines are planned, including extensions within France and to surrounding countries. Cities such as Tours have become part of a "TGV commuter belt" around Paris. In 2007, the SNCF generated profits of €1.1 billion (approximately US$1.75 billion, £875 million) driven largely by higher margins on the TGV network.
From Wikipedia
Road Name History
: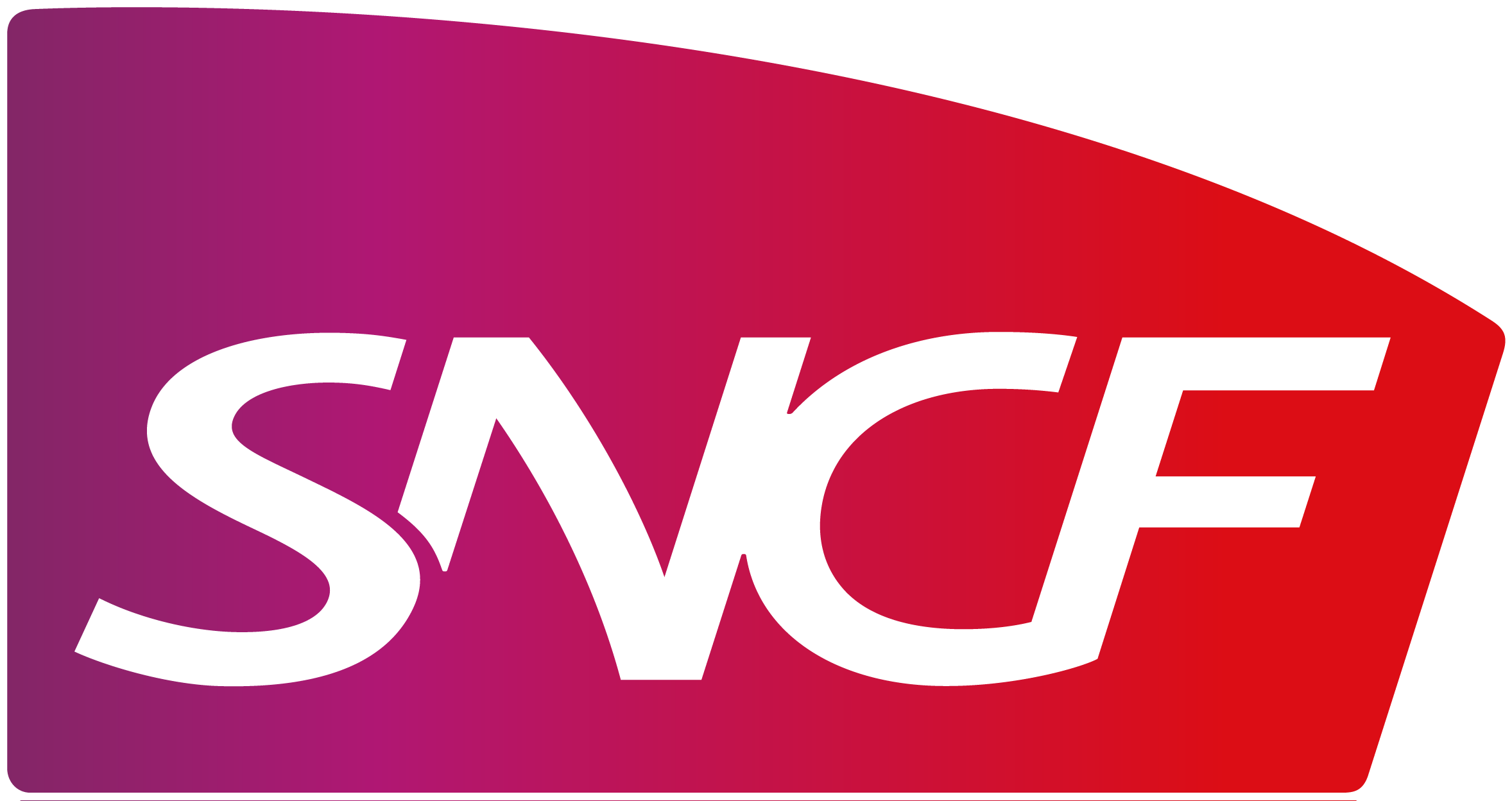 SNCF (Société Nationale des Chemins de fer Français; "National society of French railways" or "French National Railway Company") is France's national state-owned railway company and manages the rail traffic in France and the Principality of Monaco. SNCF operates the country's national rail services, including the TGV, France's high-speed rail network. Its functions include operation of railway services for passengers and freight, and maintenance and signalling of rail infrastructure.
SNCF employs more than 180,000 people in 120 countries around the globe. The railway network consists of about 32,000 km (20,000 mi) of route, of which 1,800 km (1,100 mi) are high-speed lines and 14,500 km (9,000 mi) electrified. About 14,000 trains are operated daily. The company has its headquarters in Saint Denis (93200), near Paris, 2 place aux Etoiles.
In 2010 SNCF was ranked 22nd in France and 214th globally on the Fortune Global 500 list.
It is the main business of the SNCF group, which in 2014 employed 245,763 people and had 27.2 billion € of sales in 120 countries.
From Wikipedia
Brand/Importer Information
:

Wolfgang Lemke GmbH from Haan, Germany, is an importer and also a manufacturer of model articles, especially for model railways in N and H0 scales.
Starting in 1990, Lemke was the general importer for Kato's products in Germany and Europe, a position now held by
Noch
. Lemke is also producing, in cooperation with Kato, specific models for the German and European market under the brand name 'Kato Lemke'.
Item created by:
Alain LM
on 2018-12-28 09:01:26
If you see errors or missing data in this entry, please feel free to
log in
and edit it. Anyone with a Gmail account can log in instantly.