History: Nürnberg was a German light cruiser of the Leipzig class built for the Kriegsmarine. She was named after the city of Nuremberg and had one sister ship, Leipzig. Nürnberg was laid down in 1934, launched in December of that year, and completed in November 1935. She was armed with a main battery of nine 15 cm (5.9 in) guns in three triple turrets and could steam at a speed of 32 knots (59 km/h; 37 mph). Nürnberg was the longest-serving major warship of the Kriegsmarine, and the only one to see active service after the end of World War II, though not in a German navy.

In the late 1930s, Nürnberg took part in the non-intervention patrols during the Spanish Civil War without major incident. After the outbreak of World War II in September 1939, she was used to lay defensive minefields off the German coast. She was thereafter used to escort offensive mine-layers in the North Sea until she was torpedoed by a British submarine in December 1939. She was thereafter used as a training ship in the Baltic Sea for most of the rest of the war, apart from a short deployment to Norway from November 1942 to April 1943. In January 1945, she was assigned to mine-laying duties in the Skaggerak, but severe shortages of fuel permitted only one such operation.

After the end of the war, Nürnberg was seized by the Royal Navy and ultimately awarded to the Soviet Union as war reparations. In December 1945, a Soviet crew took over the ship, and the following month took her to Tallinn, where she was renamed Admiral Makarov. She served in the Soviet Navy, first in the 8th Fleet, then as a training cruiser based in Kronstadt. By 1960, she had been broken up for scrap.
Class
: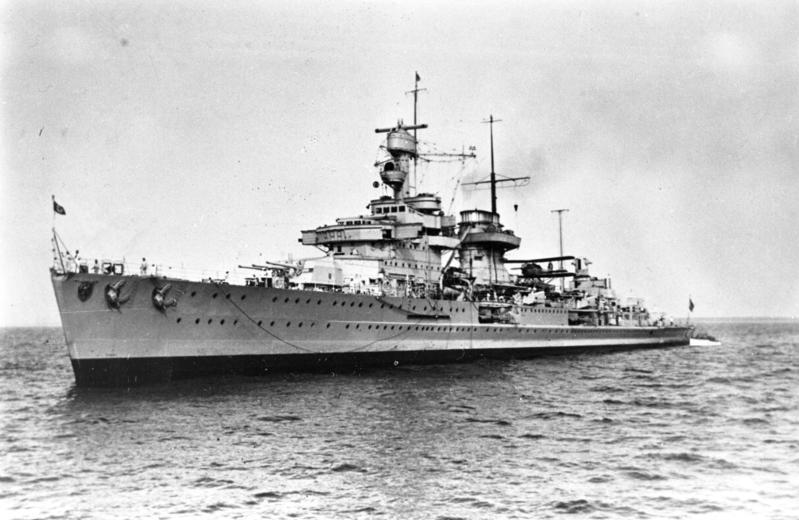 The Leipzig class was a class of two light cruisers of the German Reichsmarine and later Kriegsmarine; the class comprised Leipzig, the lead ship, and Nürnberg, which was built to a slightly modified design. The ships were improvements over the preceding Königsberg-class cruisers, being slightly larger, with a more efficient arrangement of the main battery and improved armor protection. Leipzig was built between 1928 and 1931, and Nürnberg followed between 1934 and 1935.
Both ships participated in the non-intervention patrols during the Spanish Civil War in 1936 and 1937. After the outbreak of World War II, they were used in a variety of roles, including as minelayers and escort vessels. On 13 December 1939, both ships were torpedoed by the British submarine HMS Salmon. They were thereafter used in secondary roles, primarily as training ships, for most of the rest of the war. Leipzig provided some gunfire support to German Army troops fighting on the Eastern Front.
Both ships survived the war, though Leipzig was in very poor condition following an accidental collision with the heavy cruiser Prinz Eugen late in the war. Leipzig was therefore used as a barracks ship before being scuttled in 1946. Nürnberg, however, emerged from the war largely unscathed, and as a result, was seized by the Soviet Navy as war reparations, and commissioned into the Soviet fleet as Admiral Makarov; she continued in Soviet service until the late 1950s, and was broken up for scrap by 1960.
History
:

Germany is a Western European country with a landscape of forests, rivers, mountain ranges and North Sea beaches. It has over 2 millennia of history. Berlin, its capital, is home to art and nightlife scenes, the Brandenburg Gate and many sites relating to WWII. Munich is known for its Oktoberfest and beer halls, including the 16th-century Hofbräuhaus. Frankfurt, with its skyscrapers, houses the European Central Bank.
Item Links:
We found: 1 different collections associated with
Nürnberg - Cruiser
Item created by:
Lethe
on 2019-03-24 10:10:00. Last edited by
gdm
on 2019-04-03 08:33:55
If you see errors or missing data in this entry, please feel free to
log in
and edit it. Anyone with a Gmail account can log in instantly.