Model Information
: Walthers produced this boxcar starting sometime in the 1990s. It appears in the 1997 Walthers catalog with six road names and an undecorated model. It is unclear who made this model for Walthers, but it has been speculated that the manufacturer was Heljan of Denmark. There is a flaw in the assembly of this model that the double doors arte prone to warping over time. The one example we examined in our library clearly shows this warping. It is a typical 1st generation model of the 1970s or 1980s with decent printing and detail but made with old school truck-mounted Rapido couplers.
Announced to be re-run under Atlas brand in April 2019 after
Atlas purchased the tooling from Walthers
, but run cancelled in June 2019. Atlas advertised it as a new model, with the following features:
• Available in end-door or standard end configurations
• Crisp painting and printing
• Separately applied side doors
• Free rolling trucks
• Knuckle couplers
Prototype History
: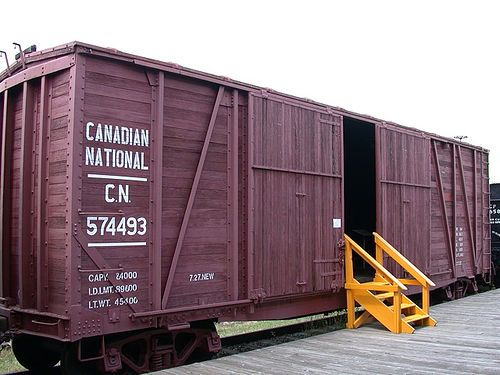 Cars of this style appeared around 1929 on several western railroads, where they were used to handle automobiles, furniture and lumber products. Their double-wide doors simplified loading these cargoes, which did not fit well in smaller cars. Like most cars of this period, steel and wood parts were used in construction. Many remained in service into the 1960s. Most of these cars had roofs with flat steel panels.
The outside braced single sheathed box car proved to be a significant development in railway freight car technology. The use of steel for the under frame (center and side sills), side and end frames initiated a new form of railway freight car building technology. Steel center sills and other under sill framing gave the cars the strength necessary to withstand the stress of longer and faster trains as well as the considerable stress involved in the contact necessary to activate closure of the knuckle coupler while being made up into trains in rail yards or from being picked up from local sidings along the line. The steel frame and the single wood side sheath minimized the weight of the car. This type of car design led to easy construction and repair. Its initial construction cost was low. The design provided secure joints between sides, ends and floors which prevented grain leakage.
Road Name History
: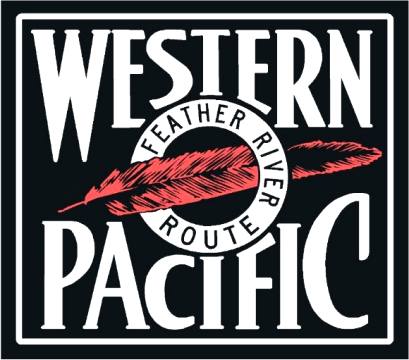 The Western Pacific Railroad (reporting mark WP) was a Class I railroad in the United States. It was formed in 1903 as an attempt to break the near-monopoly the Southern Pacific Railroad had on rail service into northern California. WP's Feather River Route directly competed with SP's portion of the Overland Route for rail traffic between Salt Lake City/Ogden, Utah and Oakland, California for nearly 80 years. In 1983 the Western Pacific was acquired by the Union Pacific Railroad. The Western Pacific was one of the original operators of the California Zephyr.
The original Western Pacific Railroad was established in 1865 to build the westernmost portion of the Transcontinental Railroad between San Jose, California (later Oakland, California), and Sacramento, California. This company was absorbed into the Central Pacific Railroad in 1870.
The second company to use the name Western Pacific Railroad was founded in 1903. Under the direction of George Jay Gould I, the Western Pacific was founded to provide a standard gauge track connection to the Pacific Coast for his aspiring Gould transcontinental system. The construction was financed by the Denver and Rio Grande Western Railroad, a company in the Gould system, which lost access to California due to the attempted acquisition of the Southern Pacific Railroad by the Rio Grande's main rival, the Union Pacific Railroad. The Western Pacific Railroad acquired the Alameda and San Joaquin Railroad and began construction on what would become the Feather River Route. In 1909 it became the last major railroad completed into California. It used 85-lb rail on untreated ties, with no tie plates except on curves over one degree; in 1935 more than half of the main line still had its original rail, most of it having carried 150 million gross tons.
The Western Pacific was acquired in 1983 by Union Pacific Corporation, which in 1996 would purchase its long-time rival, the Southern Pacific Railroad. In July 2005 Union Pacific unveiled a brand new EMD SD70ACe locomotive, Union Pacific 1983, painted as an homage to the Western Pacific.
Brand/Importer Information
: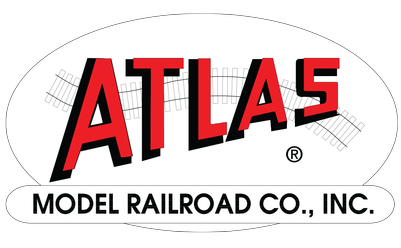 In 1924 Stephan Schaffan, Sr. founded the Atlas Tool Company in Newark, New Jersey. In 1933 his son, Stephan Schaffan, Jr., came to work for his father at the age of sixteen. Steve Jr. built model airplanes as a hobby and frequented a local hobby shop. Being an enterprising young man, he would often ask the owner if there was anything he could do to earn some extra spending money. Tired of listening to his requests, the hobby-store owner threw some model railroad track parts his way and said, "Here, see if you can improve on this".
In those days, railroad modelers had to assemble and build everything from scratch. Steve Jr. created a "switch kit" which sold so well, that the entire family worked on them in the basement at night, while doing business as usual in the machine shop during the day.
Subsequently, Steve Jr. engineered the stapling of rail to fiber track, along with inventing the first practical rail joiner and pre-assembled turnouts and flexible track. All of these products, and more, helped to popularize model railroading and assisted in the creation of a mass-market hobby. The budding entrepreneur quickly outgrew the limitations of a basement and small garage operation. Realizing they could actually make a living selling track and related products, Steve and his father had the first factory built in Hillside, New Jersey at 413 Florence Avenue in 1947. On September 30, 1949, the Atlas Tool Company was officially incorporated as a New Jersey company.
In 1985, Steve was honored posthumously for his inventions by the Model Railroad Industry Association and was inducted into the Model Railroad Industry Hall of Fame in Baltimore, Maryland. In addition, Steve was nominated and entered into the National Model Railroad Association Pioneers of Model Railroading in 1995.
In the early 1990s, the Atlas Tool Company changed its name to
Atlas Model Railroad Company, Inc.
Item created by:
CNW400
on 2019-04-19 15:16:38. Last edited by
CNW400
on 2020-06-05 09:16:55
If you see errors or missing data in this entry, please feel free to
log in
and edit it. Anyone with a Gmail account can log in instantly.