Specific Item Information: Made in Yugoslavia. MRC identified this same model as an FA-1 and an FA-2.
Model Information: This model was introduced in 1969 originally for MRC that dropped it a few years later. AHM and Life-Like imported these briefly in the 1970s. It was then picked up by Model Power in the late 1970s until the 1990s. All these models are marked underneath the fuel tank as 'Made in Yugoslavia'.
It was then re-introduced in 2007 by IHC, though with some modifications. The model is marked Mehano 'Made in Slovenia' (former Yugoslavia). It appears well made but with no DCC capability.
DCC Information: The Mehano versions do not support DCC at all.
Prototype History
: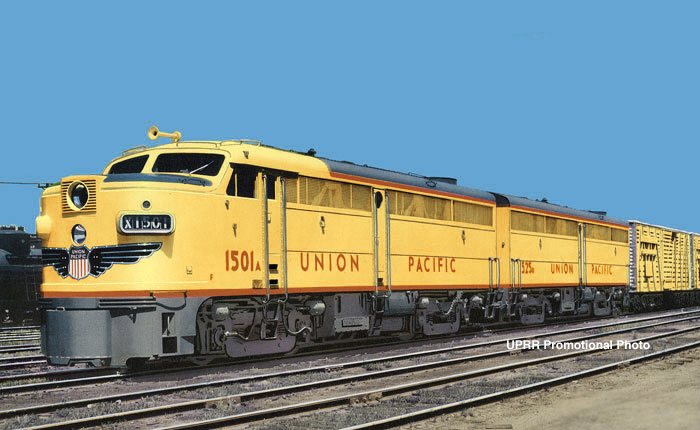 The ALCO FA was a family of B-B diesel locomotives designed to haul freight trains. The locomotives were built by a partnership of ALCO and General Electric in Schenectady, New York, between January 1946 and May 1959. They were of a cab unit design, and both cab-equipped lead (A unit) FA and cabless booster (B unit) FB models were built. A dual passenger-freight version, the FPA/FPB, was also offered. It was equipped with a steam generator for heating passenger cars.
Externally, the FA and FB models looked very similar to the ALCO PA models produced in the same period. Both the FA and PA models were styled by General Electric's Ray Patten. They shared many of the same characteristics both aesthetically and mechanically. It was the locomotive's mechanical qualities (the ALCO 244 V-12 prime mover) and newer locomotive models from both General Motors Electro-Motive Division (EMD) and General Electric (the partnership with ALCO was dissolved in 1953) that ultimately led to the retirement of the FA/FB locomotive model from revenue service. Several examples of FAs and FBs have been preserved in railroad museums, a few of them in operational status on such lines as the Grand Canyon Railway and the Napa Valley Wine Train. ALCO's designation of F marks these locomotives as being geared primarily for freight use, whereas the P designation of the PA sets indicates that they were geared for higher speeds and passenger use. However, beyond this their design was largely similar, and many railroads used FA and PA locomotives for both freight and passenger.
Externally, the FA-1/FB-1 could be distinguished from the FA-2/FB-2 (FPA-2/FPB-2) by the position of the radiator shutters – the FA-1/FB-1's shutters were at the far end of the carbody, whereas on the FA-2/FB-2 they were further forward, the design having been modified to allow the installation of a steam generator behind the radiator.
The FPA-4/FPB-4 were visually different due to the additional radiator space that was positioned below the shutters.
From Wikipedia
Read more on
American-Rails.com
.
Road Name History
: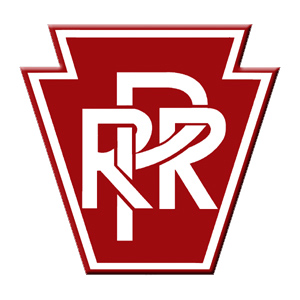 The Pennsylvania Railroad (reporting mark PRR) was an American Class I railroad, founded in 1846. Commonly referred to as the "Pennsy," the PRR was headquartered in Philadelphia, Pennsylvania.
The PRR was the largest railroad by traffic and revenue in the U.S. for the first half of the twentieth century. Over the years, it acquired, merged with or owned part of at least 800 other rail lines and companies. At the end of 1925, it operated 10,515 miles of rail line; in the 1920s, it carried nearly three times the traffic as other railroads of comparable length, such as the Union Pacific or Atchison, Topeka & Santa Fe railroads. Its only formidable rival was the New York Central (NYC), which carried around three-quarters of PRR's ton-miles.
At one time, the PRR was the largest publicly traded corporation in the world, with a budget larger than that of the U.S. government and a workforce of about 250,000 people. The corporation still holds the record for the longest continuous dividend history: it paid out annual dividends to shareholders for more than 100 years in a row.
In 1968, PRR merged with rival NYC to form the Penn Central Transportation Company, which filed for bankruptcy within two years. The viable parts were transferred in 1976 to Conrail, which was itself broken up in 1999, with 58 percent of the system going to the Norfolk Southern Railway (NS), including nearly all of the former PRR. Amtrak received the electrified segment east of Harrisburg.
Brand/Importer Information
:

In the hobby industry, few companies have built as bold and dynamic a reputation for quality products and technical achievement as Model Rectifier Corporation (MRC). More than a half century ago, MRC began its march toward hobby product leadership by designing model railroad train controls with a level of realism and power previously unavailable. Today, MRC's technology-rich Tech 6 and Prodigy DCC lead a long list of MRC engineered train controls and sound systems respected and enjoyed by millions of model railroad hobbyist around the world.
Success with model railroads led us to carry our passion for hobby quality and technology into the development of other outstanding brands and categories. Today, MRC is the exclusive distributor for some of the world's most respected hobby products as well as the creators and manufacturers of prominent proprietary lines. While our brands and products are diverse, they all share a common bond. Each product we sell meets stringent quality standards and exceeds the highest customer expectation levels. Extraordinary in its depth and breadth, MRC product lines include some of the world's most recognized hobby brands and category leaders.
Manufacturer Information
:

Mehano is a Slovenian toy manufacturer located in Izola, Slovenija. The company was founded as Mehanotehnika and was producing toys starting in June 1953. They first exhibited at the Nuerenberg Toy Fair in 1959. Mehano produced a number of different locomotives and rolling stock models for the North American market in the 1960s and 1970s. Companies such as Atlas and Life-Like imported a huge variety of their products. Generally they can easily be recognized as they are stamped "Yugosolavia" on the underframe. The company was formally renamed "Mehano" in 1990. Izola today is part of the country of Slovenia since the breakup of Yugoslavia.
Mehano filed for bankruptcy in 2008, but still continued to exist and operate. Since 2012, Mehano products are distributed by Lemke.
Item created by:
RoadRailer
on 2019-07-11 17:08:32. Last edited by
gdm
on 2020-06-24 13:53:22
If you see errors or missing data in this entry, please feel free to
log in
and edit it. Anyone with a Gmail account can log in instantly.