History: Ugolino Vivaldi was one of twelve Navigatori-class destroyers, built for the Italian Royal Navy (Regia Marina) between the late 1920s and the early 1930s. When Italy entered World War II, on 10 June 1940, Vivaldi, under Captain Giovanni Galati was the flagship of the 14th Destroyer Division, which she formed along with sisterships Leone Pancaldo, Antonio Da Noli and Lanzerotto Malocello.

On 9 September 1943, following the Italian Armistice, Vivaldi and sistership Da Noli were ordered to sail from Genoa to Civitavecchia, near Rome, where they would embark the king and the government and bring them to La Maddalena, Sardinia, to prevent them from being captured by the German forces, that had launched Operation Achse. However when the two ships arrived near Civitavecchia, the order was rescinded, as the Germans had already taken the Rome-Civitavecchia road and the king had fled towards Pescara, on the opposite coast of Italy. Vivaldi and Da Noli were ordered to sail west to meet the rest of the Italian fleet off La Maddalena, and once they were there, they were ordered to engage German craft that were transferring German troops from Sardinia to Corsica. They did so, and sank or damaged some of these craft, but they ended under fire from the coastal batteries on the Corsican coast, whose personnel – belonging to the Blackshirts – had turned over to the Germans. Da Noli sank on a mine, and Vivaldi was badly damaged, but managed to limp away. A few hours later, while sailing west at reduced speed, she was attacked again by German bombers, and further damaged by a Henschel Hs 293 guided missile. She still carried on for some more hours at a speed of a few knots, while the crew struggled to save the ship; but in the end her badly damaged engines ceased working, and her commanding officer, Captain Francesco Camicia, ordered her scuttled. Vivaldi sank on 10 September, about 50 miles west of Asinara island, taking down with her Lieutenant Commander Alessandro Cavriani and petty officer Virginio Fasan, whom had gone back aboard to speed up her sinking.
Class
: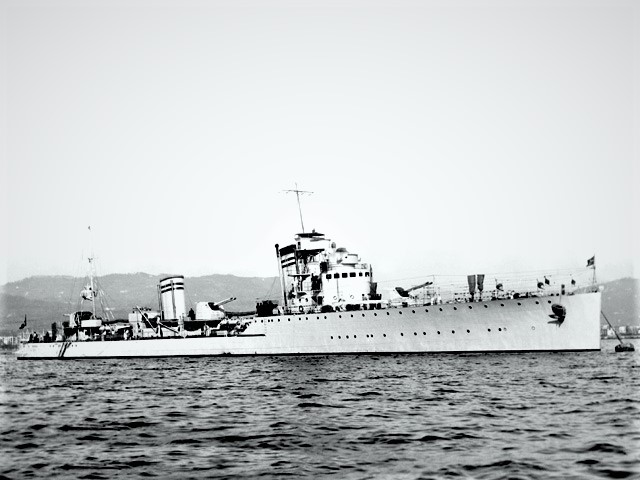 The Navigatori class were a group of Italian destroyers built in 1928-29, named after Italian explorers. They fought in World War II. Just one vessel, Nicoloso Da Recco, survived the conflict. These ships were built for the Regia Marina as a reply to the large contre-torpilleurs of the Jaguar and Guépard classes built for the French Navy. These ships were significantly larger than other contemporary Italian destroyers and were initially classed as esploratori or scouts. They were re-rated as destroyers in 1938.
The main armament was a new model 120 mm (4.7 in)/50 gun[1] in 3 twin turrets which allowed for 45° elevation. The torpedo launchers consisted of two triple banks, each unusually comprising two 533 mm (21 in) separated by one 450 mm (18 in). Two rangefinder positions were provided; one above the bridge and one in the after superstructure.
History
:

Italy, a European country with a long Mediterranean coastline, has left a powerful mark on Western culture and cuisine. Its capital, Rome, is home to the Vatican as well as landmark art and ancient ruins. Other major cities include Florence, with Renaissance masterpieces such as Michelangelo's "David" and Brunelleschi's Duomo; Venice, the city of canals; and Milan, Italy's fashion capital.
Item Links:
We found: 1 different collections associated with
Ugolino Vivaldi - Destroyer
Item created by:
gdm
on 2019-11-20 11:23:24
If you see errors or missing data in this entry, please feel free to
log in
and edit it. Anyone with a Gmail account can log in instantly.