Model Information: MODEL FEATURES: Fully assembled and ready for your layout; Etched metal roofwalks; Flush-roof version; CSX ex Chessie fades and patches per prototype; Factory installed wire roofwalk grab irons; Prototype specific details including flush or overhang roof and round or trough hatches; Weighted for optimum performance; McHenry knuckle spring couplers installed; Minimum radius: 9 3/4"

The prototype was made by Pullman Standard. N&W bought 50 of these in 1965. As of 2000 16 were still in service. They retained there original road numbers under NS.
Prototype History
: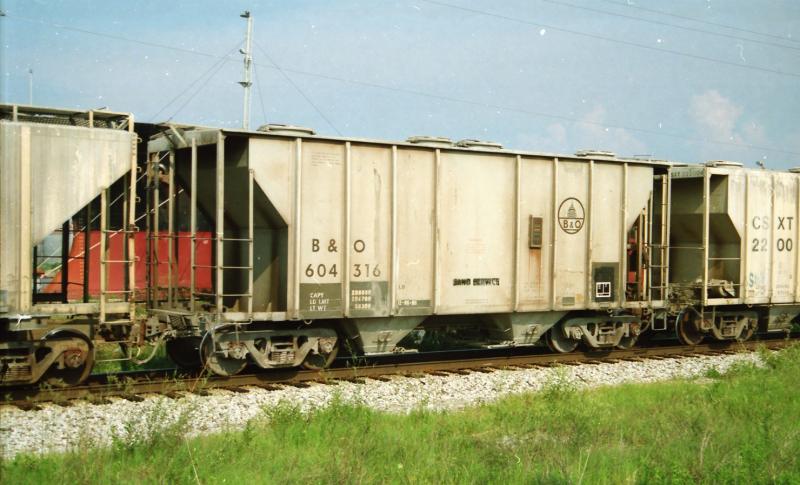 Like their PS-1 boxcars, PS-5 gondolas and other car designs, Pullman Standard applied the PS-2 classification to all of its covered hoppers. Pullman Standard built covered hoppers in many sizes and configurations. But say "PS-2" to railfans and it is this particular car that usually first comes to mind. The 2003 cubic foot car was one of the first, smallest and prolific of the PS-2 cars.
Pullman began building its standardized freight car designs with the PS-1 boxcar in 1947. Next up would be a standard covered hopper – hence PS-2 – shortly thereafter. Although covered hoppers are among the most common cars on the rails today, in 1947 they were a rarity. The PS-2's primary competition wasn't other covered hopper designs but boxcars. Grain, cement, sand and dried chemicals were carried mostly in boxcars prior to the 1950s either in sacks and bags or poured in bulk through hatches in the roof. The theory here was that it made more sense to utilize a single car for a variety of products. The car could carry bags of cement one way and then cut lumber the other. Of course a car that could do many things often couldn't do many of them well.
The PS-2 2600 cu ft covered hopper first entered service in the 1960s. The car was popular for cement and sand service and could still be found in use well into the 2000s. The most common service was cement and sand. Occassionally used as buffer cars in instances were a bulk load was not protected by a bulkhead, for example an uprotected lumber load on flat car would require a buffer car between the load and the locomotive.
Road Name History
: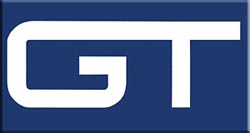 The Grand Trunk Western dates from 1928 as part of the Canadian government's process of nationalizing some major Canadian railroads (under the name Canadian National) including the Grand Trunk Railway which had built the line. The GT lines in Michigan, Indiana and Illinois were combined under the Grand Trunk Western banner. The GTW linked the Canadian border at Port Huron (north of Detroit, Michigan) with Chicago via Durand, Lansing, and South Bend. There were also routes to Detroit, Pontiac, Bay City, Carson City, and the Lake Michigan car ferry port of Muskegon (with ferry service to Wisconsin where GTW maintained a small yard and stationed a switcher.) The GTW had about 1,000 route miles during this period. So, the GTW was an American railroad that was a wholly owned subsidiary of a Canadian corporation, wholly owned by the Canadian government. In 1970, GTW was made a subsidiary of Grand Trunk Corporation (still wholly owned by CN) which also held sister roads Central Vermont, Duluth Winnipeg & Pacific and Grand Trunk (which operated in New York and New England.) This was done to give CN's american employees more opportunities to advance in the organization.
The GTW steam fleet looked very much like what you would see on the CN but GTW's engines were built in the U.S. by Alco, Lima, and Baldwin. A fleet of 58 Alco built Mikes handled the prime road freight assignments until augmented by 43 4-8-4's from Alco and Lima. Parent CN also relied heavily on 4-8-4's so this was not a surprise. The last of these was delivered in 1944. Despite picking up F units and geeps for freight service early on, GTW was late to retire steam. The last run (in passenger service no less) was in 1960!
The first generation of diesels included F's and GP9's (set up long hood forward as on parent CN) followed by GP18's for freight service. GTW went to EMD and Alco for switchers. Road units were painted in a green and gold scheme essentially the same as that of CN but with their own lettering and logos.
In 1962, GTW adopted a new "noodle" logo using the letters GT to conform to CN's own noodle logo adopted two years before. Locomotives were painted black with Morency Orange ends (later replaced with red) with light gray frame stripes and lettering. Cab units received the familiar "sergeant stripe" scheme used on CN. GTW's second generation of diesels (which also introduced the switch to low short hoods and running short-hood-forward) began in 1969 with the delivery of SD40's followed by GP38AC and GP38-2 models. In December of 1971, GTW switched from black to blue with red ends and white frame stripe and lettering.
In addition to acting as a link from Chicago to eastern Canada, GTW was also an important carrier for the auto industry. Their freight car fleet included large numbers of auto parts boxcars and auto racks. In the early 70's, GTW adopted the motto, "the Good Track road" on their freight cars to set them apart from their derailment prone neighbor Penn Central.
In 1980, GTW acquired another railroad critical to the auto industry, the Detroit Toledo & Ironton. This gave GTW routes from Detroit to the Ohio River. A year later, they acquired Norfolk & Western's half of the Detroit & Toledo Shore Line, merging that small bridge line connecting Detroit with Toledo.
At this point, GTW was over 1,500 miles long with 262 diesels and nearly 12,000 cars. In 1995, GTW's parent Canadian National was privatized, at which point there was less need for the US subsidiaries to have distinctly separate identities. Grand Trunk Western continues as a "paper railroad" but operations on these lines are now run as part of the greater Canadian National system.
Brand/Importer Information
: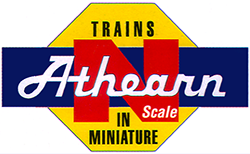 Athearn
's history began in 1938, when its founder-to-be, Irvin Athearn, started an elaborate O scale layout in his mother's house. After placing an ad selling the layout, and receiving much response to it, Irv decided that selling model railroads would be a good living. He sold train products out of his mother's house through most of the 1940s. After becoming a full-time retailer in 1946, Irv opened a separate facility in Hawthorne, California in 1948, and that same year he branched into HO scale models for the first time.
Athearn acquired the Globe Models product line and improved upon it, introducing a comprehensive array of locomotive, passenger and freight car models. Improvements included all-wheel drive and electrical contact. One innovation was the "Hi-Fi" drive mechanism, employing small rubber bands to transfer motion from the motor spindle to the axles. Another was the double-ended ring magnet motor, which permitted easy connection to all-wheel-drive assemblies. Athearn was also able to incorporate flywheels into double-ended drives.
The company produced a model of the Boston & Maine P4 class Pacific steam locomotive which incorporated a cast zinc alloy base and thermoplastic resin superstructure. It had a worm drive and all power pickup was through the bipolar trucks that carried the tender. This item was discontinued after the Wilson motor was no longer available, and was not redesigned for a more technologically advanced motor.
Athearn's car fleet included shorter-than-scale interpretations of passenger cars of Southern Pacific and Atchison, Topeka & Santa Fe Railroad prototypes. The company also offered a variety of scale-length freight cars with sprung and equalized trucks. The cars could be obtained in simple kit form, or ready-to-run in windowed display boxes. The comprehensive scope of the product line contributed to the popularity of HO as a model railroad scale, due to the ready availability of items and their low cost.
Irv Athearn died in 1991. New owners took control in 1994, but continued to follow Athearn's commitment to high-quality products at reasonable prices. Athearn was bought in 2004 by Horizon Hobby. Athearn was then moved from its facility in Compton to a new facility in Carson, California. In mid-2009, all remaining US production was moved to China and warehousing moved to parent Horizon Hobby. Sales and product development was relocated to a smaller facility in Long Beach, California.
Read more on
Wikipedia
and
Athearn website
.
Item created by:
CNW400
on 2021-02-11 15:27:17
If you see errors or missing data in this entry, please feel free to
log in
and edit it. Anyone with a Gmail account can log in instantly.