Model Information: Life-Like first released this model in 1995. Dummy B units were later released in 1997.
The model was completely revised in 2003 and supplemented by a powered E8B. It was re-run again in 2006 (after Walthers acquired Life-Like); it was sold either as single A-unit or as A+B set, both powered.
Dummy body-mount knuckle coupler in front of A units. Rapido hook in rear of A units and on both sides for B units., truck-mount for the early releases, and body-mount for the 2003/2006 releases.
DCC Information: None of the versions have support for DCC
Prototype History
: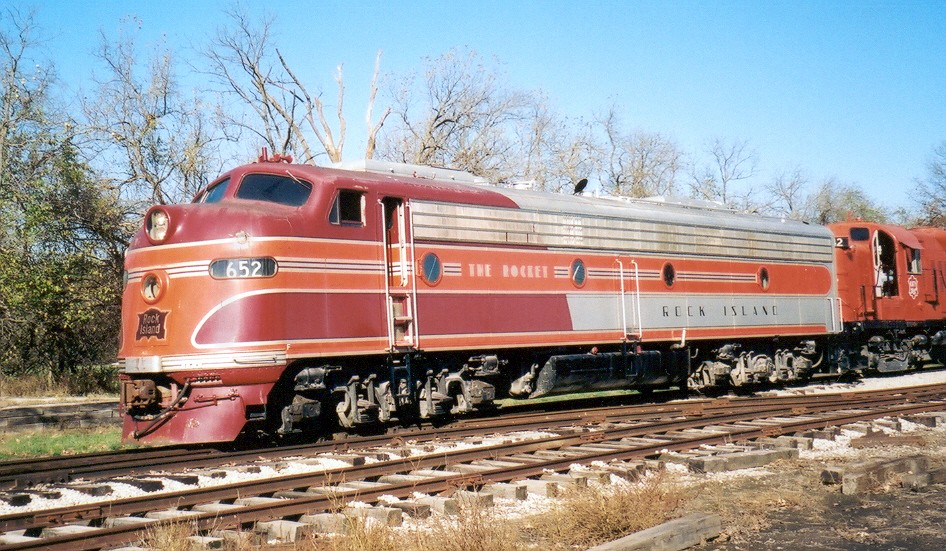 The E8 was a 2,250-horsepower (1,678 kW), A1A-A1A passenger-train locomotive built by General Motors' Electro-Motive Division (EMD) of La Grange, Illinois. 450 cab versions, or E8As, were built from August 1949 to January 1954, 447 for the U.S. and 3 for Canada. 46 E8Bs were built from December 1949 to January 1954, all for the U.S. The 2,250 hp came from two 12 cylinder model 567B engines, each driving a generator to power the two traction motors on one truck. The E8 was the ninth model in the line of passenger diesels of similar design known as EMD E-units. Starting in September 1953 at total of 21 E8As were built which used either the 567BC or 567C engines.
Most of the premier passenger trains including the AT&SF "Super Chief," various CB&Q "Zephyrs," Great Northern's "Empire Builder," New York Central's "Twentieth Century" and Pennsylvania Railroad's "Broadway Limited" were pulled by EMD "E" unit diesel locomotives from the 1940's to the 1970's.
In profile the front of the nose of E7, E8, and E9 units is less slanted than earlier EMD units, and E7/8/9s (and their four axle cousins, the F-unit series) have been nicknamed
bulldog nose
units. Earlier E-unit locomotives were nicknamed
slant nose
units. After passenger trains were canceled on the Erie Lackawanna in 1970, the E8s were re-geared for freight and were very reliable for the EL. These units were on freight trains until the early years of Consolidated Railroad Corporation ("Conrail").
Units noted with the designation E8m were rebuilt using components from earlier EMC/EMD locomotives. Externally the units look just like E8s. The difference in horsepower produced in these E8m units is because the older generators are reused.
From Wikipedia
Read more on
American-Rails.com
Road Name History
: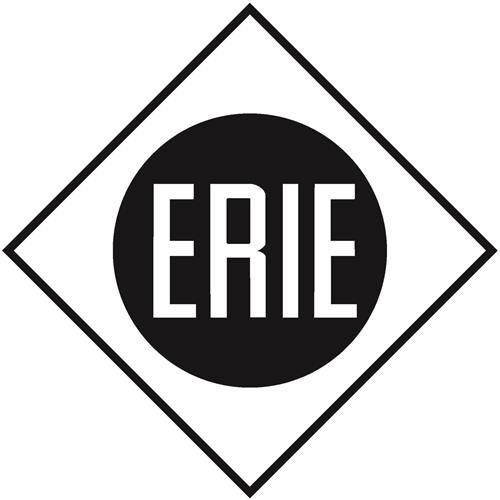 The Erie (the second railroad by that name) was formed in 1895 from the reorganization of the New York Lake Erie & Western which had cobbled together a Jersey City (across the Hudson from New York City) to Chicago route from the original Erie, the Chicago & Atlantic, Atlantic & Great Western and a few smaller lines. The route had been built to 6' gauge and had been standard gauged in 1880.
The New York – Chicago main was all double track with big rail. However, the mainline managed to miss every major city along the way. Binghamton, New York and Akron, Ohio were the biggest cities on the mainline between New York and Chicago. Buffalo, Rochester, Youngstown, Cleveland, Dayton, and Cincinnati were all at the end of branches from the mainline. Some said that "you could forget how much unpopulated land there was in the Northeast until you rode the Erie."
Erie and its predecessors were early victims of "robber barons" that saddled the company with debt that it would carry for over 100 years. The companies went bankrupt 3 times in the 19th Century and once during the Depression (in 1938, after most other lines ironically.) Erie promoted exclusively from within and management was rife with nepotism. It was called "Weary Erie", and "The Scarlet Woman of Wall Street."
Erie's steam fleet was varied although not terribly modern. The Erie passed through Pennsylvania's anthracite region so camelback locomotives were part of the mix. In fact Erie had the largest camelbacks ever built – 0-8-8-0's delivered in 1908. Erie was also one of only two roads to employ Triplexes, in this case with the 2-8-8-8-2 wheel arrangement. Their most modern steam consisted of heavy Berkshires delivered in 1929 when the company was under the influence of the Van Sweringen brothers who also controlled Nickel Plate, C&O, Pere Marquette and Hocking Valley. As a result, they dieselized fairly early primarily with EMD, and Alco road and passenger units and switchers from nearly every builder. Like future dance partner DL&W, Erie road switchers were setup for long-hood-forward operation.
Other than heavy commuter operations in New Jersey, passenger operations paled in comparison to other eastern trunk lines. Erie concentrated on freight. From about 1947 until 1955, the Erie was fairly healthy, although still paying way too much for debt service. They even paid dividends for much of this period. Quartets of F units dragged freights over 185 cars long across New York's scenic Southern Tier. Erie's big clearances (due to the original 6' track gauge) made Erie the go-to road for highly lucrative over-size loads. The Erie was much loved by communities along the line.
The mid-to-late 50s presented one disaster after another. Twin hurricanes damaged track (although not as bad as neighbor DL&W who really took it in the teeth), then strikes in the cement and steel industries cut traffic dramatically. Labor trouble in the tire center of Akron (where Erie was a major carrier) led to much of the tire industry leaving the area. Erie's net income fell in half the next year and then they began to lose money. Combining parallel routes and Jersey Shore terminals with the Lackawanna helped but not enough. In 1960, The Erie merged with the Delaware Lackawanna & Western. Here are Erie's stats in their final year: 2,215 route miles (about the same length as competitors Nickel Plate and Wabash); 484 diesels; 535 passenger cars; 20,028 freight cars.
Brand/Importer Information
:

Life-Like Products LLC (now Life-Like Toy and Hobby division of Wm. K. Walthers) was a manufacturer of model railroad products and was based in Baltimore, Maryland.
It was founded in the 1950s by a company that pioneered extruded foam ice chests under the Lifoam trademark. Because ice chests are a summer seasonal item, the company needed a way to keep the factory operating year round. As model railroading was becoming popular in the post-war years, they saw this as an opportunity and so manufactured extruded foam tunnels for model trains. Over the years, Life-Like expanded into other scenery items, finally manufacturing rolling stock beginning in the late 1960s. At some point in the early 1970s, Life-Like purchased Varney Inc. and began to produce the former Varney line as its own.
The Canadian distributor for Life-Like products, Canadian Hobbycraft, saw a missing segment in market for Canadian model prototypes, and started producing a few Canadian models that were later, with a few modifications, offered in the US market with US roadnames.
In 2005, the company, now known as Lifoam Industries, LLC, decided to concentrate on their core products of extruded foam and sold their model railroad operations to Wm. K. Walthers.
In June 2018, Atlas and Walthers announced to have reached an
agreement
under which all Walthers N scale rolling stock tooling, including the former Life-Like tooling, will be purchased by Atlas.
Read more on
Wikipedia
and
The Train Collectors Association
.
Item created by:
Alain LM
on 2021-10-01 11:45:58. Last edited by
Alain LM
on 2021-10-01 11:50:02
If you see errors or missing data in this entry, please feel free to
log in
and edit it. Anyone with a Gmail account can log in instantly.