Specific Item Information: Pennsylvania Railroad built 500 War Emergency Composite Hoppers in their Altoona Shops in 1942. They were slightly shorter than the AAR design but utilized the same Pratt truss system for the sides. They were designated class H31B. This run will be available in six new road numbers.
Model Information: Bluford Shops is proud to announce our third new body style in N scale for July 2017. This time we have 2-Bay War Emergency Composite Hoppers. These are the predecessors of the Rebuilt War Emergency Hoppers we announced last month. These cars were built during the Second World War with wood siding and slope sheets at the direction of the War Production Board in hopes of saving as much steel as possible for the war effort. This was especially the case with hoppers that were usually built with copper-bearing steel to resist corrosion. The car sides were built with the Pratt truss design using a combination of vertical and diagonal ribs. A majority were later rebuilt with steel replacing the wood components but some composite cars remained in service into the 1970s.

These ready-to-run cars feature: die cast slope sheet-hopper bay-center sill assembly; injection molded plastic sides, ends, and hopper doors; fully molded brake tank, valve and air lines; body mounted brake hose detail; load; body mounted magnetically operating knuckle couplers; close coupling; and Fox Valley Models metal wheels.

All road names will be available in multiple road numbers. For instance, order a single, a 2-pack and a 3-pack to get all six road numbers on a run. (Some road names will be available in just three road numbers.)
Prototype History
: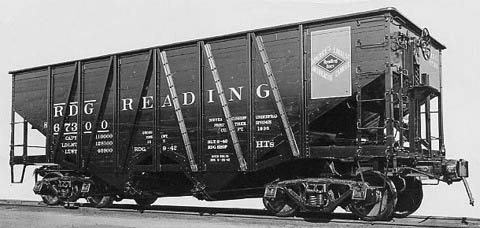 The story of these 2-Bay War Emergency Hoppers begins in 1942 when the War Production Board directed car builders to substitute wood for steel wherever possible in car superstructures. The familiar 2-Bay War Emergency Composite Hopper was a result of this directive. Those cars had wooden side sheets and end slope sheets (although the middle slope sheets remained steel.)
The wood siding was thicker than comparable steel sheeting and this reduced the capacity of the cars. While you could build ten composite cars with the steel from nine all-steel cars, it took more composite cars to move the same amount of coal. This combined with the more frequent repairs required by the composite cars soured the War Production Board on the design.
During 1944, the directive was set aside and cars that were on order were delivered with the familiar diagonal bracing but with all steel construction. After the war, as composite cars came due for serious maintenance, the wood side and slope sheets were replaced with steel. A large majority of the composite cars were rebuilt in this manner sometime during the 1950s.
From Bluford Shops
Road Name History
: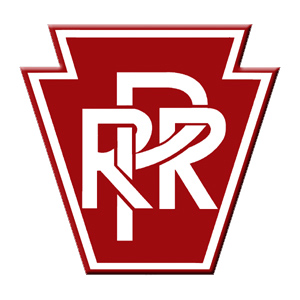 The Pennsylvania Railroad (reporting mark PRR) was an American Class I railroad, founded in 1846. Commonly referred to as the "Pennsy," the PRR was headquartered in Philadelphia, Pennsylvania.
The PRR was the largest railroad by traffic and revenue in the U.S. for the first half of the twentieth century. Over the years, it acquired, merged with or owned part of at least 800 other rail lines and companies. At the end of 1925, it operated 10,515 miles of rail line; in the 1920s, it carried nearly three times the traffic as other railroads of comparable length, such as the Union Pacific or Atchison, Topeka & Santa Fe railroads. Its only formidable rival was the New York Central (NYC), which carried around three-quarters of PRR's ton-miles.
At one time, the PRR was the largest publicly traded corporation in the world, with a budget larger than that of the U.S. government and a workforce of about 250,000 people. The corporation still holds the record for the longest continuous dividend history: it paid out annual dividends to shareholders for more than 100 years in a row.
In 1968, PRR merged with rival NYC to form the Penn Central Transportation Company, which filed for bankruptcy within two years. The viable parts were transferred in 1976 to Conrail, which was itself broken up in 1999, with 58 percent of the system going to the Norfolk Southern Railway (NS), including nearly all of the former PRR. Amtrak received the electrified segment east of Harrisburg.
Brand/Importer Information
:

Bluford Shops began in 2007 as a side project of two model railroad industry veterans, Craig Ross and Steve Rodgers. They saw a gap between road names available on N scale locomotives but not available on cabooses. They commissioned special runs of Atlas cabooses in Atlantic Coast Line, Central of Georgia, Monon, Boston & Maine and Southern plus runs on Grand Trunk Western and Central Vermont on the MDC wooden cabooses. While these were in process, they began to develop their first all new tooling project, 86' Auto Parts Boxcars in double door and quad door editions in N scale. By January of 2008, Bluford Shops became a full time venture. Along with additional N scale freight cars and their own tooling for new cabooses, they have brought their own caboose line to HO scale. They also have their popular Cornfields in both HO and N. The future looks bright as they continue to develop new products for your railroad.
The town of Bluford in southern Illinois featured a small yard on Illinois Central's Edgewood Cutoff (currently part of CN.) The yard included a roundhouse, concrete coaling tower (which still stands) and large ice house. Reefer trains running between the Gulf Coast and Chicago were re-iced in Bluford. Things are more quiet now in Bluford with the remaining tracks in the yard used to stage hoppers for mines to the south and store covered hoppers. Intersecting the IC line in Bluford is Southern Railway's (currently NS) line between Louisville and St. Louis. Traffic on this single track line remains relatively heavy.
Item created by:
CNW400
on 2021-10-21 16:42:05
If you see errors or missing data in this entry, please feel free to
log in
and edit it. Anyone with a Gmail account can log in instantly.