Specific Item Information: Keep your holiday decorating on track with this Lionel 2348 Minneapolis & St. Louis GP-9 engine die-cast metal Christmas tree ornament. Originally available in 1958 and 1959, the classic red, white and blue diesel engine design is sure to evoke memories of holidays spent assembling and playing with the popular model trains.
Series Information: Hallmark Cards' Collector's Series is a series of Christmas tree ornaments from its Keepsake Ornament range.
Model Information: As part of its Keepsake Ornament range, Hallmark Cards offers replica in 1:160 scale of Lionel train models of the past. These die-cast metal items are - obviously - not motorized as they are meant as ornament for Christmas trees.
Prototype History
: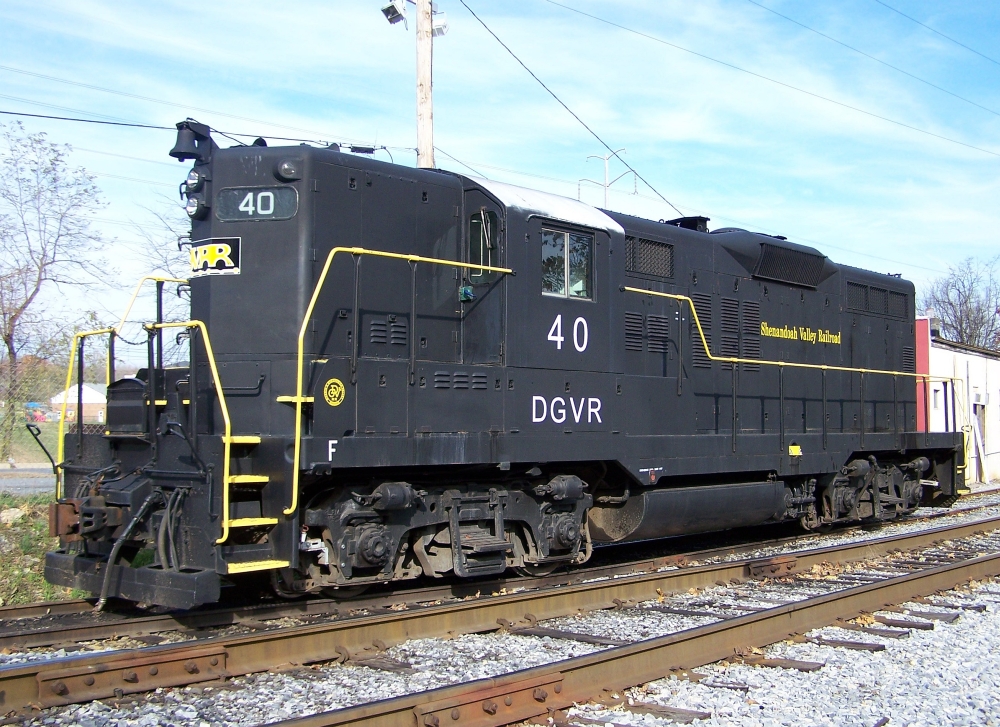 An EMD GP9 is a four-axle diesel-electric locomotive built by General Motors' Electro-Motive Division in the United States, and General Motors Diesel in Canada between January, 1954, and August, 1963. US production ended in December, 1959, while an additional thirteen units were built in Canada, including the last two in August, 1963. Power was provided by an EMD 567C sixteen-cylinder engine which generated 1,750 horsepower (1.30 MW). This locomotive type was offered both with and without control cabs; locomotives built without control cabs were called GP9B locomotives. All GP9B locomotives were built in the United States between February, 1954, and December, 1959.
One option available for locomotives without dynamic brakes, was to remove the two 22.5 in × 102 in (571.5 mm × 2,590.8 mm) air reservoir tanks from under the frame, and replace them with four 12 in × 150.25 in (304.80 mm × 3,816.35 mm) tanks that were installed on the roof of the locomotive, above the prime mover. These "torpedo tubes" as they were nicknamed, enabled the fuel and water tanks to be increased to 1,100 US gallons (4,200 l; 920 imp gal) each, although some railroads opted for roof-mounted air tanks and 2,200 US gallons (8,300 l; 1,800 imp gal) fuel tanks on their freight 'Geeps'.
From Wikipedia
Road Name History
: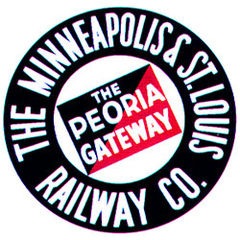 The M&St.L dates to 1853 and received the M&St.L name in 1870. They ran west from Peoria, Illinois to Oskaloosa, Iowa. There the mainline split. The more heavily trafficked line headed north through Marshalltown, Albert Lea and ended in Minneapolis. The other route from Oskaloosa headed northwest to Des Moines, then traced a big arc thought Spencer, Iowa; Winthrop, Minnesota and back to Minneapolis. A northeast to southwest diagonal line connected these to parallel routes. In addition to some shorter branches, there was a very long branch from Winthrop, Minnesota to Aberdeen, Leola, and Akaska, South Dakota. Although they had St. Louis in the name, and they were known as "The Louie" by locals, they never went anywhere near that city. Total mileage during the 50's ran about 1,400. That's just a bit smaller than Western Pacific.
The M&St.L called itself "The Peoria Gateway." Peoria, Illinois, like Chicago and St. Louis is a gateway between eastern railroads and western railroads. M&St.L was in a position to forward freight from Great Northern and Northern Pacific in Minneapolis to Peoria and its connections with Pennsylvania, Nickel Plate, Toledo Peoria & Western, and their favored connection, New York Central's Peoria & Eastern subsidiary. Because Peoria was far less congested than Chicago, it often saved a day of transit time between Northwest and Eastern end points.
M&St.L also jointly marketed a route with Illinois Central for traffic between Chicago and Minneapolis under The Albert Lea Route name. It was surprisingly successful given that Burlington, Milwaukee Road, Chicago & North Western, and Soo Line all served the same corridor.
Passenger service was not their forte. Rock Island served the same major cities with nicer trains. That left M&St.L with a fleet of doodlebugs, often running with one to three trailers to serve local communities. An average passenger on the M&St.L traveled just 90 miles. In later years, Budd streamlined coaches served as trailers.
M&St.L operated in receivership from 1923 until 1942, longer than any other railroad at the time. Lucian Sprague, the receiver and later president dumped the oldest freight cars and bought new ones. By 1950, the steam fleet (the largest engines of which were light Mikes and light Pacifics) had been completely replaced with diesels.
M&St.L had more Alco RS-1's than any other line (35) and painted them in NINE different paint schemes. SD7's were painted in one of those schemes: black, cream, and gray. F units were painted in two versions of yellow and green with orange pinstripes. Switchers were black with modest striping. A new president in 1956 brought a new red and white paint scheme that was a nod to his alma mater, the University of Nebraska. Incidentally, that is the TENTH paint scheme for the RS-1's. A bit later, they began painting freight cars in the same red with big jaunty M&St.L lettering that Lionel made nationally famous.
During this period, M&St.L tried to gain control of Toledo Peoria & Western and the Monon. Pennsylvania and Santa Fe joined forces to block the TP&W acquisition and that was that. The Chairman (Ben Heinman) left M&St.L to head the Chicago & North Western. In 1960, C&NW bought the railroad assets of the Minneapolis & St. Louis and merged the operations. The M&St.L corporation became an empty shell, which changed its name to MSL Industries and got into the hardware and finished steel businesses. MSTL reporting marks are still used today by Union Pacific to denote certain leased car fleets.
Brand/Importer Information
:

Hallmark Cards, Inc. is a private, family-owned American company based in Kansas City, Missouri. Founded in 1910 by Joyce Hall, Hallmark is the oldest and largest manufacturer of greeting cards in the United States. In addition to greeting cards, Hallmark also manufactures such products as party goods, gift wrap, and stationery. In 1973, Hallmark Cards started manufacturing Christmas ornaments. The Hallmark Keepsake Ornament collection is dated and available for just one year.
Item created by:
CNW400
on 2021-11-10 15:16:56. Last edited by
CNW400
on 2021-11-10 15:16:57
If you see errors or missing data in this entry, please feel free to
log in
and edit it. Anyone with a Gmail account can log in instantly.