Model Information: Model Power introduced this model in 2002 in standard version. Additional versions have been introduced subsequently: semi-streamlined version in 2004, Vandy tender version in 2005, a revised semi-streamlined version in 2010, and lastly a revised MRC version in 2015. There has been several runs with different road numbers, but using the same stock number.

They are manufactured in Korea and feature die-cast bodies. This makes them fairly solid. Unlike many steam engines they also are very DCC-Friendly. The fall short of being fully DCC-Ready because they do not support drop-in decoders and instead require some manipulation of wiring. They run very well and can pull a lot of cars. The shell details are excellent. They were delivered in a jewelry-like plastic chest.

Unfortunately, the design is not great for running and parts of the lower shell can get mangled when they hit rough patches of track (especially turnouts). This can effectively put one of these out of commission. For this reason we advise buying these from a certified dealer because if you have to return them for repairs you will need the documentation.
DCC Information: It is pretty easy to add DCC to this engine. However, it is not DCC-Ready as you need to splice in a decoder inside the tender. Not a lot of work, but not as nice as a drop-in decoder swap.
Prototype History
:

Under the Whyte notation for the classification of steam locomotives, 4-6-2 represents the wheel arrangement of four leading wheels on two axles, six powered and coupled driving wheels on three axles and two trailing wheels on one axle. The 4-6-2 locomotive became almost globally known as a Pacific type. The type is well-suited to high speed running. The world speed record for steam traction of 126 miles per hour (203 kilometres per hour) has been held by a British Pacific locomotive, the Mallard, since 3 July 1938.
The introduction of the 4-6-2 design in 1901 has been described as "a veritable milestone in locomotive progress". On many railways worldwide, Pacific steam locomotives provided the motive power for express passenger trains throughout much of the early to mid-20th century, before either being superseded by larger types in the late 1940s and 1950s, or replaced by electric or diesel-electric locomotives during the 1950s and 1960s. Nevertheless, new Pacific designs continued to be built until the mid-1950s.
The type is generally considered to be an enlargement of the 4-4-2 Atlantic type, although its prototype had a direct relationship to the 4-6-0 Ten-wheeler and 2-6-2 Prairie, effectively being a combination of the two types. The success of the type can be attributed to a combination of its four-wheel leading truck which provided better stability at speed than a 2-6-2 Prairie, the six driving wheels which allowed for a larger boiler and the application of more tractive effort than the earlier 4-4-2 Atlantic, and the two-wheel trailing truck, first used on the New Zealand 2-6-2 Prairie of 1885. This permitted the firebox to be located behind the high driving wheels and thereby allowed it to be both wide and deep, unlike the 4-6-0 Ten-wheeler which had either a narrow and deep firebox between the driving wheels or a wide and shallow one above.
From Wikipedia
Road Name History
: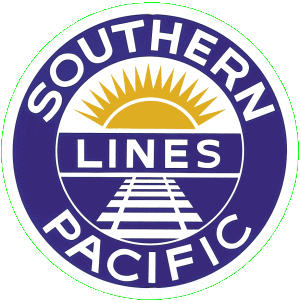 The Southern Pacific Transportation Company (reporting mark SP), earlier Southern Pacific Railroad and Southern Pacific Company, and usually called the Southern Pacific or (from the railroad's initials) Espee, was an American Class I railroad. It was absorbed in 1988 by the company that controlled the Denver and Rio Grande Western Railroad and eight years later became part of the Union Pacific Railroad.
The railroad was founded as a land holding company in 1865, later acquiring the Central Pacific Railroad by lease. By 1900 the Southern Pacific Company was a major railroad system incorporating many smaller companies, such as the Texas and New Orleans Railroad and Morgan's Louisiana and Texas Railroad. It extended from New Orleans through Texas to El Paso, across New Mexico and through Tucson, to Los Angeles, through most of California, including San Francisco and Sacramento. Central Pacific lines extended east across Nevada to Ogden, Utah, and reached north through Oregon to Portland. Other subsidiaries eventually included the St. Louis Southwestern Railway (Cotton Belt), the Northwestern Pacific Railroad at 328 miles (528 km), the 1,331 miles (2,142 km) Southern Pacific Railroad of Mexico, and a variety of 3 ft (914 mm) narrow gauge routes.
In 1929 SP/T&NO operated 13848 route-miles not including Cotton Belt, whose purchase of the Golden State Route circa 1980 nearly doubled its size to 3,085 miles (4,965 km), bringing total SP/SSW mileage to around 13,508 miles (21,739 km).
By the 1980s route mileage had dropped to 10,423 miles (16,774 km), mainly due to the pruning of branch lines. In 1988 the Southern Pacific was taken over by D&RGW parent Rio Grande Industries. The combined railroad kept the Southern Pacific name due to its brand recognition in the railroad industry and with customers of both constituent railroads. Along with the addition of the SPCSL Corporation route from Chicago to St. Louis, the total length of the D&RGW/SP/SSW system was 15,959 miles (25,684 km).
By 1996 years of financial problems had dropped SP's mileage to 13,715 miles (22,072 km), and it was taken over by the Union Pacific Railroad.
Read more on
Wikipedia
.
Brand/Importer Information
:

Founded in the late 1960's by Michael Tager, the 3rd generation business specializes in quality hobby products serving the toy and hobby markets worldwide. During its 50 years of operation, Model Power has developed a full line of model railroading products, die-cast metal aircraft, and die-cast metal cars and trucks.
In early 2014, Model Power ceased its business operations. Its extensive portfolio of intellectual property and physical assets are now exclusively produced, marketed, sold, and distributed by
MRC
(Model Power, MetalTrain and Mantua) and by
Daron
(Postage Stamp Airplanes and Airliner Collection).
Item created by:
denlyleadams
on 2022-06-02 22:17:05. Last edited by
Alain LM
on 2022-06-03 00:56:43
If you see errors or missing data in this entry, please feel free to
log in
and edit it. Anyone with a Gmail account can log in instantly.