Model Information: Model Power introduced this model in 2002 in standard version. Additional versions have been introduced subsequently: semi-streamlined version in 2004, Vandy tender version in 2005, a revised semi-streamlined version in 2010, and lastly a revised MRC version in 2015. There has been several runs with different road numbers, but using the same stock number.

They are manufactured in Korea and feature die-cast bodies. This makes them fairly solid. Unlike many steam engines they also are very DCC-Friendly. The fall short of being fully DCC-Ready because they do not support drop-in decoders and instead require some manipulation of wiring. They run very well and can pull a lot of cars. The shell details are excellent. They were delivered in a jewelry-like plastic chest.

Unfortunately, the design is not great for running and parts of the lower shell can get mangled when they hit rough patches of track (especially turnouts). This can effectively put one of these out of commission. For this reason we advise buying these from a certified dealer because if you have to return them for repairs you will need the documentation.
DCC Information: It is pretty easy to add DCC to this engine. However, it is not DCC-Ready as you need to splice in a decoder inside the tender. Not a lot of work, but not as nice as a drop-in decoder swap.
Prototype History
:

Under the Whyte notation for the classification of steam locomotives, 4-6-2 represents the wheel arrangement of four leading wheels on two axles, six powered and coupled driving wheels on three axles and two trailing wheels on one axle. The 4-6-2 locomotive became almost globally known as a Pacific type. The type is well-suited to high speed running. The world speed record for steam traction of 126 miles per hour (203 kilometres per hour) has been held by a British Pacific locomotive, the Mallard, since 3 July 1938.
The introduction of the 4-6-2 design in 1901 has been described as "a veritable milestone in locomotive progress". On many railways worldwide, Pacific steam locomotives provided the motive power for express passenger trains throughout much of the early to mid-20th century, before either being superseded by larger types in the late 1940s and 1950s, or replaced by electric or diesel-electric locomotives during the 1950s and 1960s. Nevertheless, new Pacific designs continued to be built until the mid-1950s.
The type is generally considered to be an enlargement of the 4-4-2 Atlantic type, although its prototype had a direct relationship to the 4-6-0 Ten-wheeler and 2-6-2 Prairie, effectively being a combination of the two types. The success of the type can be attributed to a combination of its four-wheel leading truck which provided better stability at speed than a 2-6-2 Prairie, the six driving wheels which allowed for a larger boiler and the application of more tractive effort than the earlier 4-4-2 Atlantic, and the two-wheel trailing truck, first used on the New Zealand 2-6-2 Prairie of 1885. This permitted the firebox to be located behind the high driving wheels and thereby allowed it to be both wide and deep, unlike the 4-6-0 Ten-wheeler which had either a narrow and deep firebox between the driving wheels or a wide and shallow one above.
From Wikipedia
Road Name History
: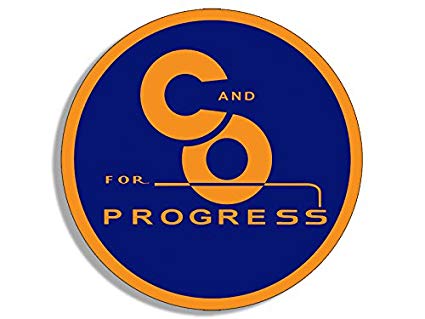 The Chesapeake and Ohio Railway (reporting marks C&O, CO) was a Class I railroad formed in 1869 in Virginia from several smaller Virginia railroads begun in the 19th century. Led by industrialist Collis P. Huntington, it reached from Virginia's capital city of Richmond to the Ohio River by 1873, where the railroad town (and later city) of Huntington, West Virginia was named for him.
Tapping the coal reserves of West Virginia, the C&O's Peninsula Extension to new coal piers on the harbor of Hampton Roads resulted in the creation of the new City of Newport News. Coal revenues also led the forging of a rail link to the Midwest, eventually reaching Columbus, Cincinnati and Toledo in Ohio and Chicago, Illinois.
By the early 1960s the C&O was headquartered in Cleveland, Ohio, USA. In 1972, under the leadership of Cyrus Eaton, it became part of the Chessie System, along with the Baltimore and Ohio and Western Maryland Railway. The Chessie System was later combined with the Seaboard Coast Line and Louisville and Nashville, both the primary components of the Family Lines System, to become a key portion of CSX Transportation (CSXT) in the 1980s. A substantial portion of Conrail was added in 1999.
C&O's passenger services ended in 1971 with the formation of Amtrak. Today Amtrak's tri-weekly Cardinal passenger train follows the historic and scenic route of the C&O through the New River Gorge in one of the more rugged sections of the Mountain State. The rails of the former C&O also continue to transport intermodal and freight traffic, as well as West Virginia bituminous coal east to Hampton Roads and west to the Great Lakes as part of CSXT, a Fortune 500 company which was one of seven Class I railroads operating in North America at the beginning of the 21st century.
At the end of 1970 C&O operated 5067 miles of road on 10219 miles of track, not including WM or B&O and its subsidiaries.
Read more on
Wikipedia
.
Brand/Importer Information
:

Founded in the late 1960's by Michael Tager, the 3rd generation business specializes in quality hobby products serving the toy and hobby markets worldwide. During its 50 years of operation, Model Power has developed a full line of model railroading products, die-cast metal aircraft, and die-cast metal cars and trucks.
In early 2014, Model Power ceased its business operations. Its extensive portfolio of intellectual property and physical assets are now exclusively produced, marketed, sold, and distributed by
MRC
(Model Power, MetalTrain and Mantua) and by
Daron
(Postage Stamp Airplanes and Airliner Collection).
Item created by:
CNW400
on 2022-11-14 09:51:28
If you see errors or missing data in this entry, please feel free to
log in
and edit it. Anyone with a Gmail account can log in instantly.