Specific Item Information
: The all-new Rivet Counter™ N Scale Thrall Manufacturing 48' Coil Steel Car is the definitive model of this unique freight car. True to the prototype, the car features railroad, road number, and era-specific™ features like detailed hoods; as-delivered or contemporary paint schemes; 4 positionable load dividers; 4 large unwrapped coil steel loads; a finely detailed body with dual trough design and center divider; plus 16 walkway side supports and simulated wood trough interior. Depending on the type of steel you're hauling, the car can be used without hoods as well.
Era: 2005 to present
Contemporary paint
Conspicuity striping
2 x Version 1 Hood: No corner reinforcement, long side handrail with grab irons, hood stacking brackets with outer extensions (Painted for NS with large NS logos)
Model Information
: Road Number Specific ScaleTrains
All-new model
Era: 1994 to Mid 2010s
Series 92050 to 92099, built 10-11/94
Fully-assembled
Multiple road numbers
Body with dual trough design and center divider, sixteen walkway side supports and simulated wood trough interior. Designed for the use of two hoods although, depending on the type of steel, the car can be run without hoods as well.
Body has four wireform side grab irons and four wireform end grabirons
2 x Version 1 Hood: No corner reinforcement, long side handrail with grab irons, hood stacking brackets with outer extensions
Each hood is constructed with up to 16 individual parts including six wireform handrails, four wireform grab irons, two hood stacking brackets, two hood top braces, and lifting bail
Handbrake housing with finely detailed wheel and chain
See-through photo-etched metal walkway
Simulated wood interior floor using a hand applied wash
Four (4) positionable load dividers
Four (4) large unwrapped coil steel loads
Factory-applied end handrails, hood guides, stanchions, load divider tracks, metal grab irons, coupler cut levers, and trainline hoses with silver gladhands
Complete underbody brake system with over 15 separately applied parts including air reservoir, control valve, and retainer valve plus wireform plumbing and trainline pipe with brackets
Body-mounted semi-scale standard Type E knuckle couplers – Micro-Trains® compatible
ASF Ride Control trucks with finely rendered raised foundry data
36" machined metal wheels
Operates on Code 55, 70 and 80 rail
Printing and lettering legible even under magnification
Weighted to Industry standards for reliable operation
Minimum radius: 9 ¾"
Recommended radius: 11"
Clear jewel box packaging safely stores model
Prototype History: Strip or sheet steel has long been a major component in the manufacturing of many different products including pipes, tanks, household appliances - both large and small, industrial shelving, machinery, freight cars, and especially automobiles. Cold-rolled or hot-rolled, varying in width from less than an inch to ten feet, and ranging in thickness from 1/64th of an inch to 1/4th of an inch, the steel was originally cut into sheets in customer specified lengths. After World War II, winding the steel strip into a coil almost completely replaced the sheets. The steel coil with 3,000 to 5,000 feet of steel is much easier to handle and transport than a stack of steel sheets. Coils are also far more versatile than a sheet that may be too long for one usage or too short for another.
The biggest challenge for railroads and the automobile industry, the primary user of coiled steel, was how to transport it efficiently. In the 1960s, the Ford Motor Company, working with the Detroit Toledo & Ironton and the Chesapeake & Ohio railroads, came up with the design of the coil steel car. The original design was a heavy-duty frame with two 24-foot troughs covered by hoods made of thin steel. The troughs and movable load dividers prevented the coils from rolling side-to-side or sliding while the hoods protected the coils from the weather. Several freight car builders built coil steel cars, including Thrall Car Manufacturing which built these 48-foot, twin hood cars in the 1980s and 1990s. The first Thrall cars had a 100-ton capacity, but later versions were built to a 125-ton capacity. Wearing the protective hoods on, the car can carry coils up to 7 feet in diameter. They can carry coils up to 10 feet with the hoods removed. The flat-top hoods from the first designs have been replaced with a rounded top design that is both easier to manufacture and is stronger.
Road Name History
: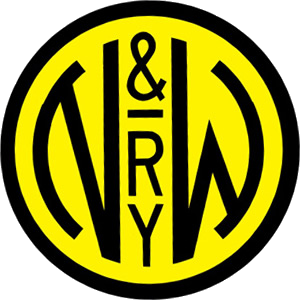 The Norfolk and Western Railway (reporting mark NW), was a US class I railroad, formed by more than 200 railroad mergers between 1838 and 1982. It was headquartered in Roanoke, Virginia, for most of its 150-year existence. Its motto was "Precision Transportation"; it had a variety of nicknames, including "King Coal" and "British Railway of America" even though the N&W had mostly articulated steam on its roster. During the Civil War, the N&W was the biggest railroad in the south and moved most of the products with their steam locomotives to help the South the best way they could.
NW was famous for manufacturing its own steam locomotives, which were produced at the Roanoke Shops, as well as its own hopper cars. Around 1960, NW became the last major American railroad to convert from steam locomotives to diesel motive power but didn't retire its last remaining Y class locomotives until 1964 and 1965. By 1965, steam on class I railroads was gone but steam wasn't gone on class II railroads until 1974 and class III and mining railroads retired their steam locomotives from their active roster until 1983. By 1983, steam in America on class I, II, III, and mining railroads had finally closed the chapter on America's 150 years of steam from 1830 - 1983.
In December 1959, NW merged with the Virginian Railway (reporting mark VGN), a longtime rival in the Pocahontas coal region. By 1970, other mergers with the Nickel Plate Road and Wabash formed a system that operated 7,595 miles (12,223 km) of road on 14,881 miles (23,949 km) of track from North Carolina to New York and from Virginia to Iowa.
In 1980, NW teamed up with the Southern Railway, another profitable carrier and created the Norfolk Southern Corporation holding company by merging its business operations with the business operations of the Southern Railway. The NW and the Southern Railway continued as separate railroads now under one holding company.
On December 31, 1990, the Southern Railway was renamed "Norfolk Southern Railway" to reflect the Norfolk Southern Corporation and on the same day, the renamed Norfolk Southern Railway gained full control of the Norfolk and Western Railway with the Norfolk and Western being transferred from the holding company to the renamed Norfolk Southern Railway, this began the final years of Norfolk and Western which was absorbed into the renamed Norfolk Southern Railway seven years later in 1997 (1990 to 1997 the Norfolk and Western continued operating by using paper operations).
In 1997 during the Conrail battle with CSX, Norfolk Southern Corporation's principal railroad, the renamed Norfolk Southern Railway, absorbed the Norfolk and Western Railway into their rail system, ending the existence of the Norfolk and Western Railway and having the renamed Norfolk Southern Railway becoming the only railroad in the entire Norfolk Southern system after that.
Brand/Importer Information
:

ScaleTrains.com, Inc. is an upstart HO and N Scale model manufacturer that was founded by a team with more than 125 years of accumulated experience in the model railroad hobby and industry.
ScaleTrains is specifically focused on the tiny details in the printing and quality of the construction. The four friends who founded the company are all avid modelers themselves. Their factory is located in Tennessee. Unlike most other companies, they offer a range of different levels of complexity in their offerings so as to be able to provide products for both the budget-conscious collector as well as the detail-focused model enthusiast without compromising on quality for either.
They range covers the following, by increasing level of detailing:
Operator™ trains are built for modelers who enjoy running high-quality, realistic trains at an affordable price. Designed from builder's drawings and photographs, Operator models have fewer factory-applied parts and simplified printing. For added versatility, super-detail parts are available separately.
The Rivet Counter™ line strives to create the most accurately detailed models imaginable. The real-world counterpart is meticulously researched to ensure prototype fidelity. Each model features numerous factory applied parts including roadname and road number specific details whenever possible.
Museum Quality™ models are historically accurate replicas of the most famous locomotives in North American railroading history. Exhaustive research and a commitment to perfection combine to create the ultimate scale model. Museum Quality trains establish new standards which make them just as legendary as the original.
Item created by:
CMK
on 2022-11-19 09:43:58. Last edited by
CMK
on 2022-11-19 09:43:59
If you see errors or missing data in this entry, please feel free to
log in
and edit it. Anyone with a Gmail account can log in instantly.