Specific Item Information: Twelve (12) different road numbers in this series 2525A-M
Prototype History
: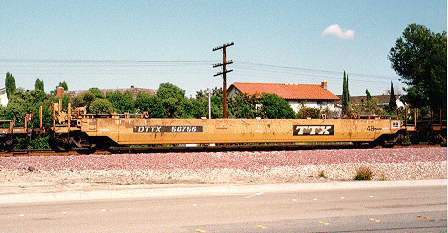 Double-stack container trains first hit the rails for regular service in 1981. The Southern Pacific Railroad had developed the idea to provide service for the Sea- Land maritime shipping company. SP's pioneering double-stack service let Sea- Land's containers take a shortcut from the west coast to the Gulf of Mexico bypassing the Panama Canal. From prototype car to production order, the SP spent a little over four years on the double-stack development project. The SP's double-stack cars featured unwieldy bulkheads on each end to prevent the loose top container from blowing off of the car. A new group at Greenbrier Intermodal designed a similar bulkhead car, even as other companies were starting to leave the bulkheads off of their stack cars. The support for the upper container came from inter-box connectors (IBCs) which had been used for years in oceangoing container shipping. Greenbrier and their car builder, Gunderson, wanted to get in on that market, and did so with their Maxi-Stack cars. But there was another new market out there: developing a single, two-truck stack car. Almost all of the existing cars in service were articulated, with the exception of one SP prototype car.
David DeBoer, a co-founder of Greenbrier, had been seeking to fill this single-well stack car niche, despite the "intermodal experts" at Trailer Train Corp. insisting that the only single-well car that could ride smoothly was a European-style 2-axle car. (In fact, it was DeBoer who wrote the reference book I used for much of this background. His Piggyback and Containers is a highly recommended read, and it was my first review item for MRN.) DeBoer sought advice from his retired former boss at the SP. This pitted the Doubting Thomases at TTX up against Bill Thomford, who had developed the SP's double-stack prototypes. Thomford laughed off Trailer Train's existence, pointing out that his own single-well, two-truck stack car had a million miles of reliable service under its belt. DeBoer went back to Greenbrier and the company got to work designing the car that TTX said was doomed to failure.
In 1990, Gunderson turned out the Husky Stack. Test engineers proved Thomford right, and the cars tracked perfectly. Trailer Train ended up reversing their initial claims and ordering 150 Husky Stack cars built with 48-foot wells in 1991. The Burlington Northern also ordered 75 cars and other buyers lined up later. The original 1991 model cars are still going strong for many different owners, including Trailer Train.
Husky Stack development has continued today, with the introduction of 53-foot wells and the "All-Purpose" Husky Stack, with trailer hitches on each end. In Greenbrier terms, the car is named the HS53 for the 53-foot well version.
Road Name History
: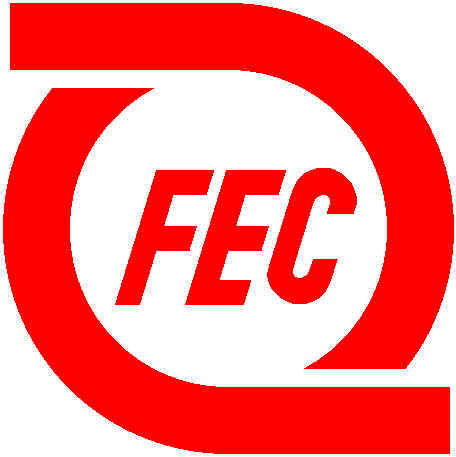 The Florida East Coast Railway (reporting mark FEC) is a Class II railroad operating in the U.S. state of Florida and since 2007 has been a subsidiary of Railroad Acquisition Holdings, LLC, itself a subsidiary of Fortress Investment Group, LLC.
The FEC was historically a Class I railroad owned by Florida East Coast Industries (FECI) from 2000-2006, FOXX Holdings from 1983-2000, and the St. Joseph Paper Company prior to 1983.
Built primarily in the last quarter of the 19th century and the first decade of the 20th century, the FEC was a project of Standard Oil principal Henry Morrison Flagler. Flagler originally visited Florida to aid with the health issues faced by his first wife, Mary. A key strategist who worked closely with John D. Rockefeller building the Standard Oil Trust, Henry Flagler noted both a lack of services and great potential during his stay at St. Augustine. He subsequently began what amounted to his second career developing resorts, industries, and communities all along Florida's shores abutting the Atlantic Ocean.
The FEC is possibly best known for building the railroad to Key West, completed in 1912. When the FEC's line from the mainland to Key West was heavily damaged by the Labor Day Hurricane of 1935, the State of Florida purchased the remaining right-of-way and bridges south of Dade County, and they were rebuilt into road bridges for vehicle traffic and became known as the Overseas Highway. However, a greater and lasting Flagler legacy was the developments along Florida's eastern coast.
During the Great Depression, control was purchased by heirs of the du Pont family. After 30 years of fragile financial condition, the FEC, under leadership of a new president, Ed Ball, took on the labor unions. Ball claimed the company could not afford the same costs as larger Class 1 railroads and needed to invest saved funds in its infrastructure, fast becoming a safety issue. Using replacement workers, the company and some of its employees engaged in one of the longest and more violent labor conflicts of the 20th century from 1963 until 1977. Ultimately, federal authorities had to intervene to stop the violence, which included bombings, shootings and vandalism. However, the courts ruled in the FEC's favor with regard to the right to employ strikebreakers. During this time, Ball invested heavily in numerous steps to improve its physical plant, installed various forms of automation,was the first US Railroad to operate two man train crews, eliminate cabooses and end all of its passenger services (which were unprofitable) by 1968.
In modern times, the company's primary rail revenues come from its intermodal and rock trains. Since 2007, it has been owned by Fortress Investment Group,[citation needed] which acquired it for over US$3 billion (including non-rail assets). Fortress previously owned conglomerate short line railroad operator RailAmerica, which for a time operated FEC but the two companies never merged; Fortress no longer owns RailAmerica and RailAmerica no longer operates FEC. A former CSX official, James Hertwig, was named as President and Chief Executive Officer of the company effective July 1, 2010.
From Wikipedia
Brand/Importer Information
: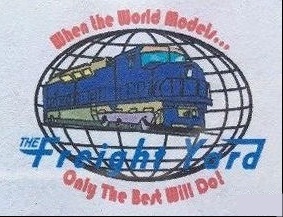 The Freight Yard was a hobby shop that did custom decoration and special runs of other manufacturers' N Scale products. It sold its custom products under several brands or collections:
Premiere Editions, by The Freight Yard
and
Dreams Design
.
It was located in Anaheim, California and then moved to 2006 in Phoenix, Arizona.
Established in the late 1980s, it stopped business under this name by the end of the 2000s.
The Freight Yard was owned and operated by Darren J. Cohen. Darren is now operating
North Valley Trains
.
The Freight Yard / Premiere Editions runs are usually available in series of two to twelve different numbers (suffixed A to M, with I not used).
The first two digits of the stock number correspond to the release year (9x being 199x, and 2x being 200x).
Item created by:
Alain LM
on 2022-12-10 06:26:32. Last edited by
Alain LM
on 2022-12-17 08:10:24
If you see errors or missing data in this entry, please feel free to
log in
and edit it. Anyone with a Gmail account can log in instantly.