Ship History
: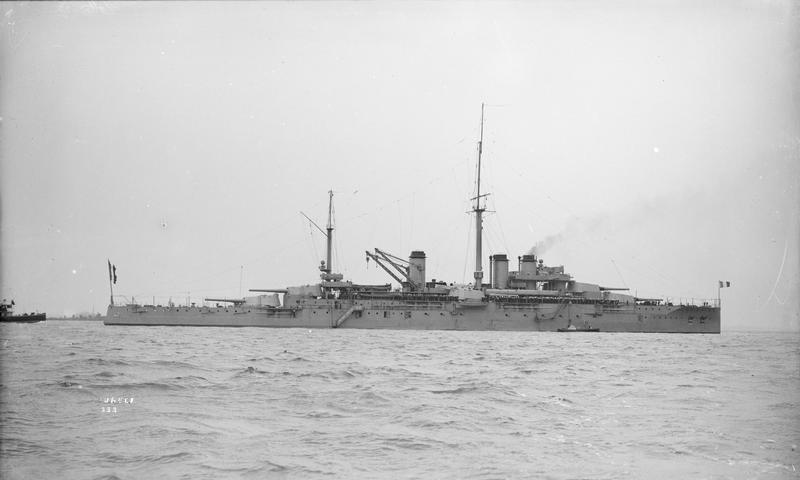 Courbet was the lead ship of her class of four dreadnought battleships, the first ones built for the French Navy. She was completed shortly before the start of World War I in August 1914. She spent the war in the Mediterranean, where she helped to sink an Austro-Hungarian cruiser, covered the Otranto Barrage that blockaded the Austro-Hungarian Navy in the Adriatic Sea, and often served as a flagship. Although upgraded several times before World War II, she was not considered to be a first-line battleship by the 1930s and spent much of that decade as a gunnery training ship.
A few weeks after the German invasion of France on 10 May 1940, Courbet was hastily reactivated. She supported Allied troops in the defence of Cherbourg in mid-June, taking refuge in England shortly afterwards. As part of Operation Catapult, the ship was seized in Portsmouth by British forces on 3 July and was turned over to the Free French a week later. She was used as a stationary anti-aircraft battery and as an accommodation ship there. Courbet was disarmed in early 1941 and was used as a target ship during 1943. Her engines and boilers were removed in 1944 to prepare her for use as a breakwater during the Normandy landings (Operation Neptune) in June 1944. She was scrapped in situ after the war.
Class
: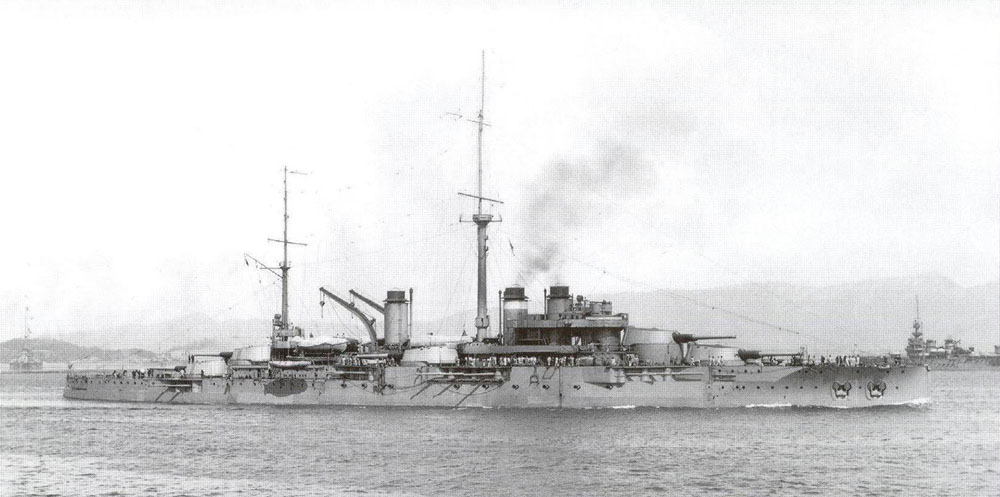 The Courbet class battleships were the first dreadnoughts built for the French Navy before World War I. The class comprised four ships: Courbet, France, Jean Bart, and Paris. All four ships were deployed to the Mediterranean Sea for the entirety of World War I, spending most of their time escorting French troop convoys from North Africa and covering the Otranto Barrage. An Anglo-French fleet led by Courbet succeeded in sinking the Austro-Hungarian protected cruiser Zenta in the Battle of Antivari. Jean Bart was torpedoed in the bow by U-12 on 21 December 1914, but she was able to steam to Malta for repairs.
France sank after striking a rock in Quiberon Bay in 1922. Between the wars the surviving ships were modernised several times, but they were not rebuilt thoroughly enough to prevent them from becoming obsolete in comparison to modern German or Italian battleships. They were relegated to training duties during the 1930s. Courbet and Paris escaped to Portsmouth where they became depot and accommodation ships after the French armistice in 1940. Jean Bart was demilitarised, renamed Océan, and became a school hulk in Toulon. She was captured there on 27 November 1942, although she was not scuttled. She was used for experiments with large shaped charge warheads by the Germans until she was sunk by the Allies in 1944, later broken up in place in 1945. Courbet was scuttled on 9 June 1944 as a breakwater for the Mulberry harbour used during the Battle of Normandy.
History
:

France is one of Europe's largest countries. It is bordered by six countries other nations: Germany, Belgium and Luxembourg to the northeast, Switzerland and Italy to the southeast and Spain to the southwest. The United Kingdom borders France via the English Channel. The country is considered to be the gateway to Europe as there are several large international airports (two of these can be found in Paris), ferry terminals and the French rail service.
In 486, Frankish tribes unified under Merovingian kingship. In 843, Western Francia was established from the division of the Carolingian Empire. In 1789, the French monarchy was overthrown, and in 1792, the First French Republic was founded. In 1958, the Fifth French Republic was established.
Item created by:
Squint181
on 2015-08-25 14:39:31. Last edited by
gdm
on 2019-09-05 19:53:53
If you see errors or missing data in this entry, please feel free to
log in
and edit it. Anyone with a Gmail account can log in instantly.