Prototype History
:

This 53' boxcar was manufactured in the 1960s and '70s by Evans Company and was used primarily to haul produce, wood and paper products, and canned goods. This railcar is an insulated RBL (Railcar, Passenger Service, Insulated) featuring a 16 foot opening and double plug doors.
Road Name History
:

BC Rail (reporting mark BCOL, BCIT), known as the British Columbia Railway between 1972 and 1984 and as the Pacific Great Eastern Railway (PGE) before 1972, was a railway that operated in the Canadian province of British Columbia between 1912 and 2004. It was a class II regional railway and the third-largest in Canada, operating 2,320 km (1,440 mi) of mainline track. Its operations were owned by the public as a crown corporation from 1918 until 2004, when the provincial government leased operations for 999 years to CN. The track and other assets, including a marine division and stevedoring subsidiary as well as large tracts of real estate, remain under public ownership. 40 km of track serving the Roberts Bank Superport that were scheduled to be sold to OmniTRAX remain under BC Rail management due to that sale being cancelled because of the transaction being tainted by an influence-peddling and bribery scandal resulting in convictions in 2010. The provincial government, which promised when originally elected to never sell the railway, has announced that the crown corporation and its remaining operations and assets would be "wound down" and taken over by various departments of the Ministry of Transportation The details of the sale/lease to CN, which are related to the OmniTRAX affair, have become the subject of protracted public inquiry as part of the proceedings of the trial surrounding a scandal known as the British Columbia Legislature Raids Affair, or "Railgate". Government leaders and civil servants involved with the arrangements to CN have refused to comment on the deal because the matter "is before the courts".
Chartered in 1912, the railway was acquired by the provincial government in 1918 after running into financial difficulties. A railway that ran "from nowhere, to nowhere" for over 30 years, neither passing through any major city nor interchanging with any other railway, its southern terminus was at Squamish and its northern terminus at Quesnel during that period. It expanded significantly between 1949 and 1984. Primarily a freight railway, it also offered passenger service, as well as some excursion services, most notably the Royal Hudson excursion train. The railway's operations only reached profitability in 1980, due to large capital and operating debts, which were intended as subsidies to develop and sustain mining and timber economies and employment in the regions it accessed, though during the 1980s it regularly posted significant profits, contributing to the public treasury significantly, and maintained a lower operating debt than any of the continent's other major railways. The railway's operations and management, as one of the province's largest crown corporations, have necessarily been at the centre of public debate since its takeover. Notably, as example, the Social Credit governments of WAC Bennett and his son Bill Bennett forgave the railways' capital debts in 1954 and 1979, respectively, with bookkeeping matters related to that bringing much criticism. The current provincial government has been accused of fabricating falsehoods about the state of its debts and viability in order to justify the deal with CN, claiming the railway was in disarray. Other participants in the bidding process withdrew their bids, saying that CN had unfair access to confidential information about their own operations, provided by the government, and at least one bidder (Canadian Pacific) privately stated in since-released communications that the bid was "rigged". Controversy over CN's management of the line has focused on layoffs, toxic spills and other safety concerns, and cuts in service to some regions. The line has generated profits for CN in the range of $25 million per year since its takeover of the railway's operations.
Brand/Importer Information
: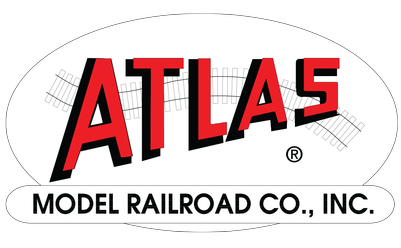 In 1924 Stephan Schaffan, Sr. founded the Atlas Tool Company in Newark, New Jersey. In 1933 his son, Stephan Schaffan, Jr., came to work for his father at the age of sixteen. Steve Jr. built model airplanes as a hobby and frequented a local hobby shop. Being an enterprising young man, he would often ask the owner if there was anything he could do to earn some extra spending money. Tired of listening to his requests, the hobby-store owner threw some model railroad track parts his way and said, "Here, see if you can improve on this".
In those days, railroad modelers had to assemble and build everything from scratch. Steve Jr. created a "switch kit" which sold so well, that the entire family worked on them in the basement at night, while doing business as usual in the machine shop during the day.
Subsequently, Steve Jr. engineered the stapling of rail to fiber track, along with inventing the first practical rail joiner and pre-assembled turnouts and flexible track. All of these products, and more, helped to popularize model railroading and assisted in the creation of a mass-market hobby. The budding entrepreneur quickly outgrew the limitations of a basement and small garage operation. Realizing they could actually make a living selling track and related products, Steve and his father had the first factory built in Hillside, New Jersey at 413 Florence Avenue in 1947. On September 30, 1949, the Atlas Tool Company was officially incorporated as a New Jersey company.
In 1985, Steve was honored posthumously for his inventions by the Model Railroad Industry Association and was inducted into the Model Railroad Industry Hall of Fame in Baltimore, Maryland. In addition, Steve was nominated and entered into the National Model Railroad Association Pioneers of Model Railroading in 1995.
In the early 1990s, the Atlas Tool Company changed its name to
Atlas Model Railroad Company, Inc.
Item created by:
Lethe
on 2016-02-06 04:15:32. Last edited by
CNW400
on 2020-06-02 14:54:17
If you see errors or missing data in this entry, please feel free to
log in
and edit it. Anyone with a Gmail account can log in instantly.