Model Information: This is Micro-Trains first body style. It was introduced in 1972. Its is a model of a Pullman-Standard PS-1 boxcar from circa 1957. Micro-Trains does not market it as a PS-1 so as to allow themselves some latitude so they can use this car to model non-PS prototypes. Hundreds of different releases have used this body style in various paint schemes and road names. They are equipped with 6' sliding doors, either Youngstown (4/5/4 rib pattern) or Superior (7 panels). It is not a model of a "modern" steel boxcar as the length (40 foot) and the roofwalk are more typical of the transition era (1939 - 1957).

In 2019, Micro-Trains started releasing this model with new body-mounted couplers attached to a new underframe.
Prototype History
: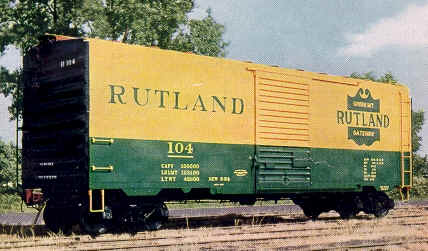 The 40' Boxcar is widely known as one of the most popular freight cars used by railroads as they transitioned from steam to diesel. In particular the Pullman Standard or PS-1 design was one of the most popular and was widely used by North American railroads. These boxcars were built beginning in 1947 and share the same basic design, with certain elements such as door size, door style or roof type varying among the different railroads and production years. When production of these cars ceased in 1963, over 100,000 had been produced.
So just what is a PS-1? Well the simple answer is it is any boxcar built by Pullman Standard from 1947 on. The design changed over the years – sometimes subtly, sometimes for customer request, and sometimes in a larger way. In general, most PS-1's built from 1947 to 1961 share the same dimensions and basic construction techniques. These cars all had a length of 40′, a height of 10'5″ or 10'6″, welded sides and ends and roof of Pullman's own design. The greatest variation was in the size and style of doors used. Pullman Standard also offered 50′ and later 60′ boxcars – also with the PS-1 designation.
Road Name History
: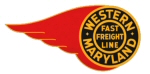 This line was established in 1852 under another name but was renamed Western Maryland Rail Road before the first rail was laid. By 1862 they had built from Baltimore to Union Bridge, Maryland at which point it became the responsibility of the Union Army. Construction resumed after the war. WM built west to Hagerstown then Cumberland where the line spilt in two. One route headed northwest to an important interchange with Pittsburgh & Lake Erie at Connellsville, Pennsylvania. The other line ran southwest into the rich coal fields around Elkins and Durban, West Virginia. On the east end, they also had routes to York and Gettysburg and an important connection with the Reading at Shippensburg, all in Pennsylvania. At 878 miles, WM was between Maine Central and Spokane Portland & Seattle in relative length.
The city of Baltimore had a large stake in the WM but sold it in 1902 to Jay Gould. The Gould empire unraveled just six years later and the WM was reorganized with Railway replacing Rail Road in the name and John D. Rockefeller holding a 43% stake. He sold those shares to Baltimore & Ohio in 1927. Accused of violating antitrust laws, B&O placed those shares in a non-voting trust.
After 1900, WM relied heavily on 2-8-0's, ordering 177 between 1900 and 1923 (by which time other railroads were already ordering 2-8-2's.) Some of these Consolidations were real bruisers with the same tractive effort as WM's 2-6-6-2's. Also in road service were 30 2-10-0 Decapods (10 Russian Decapods and 20 much larger versions,) a dozen 4-8-4's to handle the high speed trains, and a dozen 4-6-6-4 Challengers. The Challengers turned out to be a disappointment to WM. They were rough riders and were hard on the track. As a result, they were soon demoted to pusher service alongside WM's 25 2-8-8-2's. A fleet of 19 low drivered Pacifics handled most of the passenger assignments. One element found on most of the WM steam fleet was low snowplow pilots in lieu of the traditional boiler tube pilots. WM was one of a few Class One railroads to employ Shay locomotives to serve steeply graded branchlines. WM had one 2-truck, two 3-truck and two 4-truck Shays. Shay #6 built in 1945 was the last Shay built by Lima Locomotive Works.
WM began to dieselize in 1947 on the east end where they would not raise the ire of their coal mining customers on the west end. The diesel fleet was surprisingly varied for a line their size with cab units from both Alco and EMD, road switchers from Alco, EMD and Baldwin and yard switchers from GE, Baldwin and Alco. The road switchers from Alco and Baldwin plus the EMD GP7;s were delivered with the long hood as the front while the EMD GP9's were delivered with the short hood as the front. The Second Generation of diesels was all EMD.
In addition to the voluminous coal traffic, WM was a part of two bridge routes for merchandise moving between the northeast and the upper Midwest. These were the Alphabet Route (with Nickel Plate Road, Wheeling & Lake Erie, Pittsburgh & West Virginia, Reading and others) and the Central States Dispatch (with Baltimore & Ohio, Reading, Jersey Central, Lehigh & Hudson River and New Haven.) Iron ore also moved from Baltimore area ports to steel mills on the connecting P&LE.
Passenger service was a bit of an afterthought on the WM. Not only did they not have a shiny streamliner, but their heavyweight coach trains lasted only until 1957 before being discontinued. Steam generator equipped hammerhead RS-3's replaced the Pacifics in passenger service for a few years before being reassigned to freight duty.
In 1967, B&O (by this time controlled by Chesapeake & Ohio) finally obtained permission to take overt control of the WM. Not much changed for the next five years. In 1973 they adopted the Chessie System image and 125 miles of WM mainline was abandoned in favor of trackage rights on a parallel B&O line. In 1983, the Western Maryland was absorbed into the Baltimore & Ohio. Western Maryland was known for frequently washing their locomotives in both the steam and diesel eras. They kept up this tradition until the start of the Chessie System era.
Brand/Importer Information
:

Brooklyn Locomotive works is a hobby shop that is located in Manalapan, New Jersey. Pete A. Postel founded BLW in 1979. They specialize in N Scale although they claim to cover other scales as well. In addition to serving as a volume discounter with competitive pricing for N Scale hobbyists, Brooklyn Locomotive works also often works with various manufacturers to create their own line of branded special runs. These special runs are usually only available through their retail operation (online or storefront). They also worked for a limited time in the early 1980s as a custom decorator. They bought undecorated kits from Micro-Trains and painstakingly custom painted and decaled a series of cars for collectors.
Manufacturer Information
: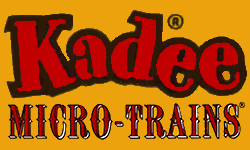 Kadee Quality Products originally got involved in N-Scale by producing a scaled-down version of their successful HO Magne-Matic knuckle coupler system. This coupler was superior to the ubiquitous 'Rapido' style coupler due to two primary factors: superior realistic appearance and the ability to automatically uncouple when stopped over a magnet embedded in a section of track. The success of these couplers in N-Scale quickly translated to the production of trucks, wheels and in 1972 a release of ready-to-run box cars.
In October 1990 Kadee separated in two companies, with the newly created Micro-Trains® Line Co. continuing the Z, Nn3, and N Scale product ranges, with Kadee retaining the HO range.
Commissioner Information
:
Brooklyn Locomotive Works
is a hobby shop, specialized in N-scale, located in Manalapan, New Jersey, that also sells on-line. BLW regularly commissions special runs.
The company was founded by Pete Postel who announced that he would retired by end of 2018. His brother Paul should continue the business from his own shop
Hogtrainz.com
.
Brooklyn Locomotive Works (BLW) released special runs from various manufacturers under its own brand until approx. the mid-1980s. Thereafter the special runs where sold under the manufacturer's name and denoted as special runs for BLW. Hence in this database, we assign the BLW brand in the former case, and the original manufacturer's brand in the latter.
Item created by:
nscalemodeler160
on 2016-04-08 04:50:42. Last edited by
gdm
on 2020-06-04 14:03:36
If you see errors or missing data in this entry, please feel free to
log in
and edit it. Anyone with a Gmail account can log in instantly.