Model Information: This body was produced by Mehano. The first releases were produced for Atlas between 1968 and 1972. In 1972, Atlas switched production to Roco (which is covered in another body style). From 1972 onward, the model was imported by Model Power. It does not run very well compared to modern (post 1990) designs.
DCC Information: Forget about DCC with these.
Prototype History
: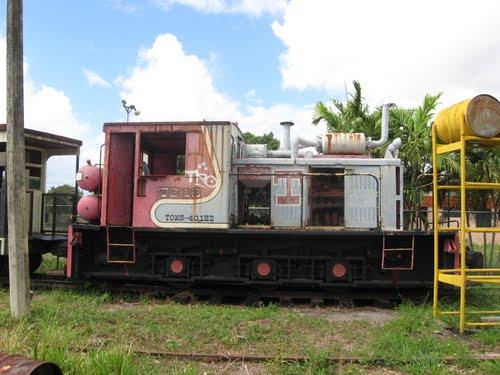 The Plymouth Locomotive Works was founded in 1910. They specialized in small switcher locomotives for industrial use. The WDT was the 6-wheel model of their diesel switcher.
With 6-wheels, the WDT could handle a fairly heavy powerplant capable of moving small numbers of very heavy freight cars. When a railroad moves a freight car, the owner of the freight car is charged every time the car is moved. The typical floor price for such a move is $200. For an industrial complex that has to shunt 100's of cars daily, it quickly becomes economical to own your own switchers rather than contract with a railroad. Plymouth locomotive works specialized in providing purpose built engines for exactly this purpose: providing a low-cost alternative to using a railroad to move cars around your yard. Own your own low-maintenance, high-power industrial yard switcher.
Road Name History
: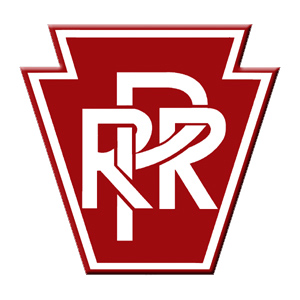 The Pennsylvania Railroad (reporting mark PRR) was an American Class I railroad, founded in 1846. Commonly referred to as the "Pennsy," the PRR was headquartered in Philadelphia, Pennsylvania.
The PRR was the largest railroad by traffic and revenue in the U.S. for the first half of the twentieth century. Over the years, it acquired, merged with or owned part of at least 800 other rail lines and companies. At the end of 1925, it operated 10,515 miles of rail line; in the 1920s, it carried nearly three times the traffic as other railroads of comparable length, such as the Union Pacific or Atchison, Topeka & Santa Fe railroads. Its only formidable rival was the New York Central (NYC), which carried around three-quarters of PRR's ton-miles.
At one time, the PRR was the largest publicly traded corporation in the world, with a budget larger than that of the U.S. government and a workforce of about 250,000 people. The corporation still holds the record for the longest continuous dividend history: it paid out annual dividends to shareholders for more than 100 years in a row.
In 1968, PRR merged with rival NYC to form the Penn Central Transportation Company, which filed for bankruptcy within two years. The viable parts were transferred in 1976 to Conrail, which was itself broken up in 1999, with 58 percent of the system going to the Norfolk Southern Railway (NS), including nearly all of the former PRR. Amtrak received the electrified segment east of Harrisburg.
Brand/Importer Information
: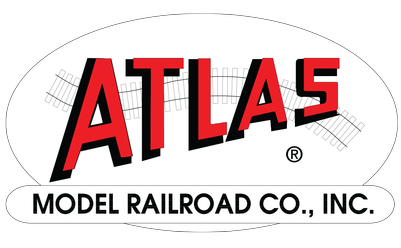 In 1924 Stephan Schaffan, Sr. founded the Atlas Tool Company in Newark, New Jersey. In 1933 his son, Stephan Schaffan, Jr., came to work for his father at the age of sixteen. Steve Jr. built model airplanes as a hobby and frequented a local hobby shop. Being an enterprising young man, he would often ask the owner if there was anything he could do to earn some extra spending money. Tired of listening to his requests, the hobby-store owner threw some model railroad track parts his way and said, "Here, see if you can improve on this".
In those days, railroad modelers had to assemble and build everything from scratch. Steve Jr. created a "switch kit" which sold so well, that the entire family worked on them in the basement at night, while doing business as usual in the machine shop during the day.
Subsequently, Steve Jr. engineered the stapling of rail to fiber track, along with inventing the first practical rail joiner and pre-assembled turnouts and flexible track. All of these products, and more, helped to popularize model railroading and assisted in the creation of a mass-market hobby. The budding entrepreneur quickly outgrew the limitations of a basement and small garage operation. Realizing they could actually make a living selling track and related products, Steve and his father had the first factory built in Hillside, New Jersey at 413 Florence Avenue in 1947. On September 30, 1949, the Atlas Tool Company was officially incorporated as a New Jersey company.
In 1985, Steve was honored posthumously for his inventions by the Model Railroad Industry Association and was inducted into the Model Railroad Industry Hall of Fame in Baltimore, Maryland. In addition, Steve was nominated and entered into the National Model Railroad Association Pioneers of Model Railroading in 1995.
In the early 1990s, the Atlas Tool Company changed its name to
Atlas Model Railroad Company, Inc.
Manufacturer Information
:

Mehano is a Slovenian toy manufacturer located in Izola, Slovenija. The company was founded as Mehanotehnika and was producing toys starting in June 1953. They first exhibited at the Nuerenberg Toy Fair in 1959. Mehano produced a number of different locomotives and rolling stock models for the North American market in the 1960s and 1970s. Companies such as Atlas and Life-Like imported a huge variety of their products. Generally they can easily be recognized as they are stamped "Yugosolavia" on the underframe. The company was formally renamed "Mehano" in 1990. Izola today is part of the country of Slovenia since the breakup of Yugoslavia.
Mehano filed for bankruptcy in 2008, but still continued to exist and operate. Since 2012, Mehano products are distributed by Lemke.
gdm
on 2016-08-07 14:50:46. Last edited by
Powderman
on 2021-12-08 14:33:28
If you see errors or missing data in this entry, please feel free to
log in
and edit it. Anyone with a Gmail account can log in instantly.
Item created by: