Specific Item Information: N RTR PS-2 2893 Covered Hopper, Erie #21878
Model Information
: Features:
Separately applied round roof hatches;
Photo-etched metal roof walk;
Separately applied wire grab irons;
Separate brake cylinder, valve and air reservoir with brake plumbing;
Detailed outlets;
Multiple road numbers;
Fully-assembled and ready-to-run out of the box;
Accurately painted and printed;
Highly detailed, injection molded body;
Separately applied brake wheel;
Machined metal wheels;
Screw mounted trucks;
Truck mounted McHenry operating knuckle couplers;
Weighted for trouble free operation;
Clear plastic jewel box for convenient storage;
Operates on Code 55 and 80 rail;
Minimum radius: 9 3/4"
Prototype History
: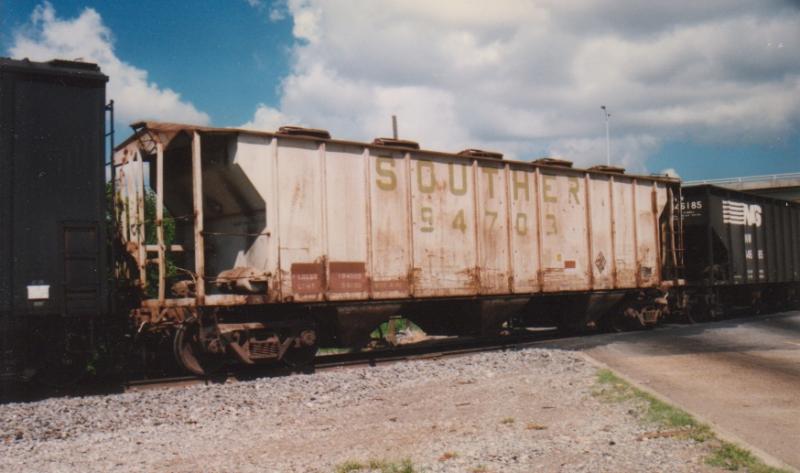 Pullman-Standard dominated the covered hopper car market beginning in the 1950s, thanks to the design success of their PS-2 series of covered hoppers. Designed to carry bulk commodities, such as grain, cement and plastic pellets, these cars roamed the rails of North America for decades, attesting to their utilitarian functionality. The 2893 c.f. model has a capacity of 70 tons and has a 4-3-4 post arrangement. The roof hatches are not spaced evenly. These cars featured side ladders at the right hand end whereas later PS models used grab irons.
Road Name History
: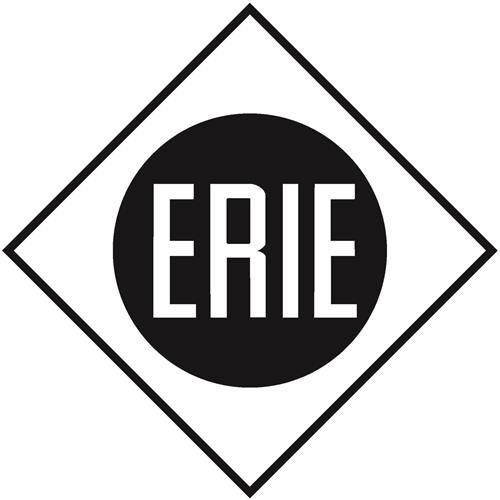 The Erie (the second railroad by that name) was formed in 1895 from the reorganization of the New York Lake Erie & Western which had cobbled together a Jersey City (across the Hudson from New York City) to Chicago route from the original Erie, the Chicago & Atlantic, Atlantic & Great Western and a few smaller lines. The route had been built to 6' gauge and had been standard gauged in 1880.
The New York – Chicago main was all double track with big rail. However, the mainline managed to miss every major city along the way. Binghamton, New York and Akron, Ohio were the biggest cities on the mainline between New York and Chicago. Buffalo, Rochester, Youngstown, Cleveland, Dayton, and Cincinnati were all at the end of branches from the mainline. Some said that "you could forget how much unpopulated land there was in the Northeast until you rode the Erie."
Erie and its predecessors were early victims of "robber barons" that saddled the company with debt that it would carry for over 100 years. The companies went bankrupt 3 times in the 19th Century and once during the Depression (in 1938, after most other lines ironically.) Erie promoted exclusively from within and management was rife with nepotism. It was called "Weary Erie", and "The Scarlet Woman of Wall Street."
Erie's steam fleet was varied although not terribly modern. The Erie passed through Pennsylvania's anthracite region so camelback locomotives were part of the mix. In fact Erie had the largest camelbacks ever built – 0-8-8-0's delivered in 1908. Erie was also one of only two roads to employ Triplexes, in this case with the 2-8-8-8-2 wheel arrangement. Their most modern steam consisted of heavy Berkshires delivered in 1929 when the company was under the influence of the Van Sweringen brothers who also controlled Nickel Plate, C&O, Pere Marquette and Hocking Valley. As a result, they dieselized fairly early primarily with EMD, and Alco road and passenger units and switchers from nearly every builder. Like future dance partner DL&W, Erie road switchers were setup for long-hood-forward operation.
Other than heavy commuter operations in New Jersey, passenger operations paled in comparison to other eastern trunk lines. Erie concentrated on freight. From about 1947 until 1955, the Erie was fairly healthy, although still paying way too much for debt service. They even paid dividends for much of this period. Quartets of F units dragged freights over 185 cars long across New York's scenic Southern Tier. Erie's big clearances (due to the original 6' track gauge) made Erie the go-to road for highly lucrative over-size loads. The Erie was much loved by communities along the line.
The mid-to-late 50s presented one disaster after another. Twin hurricanes damaged track (although not as bad as neighbor DL&W who really took it in the teeth), then strikes in the cement and steel industries cut traffic dramatically. Labor trouble in the tire center of Akron (where Erie was a major carrier) led to much of the tire industry leaving the area. Erie's net income fell in half the next year and then they began to lose money. Combining parallel routes and Jersey Shore terminals with the Lackawanna helped but not enough. In 1960, The Erie merged with the Delaware Lackawanna & Western. Here are Erie's stats in their final year: 2,215 route miles (about the same length as competitors Nickel Plate and Wabash); 484 diesels; 535 passenger cars; 20,028 freight cars.
Brand/Importer Information
: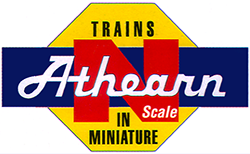 Athearn
's history began in 1938, when its founder-to-be, Irvin Athearn, started an elaborate O scale layout in his mother's house. After placing an ad selling the layout, and receiving much response to it, Irv decided that selling model railroads would be a good living. He sold train products out of his mother's house through most of the 1940s. After becoming a full-time retailer in 1946, Irv opened a separate facility in Hawthorne, California in 1948, and that same year he branched into HO scale models for the first time.
Athearn acquired the Globe Models product line and improved upon it, introducing a comprehensive array of locomotive, passenger and freight car models. Improvements included all-wheel drive and electrical contact. One innovation was the "Hi-Fi" drive mechanism, employing small rubber bands to transfer motion from the motor spindle to the axles. Another was the double-ended ring magnet motor, which permitted easy connection to all-wheel-drive assemblies. Athearn was also able to incorporate flywheels into double-ended drives.
The company produced a model of the Boston & Maine P4 class Pacific steam locomotive which incorporated a cast zinc alloy base and thermoplastic resin superstructure. It had a worm drive and all power pickup was through the bipolar trucks that carried the tender. This item was discontinued after the Wilson motor was no longer available, and was not redesigned for a more technologically advanced motor.
Athearn's car fleet included shorter-than-scale interpretations of passenger cars of Southern Pacific and Atchison, Topeka & Santa Fe Railroad prototypes. The company also offered a variety of scale-length freight cars with sprung and equalized trucks. The cars could be obtained in simple kit form, or ready-to-run in windowed display boxes. The comprehensive scope of the product line contributed to the popularity of HO as a model railroad scale, due to the ready availability of items and their low cost.
Irv Athearn died in 1991. New owners took control in 1994, but continued to follow Athearn's commitment to high-quality products at reasonable prices. Athearn was bought in 2004 by Horizon Hobby. Athearn was then moved from its facility in Compton to a new facility in Carson, California. In mid-2009, all remaining US production was moved to China and warehousing moved to parent Horizon Hobby. Sales and product development was relocated to a smaller facility in Long Beach, California.
Read more on
Wikipedia
and
Athearn website
.
Item created by:
Chance
on 2016-09-23 09:08:36. Last edited by
dennis.kamper
on 2022-10-23 14:08:26
If you see errors or missing data in this entry, please feel free to
log in
and edit it. Anyone with a Gmail account can log in instantly.