Model Information: Bachmann introduced this model in 1986. In 1995, they upgraded the mechanism and started packaging them under their Spectrum line.

The early model features a heavy, split-frame, all-metal chassis with a skew-wound, open-sided 3-pole motor. Ten of the twelve wheels provide pickup. The remaining two wheels carry traction tires. The later model carries an open-sided, skew-wound 5-pole motor. The drivetrain wass completely redesigned to use flywheels. The worm gears became part of the truck assemblies and thus can swivel on curves properly. All wheels provide electrical pickup and there are no longer any traction tires. Similarly, the couplers are truck-mounted Rapidos on both versions.

One of the more entertaining features on the early models was a roof mounted blinking light. This feature was removed from the Spectrum version.
DCC Information: Neither mechanism supports DCC.
Prototype History
: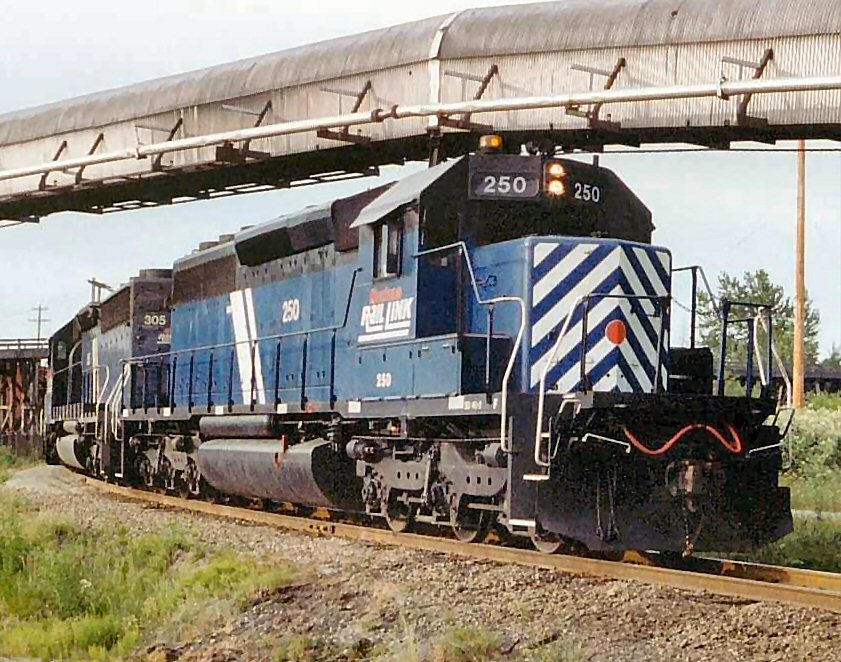 The EMD SD40-2 is a 3,000-horsepower (2,200 kW) C-C diesel-electric locomotive built by EMD from 1972 to 1989. The SD40-2 was introduced in January 1972 as part of EMD's Dash 2 series, competing against the GE U30C and the ALCO Century 630. Although higher-horsepower locomotives were available, including EMD's own SD45-2, the reliability and versatility of the 3,000-horsepower (2,200 kW) SD40-2 made it the best-selling model in EMD's history and the standard of the industry for several decades after its introduction. The SD40-2 was an improvement over the SD40, with modular electronic control systems similar to those of the experimental DDA40X.
Peak production of the SD40-2 was in the mid-1970s. Sales of the SD40-2 began to diminish after 1981 due to the oil crisis, increased competition from GE's Dash-7 series and the introduction of the EMD SD50, which was available concurrently to late SD40-2 production. The last SD40-2 delivered to a United States railroad was built in July 1984, with production continuing for railroads in Canada until 1988, Mexico until February 1986, and Brazil until October 1989. As of 2013, nearly all built still remain in service.
The GMD SD40-2W is a Canadian-market version of the SD40-2 diesel-electric locomotive, built for the Canadian National Railway by the Diesel Division of General Motors of Canada Ltd. (formerly General Motors Diesel) of London, Ontario; 123 were constructed between May 1975 and December 1980. The major difference between the SD40-2W and a regular SD40-2 is the fitment of a wide-nose Canadian comfort cab, commonly denoted by adding a 'W' in the model name (although the GMD designation on the builders plates remained 'SD40-2').
The SD40-2 has seen service in Canada, Mexico, Brazil and Guinea. To suit export country specifications, General Motors designed the JT26CW-SS (British Rail Class 59) for Great Britain, the GT26CW-2 for Yugoslavia, South Korea, Iran, Morocco, Peru and Pakistan, while the GT26CU-2 went to Zimbabwe and Brazil. Various customizations led Algeria to receive their version of a SD40-2, known as GT26HCW-2.
SD40-2s are still quite usable nearly fifty years after the first SD40 was made, and many SD40s and locomotives from the pre-Dash-2 series (GP/SD 40s, 39s and 38s, and even some SD45s) have been updated to Dash-2 specifications, possibly including downgrading from 20-645E to 16-645E engines, including, certainly, Dash-2 electrical controls, although the pre-Dash-2 frames cannot accommodate the somewhat similar HT-C truck in the space allocated to the Flexicoil C truck (the frame is not long enough). Most SD40-2s which remain in service have by now been rebuilt "in-kind" for another 30 to 40 years of service, although a few (under 30) have been rebuilt to incorporate a 12-cylinder EFI-equipped 710G engine.
From Wikipedia
Read more on
American-Rails.com
Road Name History
: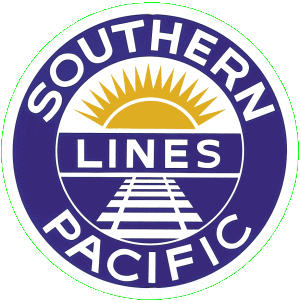 The Southern Pacific Transportation Company (reporting mark SP), earlier Southern Pacific Railroad and Southern Pacific Company, and usually called the Southern Pacific or (from the railroad's initials) Espee, was an American Class I railroad. It was absorbed in 1988 by the company that controlled the Denver and Rio Grande Western Railroad and eight years later became part of the Union Pacific Railroad.
The railroad was founded as a land holding company in 1865, later acquiring the Central Pacific Railroad by lease. By 1900 the Southern Pacific Company was a major railroad system incorporating many smaller companies, such as the Texas and New Orleans Railroad and Morgan's Louisiana and Texas Railroad. It extended from New Orleans through Texas to El Paso, across New Mexico and through Tucson, to Los Angeles, through most of California, including San Francisco and Sacramento. Central Pacific lines extended east across Nevada to Ogden, Utah, and reached north through Oregon to Portland. Other subsidiaries eventually included the St. Louis Southwestern Railway (Cotton Belt), the Northwestern Pacific Railroad at 328 miles (528 km), the 1,331 miles (2,142 km) Southern Pacific Railroad of Mexico, and a variety of 3 ft (914 mm) narrow gauge routes.
In 1929 SP/T&NO operated 13848 route-miles not including Cotton Belt, whose purchase of the Golden State Route circa 1980 nearly doubled its size to 3,085 miles (4,965 km), bringing total SP/SSW mileage to around 13,508 miles (21,739 km).
By the 1980s route mileage had dropped to 10,423 miles (16,774 km), mainly due to the pruning of branch lines. In 1988 the Southern Pacific was taken over by D&RGW parent Rio Grande Industries. The combined railroad kept the Southern Pacific name due to its brand recognition in the railroad industry and with customers of both constituent railroads. Along with the addition of the SPCSL Corporation route from Chicago to St. Louis, the total length of the D&RGW/SP/SSW system was 15,959 miles (25,684 km).
By 1996 years of financial problems had dropped SP's mileage to 13,715 miles (22,072 km), and it was taken over by the Union Pacific Railroad.
Read more on
Wikipedia
.
Brand/Importer Information
: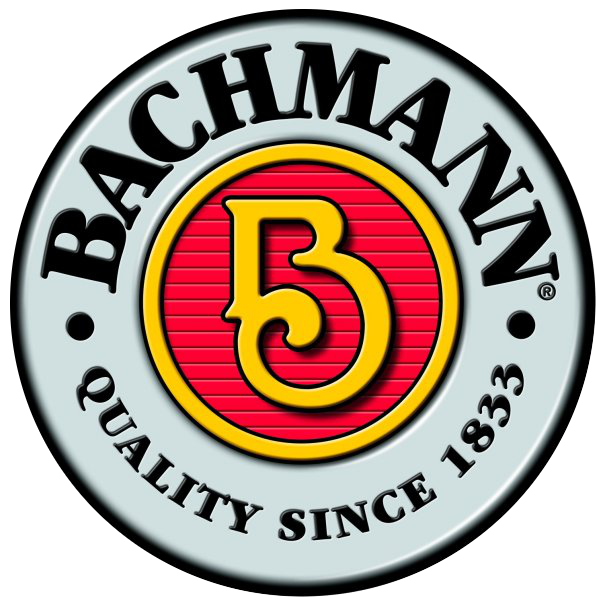 Bachmann Industries (Bachmann Brothers, Inc.) is a Bermuda registered Chinese owned company, globally headquartered in Hong Kong; specializing in model railroading.
Founded in Philadelphia, Pennsylvania, the home of its North American headquarters, Bachmann is today part of the Kader group, who model products are made at a Chinese Government joint-venture plant in Dongguan, China. Bachmann's brand is the largest seller, in terms of volume, of model trains in the world. Bachmann primarily specializes in entry level train sets, and premium offerings in many scales. The Spectrum line is the high quality, model railroad product line, offered in N, HO, Large Scale, On30, and Williams O gauge all aimed for the hobbyist market. Bachmann is the producer of the famous railroad village product line known as "Plasticville." The turnover for Bachmann model trains for the year ended 31 December 2006 was approximately $46.87 million, a slight increase of 3.36% as compared to 2005.
Item created by:
gdm
on 2017-02-28 12:06:30. Last edited by
CNW400
on 2020-06-30 12:58:46
If you see errors or missing data in this entry, please feel free to
log in
and edit it. Anyone with a Gmail account can log in instantly.