Prototype History
: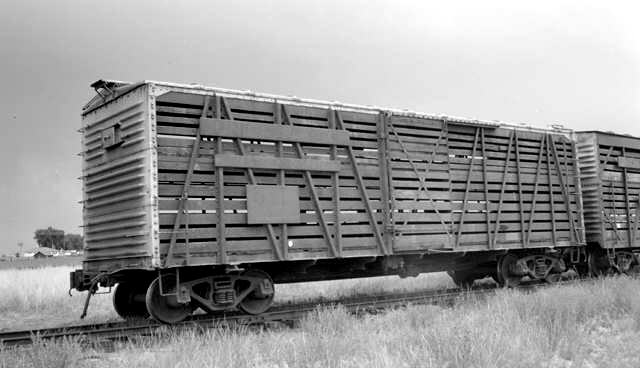 Alonzo Mather, a Chicago clothing merchant who founded the Mather Stock Car Company, designed a new stock car in 1880 that was among the first to include amenities for feeding and watering the animals while en route. Mather was awarded a gold medal in 1883 by the American Humane Association for the humane treatment afforded to animals in his stock cars. Minneapolis' Henry C. Hicks patented a convertible boxcar/stock car in 1881, which was improved in 1890 with features that included a removable double deck. George D. Burton of Boston introduced his version of the humane stock car in 1882, which was placed into service the following year. The Burton Stock Car Company's design provided sufficient space so as to allow the animals to lie down in transit on a bed of straw. All-wood 40' stock cars of this general type would most likely have seen service in the early part of the 20th century (say, 1910-1930).
From Wikipedia
Road Name History
: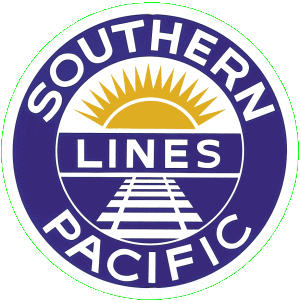 The Southern Pacific Transportation Company (reporting mark SP), earlier Southern Pacific Railroad and Southern Pacific Company, and usually called the Southern Pacific or (from the railroad's initials) Espee, was an American Class I railroad. It was absorbed in 1988 by the company that controlled the Denver and Rio Grande Western Railroad and eight years later became part of the Union Pacific Railroad.
The railroad was founded as a land holding company in 1865, later acquiring the Central Pacific Railroad by lease. By 1900 the Southern Pacific Company was a major railroad system incorporating many smaller companies, such as the Texas and New Orleans Railroad and Morgan's Louisiana and Texas Railroad. It extended from New Orleans through Texas to El Paso, across New Mexico and through Tucson, to Los Angeles, through most of California, including San Francisco and Sacramento. Central Pacific lines extended east across Nevada to Ogden, Utah, and reached north through Oregon to Portland. Other subsidiaries eventually included the St. Louis Southwestern Railway (Cotton Belt), the Northwestern Pacific Railroad at 328 miles (528 km), the 1,331 miles (2,142 km) Southern Pacific Railroad of Mexico, and a variety of 3 ft (914 mm) narrow gauge routes.
In 1929 SP/T&NO operated 13848 route-miles not including Cotton Belt, whose purchase of the Golden State Route circa 1980 nearly doubled its size to 3,085 miles (4,965 km), bringing total SP/SSW mileage to around 13,508 miles (21,739 km).
By the 1980s route mileage had dropped to 10,423 miles (16,774 km), mainly due to the pruning of branch lines. In 1988 the Southern Pacific was taken over by D&RGW parent Rio Grande Industries. The combined railroad kept the Southern Pacific name due to its brand recognition in the railroad industry and with customers of both constituent railroads. Along with the addition of the SPCSL Corporation route from Chicago to St. Louis, the total length of the D&RGW/SP/SSW system was 15,959 miles (25,684 km).
By 1996 years of financial problems had dropped SP's mileage to 13,715 miles (22,072 km), and it was taken over by the Union Pacific Railroad.
Read more on
Wikipedia
.
Brand/Importer Information
:

High Speed Metal Products is a Hong Kong based toy manufacturer, who runs a line of to scale car models. To my knowledge, they produced some N scale cars and locos as static displays, being marketed through various sources. They are not a regular producer of N scale model railroading equipment. They produced cheap N scale train set for Reader's Digest. High Speed, or High Speed Metal Products, N scale engines and cars are made for static display. Their trucks and couplers are not suitable for running on a layout. The engines are dummies.
Manufacturer Information: Produced cheap N scale set for Reader's Digest.
Item created by:
bluedragon0
on 2017-11-24 17:15:50. Last edited by
gdm
on 2020-07-24 07:29:15
If you see errors or missing data in this entry, please feel free to
log in
and edit it. Anyone with a Gmail account can log in instantly.