Specific Item Information: 5-Unit articulated well car. No containers. 15010M-B is the MTL coupler version.
Model Information: This product from Deluxe Innovations features 5-unit articulated double-stack well cars for container transportation. Note the distinctive bulkhead ends of these cars.
Prototype History
: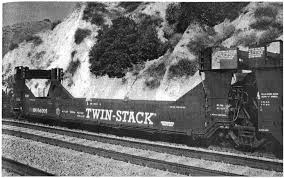 A well car, also known as a double-stack car or stack car (also well wagon), is a type of railroad car specially designed to carry intermodal containers (shipping containers) used in intermodal freight transport. The "well" is a depressed section which sits close to the rails between the wheel trucks of the car, allowing a container to be carried lower than on a traditional flatcar. This makes it possible to carry a stack of two containers per unit on railway lines (double-stack rail transport) wherever the loading gauge assures sufficient clearance. The top container is secured to the bottom container either by a bulkhead built into the car (e.g., bottom and top containers are the same dimensions of 40 ft.), or through the use of inter-box connectors (IBC). Four IBCs are needed per wellcar. In the process of an inbound train becoming an outbound train, there are four processes: unlock to unload the top container of inbound train, remove then unload bottom container, insert after loading bottom container of outbound train, lock after top container loaded.
Double-stack container trains first hit the rails for regular service in 1981. The Southern Pacific Railroad had developed the idea to provide service for the Sea- Land maritime shipping company. SP's pioneering double-stack service let Sea- Land's containers take a shortcut from the west coast to the Gulf of Mexico bypassing the Panama Canal. From prototype car to production order, the SP spent a little over four years on the double-stack development project. The SP's double-stack cars featured unwieldy bulkheads on each end to prevent the loose top container from blowing off of the car.
The support for the upper container came from inter-box connectors (IBCs) which had been used for years in oceangoing container shipping.
The Twin-Stack was the first entry of Gunderson into the well-car market. It was introduced in 1985. The car had 40-foot wells and can carry 45-foot container in the top end positions, but only 40-foot containers in the intermediate positions. Gunderson updated the design by removing the bulkheads to create the Maxi-Stack (later renamed Maxi-Stack I).
Road Name History
: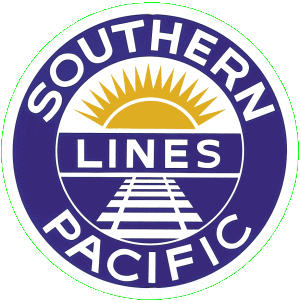 The Southern Pacific Transportation Company (reporting mark SP), earlier Southern Pacific Railroad and Southern Pacific Company, and usually called the Southern Pacific or (from the railroad's initials) Espee, was an American Class I railroad. It was absorbed in 1988 by the company that controlled the Denver and Rio Grande Western Railroad and eight years later became part of the Union Pacific Railroad.
The railroad was founded as a land holding company in 1865, later acquiring the Central Pacific Railroad by lease. By 1900 the Southern Pacific Company was a major railroad system incorporating many smaller companies, such as the Texas and New Orleans Railroad and Morgan's Louisiana and Texas Railroad. It extended from New Orleans through Texas to El Paso, across New Mexico and through Tucson, to Los Angeles, through most of California, including San Francisco and Sacramento. Central Pacific lines extended east across Nevada to Ogden, Utah, and reached north through Oregon to Portland. Other subsidiaries eventually included the St. Louis Southwestern Railway (Cotton Belt), the Northwestern Pacific Railroad at 328 miles (528 km), the 1,331 miles (2,142 km) Southern Pacific Railroad of Mexico, and a variety of 3 ft (914 mm) narrow gauge routes.
In 1929 SP/T&NO operated 13848 route-miles not including Cotton Belt, whose purchase of the Golden State Route circa 1980 nearly doubled its size to 3,085 miles (4,965 km), bringing total SP/SSW mileage to around 13,508 miles (21,739 km).
By the 1980s route mileage had dropped to 10,423 miles (16,774 km), mainly due to the pruning of branch lines. In 1988 the Southern Pacific was taken over by D&RGW parent Rio Grande Industries. The combined railroad kept the Southern Pacific name due to its brand recognition in the railroad industry and with customers of both constituent railroads. Along with the addition of the SPCSL Corporation route from Chicago to St. Louis, the total length of the D&RGW/SP/SSW system was 15,959 miles (25,684 km).
By 1996 years of financial problems had dropped SP's mileage to 13,715 miles (22,072 km), and it was taken over by the Union Pacific Railroad.
Read more on
Wikipedia
.
Brand/Importer Information
:

DeLuxe Innovations is a "wholesale manufacturer" of model trains. We manufacture scale replica train models and sell them to hobby shops and distributors worldwide. 2013 marked the 20 year anniversary of DeLuxe Innovations brand trains. There are over 25 body styles in our product line and all of the cars in our single and multi-car packs have different road numbers. DeLuxe Innovations, Inc. is owned by Dave Ferrari, founder of Squeak N Products. We are located in Midland Park, New Jersey. When Dave purchased the business it was located in Burbank, California which would have been a bit of a long commute so the move to the East Coast was planned. Our first East Coast location was in Whippany, NJ along the Whippany River.
The business was started in 1993 by George Johnsen and Roberta Liebreich in Burbank, California. They had a philosophy that just wouldn't allow using a coal car as a "stand in" for a woodchip car, or printing any and all boxcar paint schemes on a PS-1. Starting with the release of the first ever etched metal parts for a ready to run car (1994's Twinstack's metal walkways) through the full dimension underframe and etched metal roofwalk (1996's 1944 AAR Boxcar) to the challenging RoadRailer system (2000), our products have been accurate to target the modeler or enthusiast.
You can also follow DeLuxe on
Twitter
Item created by:
nscalestation
on 2017-11-26 23:52:00. Last edited by
gdm
on 2021-03-02 11:29:29
If you see errors or missing data in this entry, please feel free to
log in
and edit it. Anyone with a Gmail account can log in instantly.