Model Information: The MDC Truss-Rod underframe 36' Reefer and 36' Boxcar are very similar models. They were introduced in 1997 for the former and 1998 for the latter. The easiest way to tell the difference is that the reefers have plug doors and the boxcars have sliding doors. Athearn acquired this tooling along with the rest of MDC's assets in 2004 and has since produced these models in RTR form with magnetically operated couplers.
Prototype History
:

During the mid-19th century, attempts were made to ship agricultural products by rail. As early as 1842, the Western Railroad of Massachusetts was reported in the June 15 edition of the Boston Traveler to be experimenting with innovative freight car designs capable of carrying all types of perishable goods without spoilage. The first refrigerated boxcar entered service in June 1851, on the Northern Railroad (New York) (or NRNY, which later became part of the Rutland Railroad). This "icebox on wheels" was a limited success since it was only functional in cold weather. That same year, the Ogdensburg and Lake Champlain Railroad (O&LC) began shipping butter to Boston in purpose-built freight cars, utilizing ice for cooling.
The first consignment of dressed beef left the Chicago stock yards in 1857 in ordinary boxcars retrofitted with bins filled with ice. Placing meat directly against ice resulted in discoloration and affected the taste, proving to be impractical. During the same period Swift experimented by moving cut meat using a string of ten boxcars with their doors removed, and made a few test shipments to New York during the winter months over the Grand Trunk Railway (GTR). The method proved too limited to be practical.
The use of ice to refrigerate and preserve food dates back to prehistoric times. Through the ages, the seasonal harvesting of snow and ice was a regular practice of many cultures. China, Greece, and Rome stored ice and snow in caves, dugouts or ice houses lined with straw or other insulating materials. Rationing of the ice allowed the preservation of foods during hot periods, a practice that was successfully employed for centuries. For most of the 19th century, natural ice (harvested from ponds and lakes) was used to supply refrigerator cars. At high altitudes or northern latitudes, one foot tanks were often filled with water and allowed to freeze. Ice was typically cut into blocks during the winter and stored in insulated warehouses for later use, with sawdust and hay packed around the ice blocks to provide additional insulation. A late-19th century wood-bodied reefer required re-icing every 250 miles (400 km) to 400 miles (640 km).
From Wikipedia
Road Name History
: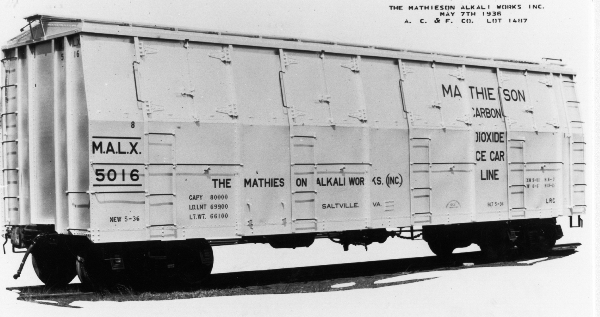 The Mathieson Chemical Company was located in Saltville Virgina. They mined limestone and produced alkali. One of the bi-products of their production was the creation of lots of Carbon dioxide. Given the usefulness of the frozen CO2, marketed as Dry Ice, Mathieson froze the gas and shipped it to various consumer industries. Initially this was done using tradional wooden reefers, but they later developed a highly specialized car in 1936 for shipping their vaporizing product. This car with it's unusual "cant" has proven to be far superior for hauling Solid Carbon dioxide or more commonly known as "Dry Ice".
Brand/Importer Information
: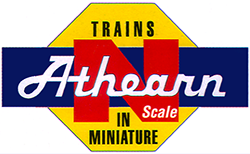 Athearn
's history began in 1938, when its founder-to-be, Irvin Athearn, started an elaborate O scale layout in his mother's house. After placing an ad selling the layout, and receiving much response to it, Irv decided that selling model railroads would be a good living. He sold train products out of his mother's house through most of the 1940s. After becoming a full-time retailer in 1946, Irv opened a separate facility in Hawthorne, California in 1948, and that same year he branched into HO scale models for the first time.
Athearn acquired the Globe Models product line and improved upon it, introducing a comprehensive array of locomotive, passenger and freight car models. Improvements included all-wheel drive and electrical contact. One innovation was the "Hi-Fi" drive mechanism, employing small rubber bands to transfer motion from the motor spindle to the axles. Another was the double-ended ring magnet motor, which permitted easy connection to all-wheel-drive assemblies. Athearn was also able to incorporate flywheels into double-ended drives.
The company produced a model of the Boston & Maine P4 class Pacific steam locomotive which incorporated a cast zinc alloy base and thermoplastic resin superstructure. It had a worm drive and all power pickup was through the bipolar trucks that carried the tender. This item was discontinued after the Wilson motor was no longer available, and was not redesigned for a more technologically advanced motor.
Athearn's car fleet included shorter-than-scale interpretations of passenger cars of Southern Pacific and Atchison, Topeka & Santa Fe Railroad prototypes. The company also offered a variety of scale-length freight cars with sprung and equalized trucks. The cars could be obtained in simple kit form, or ready-to-run in windowed display boxes. The comprehensive scope of the product line contributed to the popularity of HO as a model railroad scale, due to the ready availability of items and their low cost.
Irv Athearn died in 1991. New owners took control in 1994, but continued to follow Athearn's commitment to high-quality products at reasonable prices. Athearn was bought in 2004 by Horizon Hobby. Athearn was then moved from its facility in Compton to a new facility in Carson, California. In mid-2009, all remaining US production was moved to China and warehousing moved to parent Horizon Hobby. Sales and product development was relocated to a smaller facility in Long Beach, California.
Read more on
Wikipedia
and
Athearn website
.
Item created by:
gdm
on 2018-06-28 12:55:10. Last edited by
Alain LM
on 2022-05-15 04:53:28
If you see errors or missing data in this entry, please feel free to
log in
and edit it. Anyone with a Gmail account can log in instantly.