Prototype History
: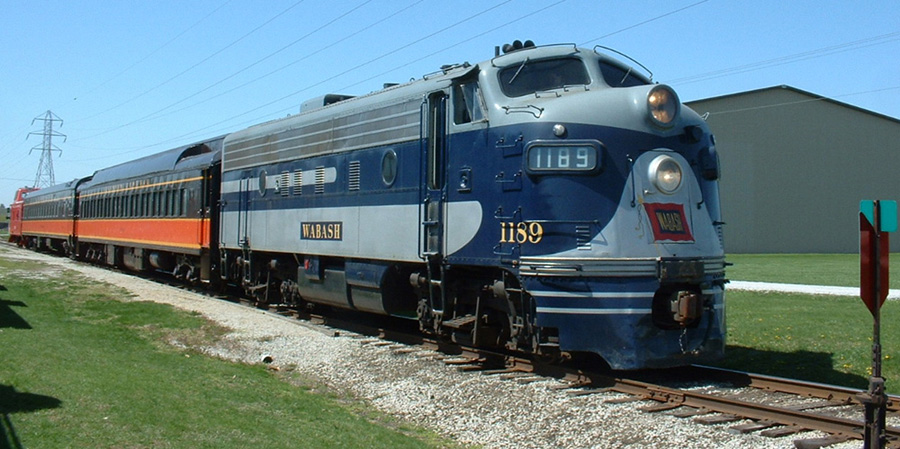 The F7 was the fourth model in GM-EMD's successful line of F unit locomotives, and by far the best-selling cab unit of all time. In fact, more F7's were built than all other F units combined. It succeeded the F3 model in GM-EMD's F unit sequence, and was replaced in turn by the F9. Final assembly was at GM-EMD's La Grange, Illinois, plant or GMD's London, Ontario, facility.
The F7 differed from the F3 primarily in internal equipment (mostly electrical) and some external features. Its continuous tractive effort rating was 20% higher (e.g. 40,000 lb (18,000 kg) for an F7 with 65 mph (105 km/h) gearing, compared to 32,500 lb (14,700 kg) for an F3 with the same gearing.
A total of 2,366 cab-equipped lead A units and 1,483 cabless-booster or B units were built. (Note: the B unit is often referred to as an "F7B", whereas the A unit is simply an "F7".)
Many F7s remained in service for decades, as railroads found them economical to operate and maintain. However, the locomotive was not very popular with yard crews who operated them in switching service because they were difficult to mount and dismount, and it was also nearly impossible for the engineer to see hand signals from a ground crew without leaning way outside the window. As most of these engines were bought and operated before two-way radio became standard on most American railroads, this was a major point of contention. In later years, with the advent of the "road switchers" such as the EMD GP7, F units were primarily used in "through freight" and "unit train" service where there was very little or no switching to be done on line of road.
From Wikipedia
Read more on
American-Rails.com
Road Name History
: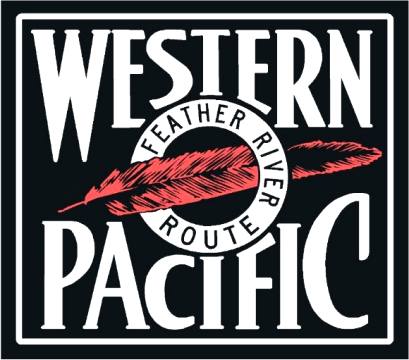 The Western Pacific Railroad (reporting mark WP) was a Class I railroad in the United States. It was formed in 1903 as an attempt to break the near-monopoly the Southern Pacific Railroad had on rail service into northern California. WP's Feather River Route directly competed with SP's portion of the Overland Route for rail traffic between Salt Lake City/Ogden, Utah and Oakland, California for nearly 80 years. In 1983 the Western Pacific was acquired by the Union Pacific Railroad. The Western Pacific was one of the original operators of the California Zephyr.
The original Western Pacific Railroad was established in 1865 to build the westernmost portion of the Transcontinental Railroad between San Jose, California (later Oakland, California), and Sacramento, California. This company was absorbed into the Central Pacific Railroad in 1870.
The second company to use the name Western Pacific Railroad was founded in 1903. Under the direction of George Jay Gould I, the Western Pacific was founded to provide a standard gauge track connection to the Pacific Coast for his aspiring Gould transcontinental system. The construction was financed by the Denver and Rio Grande Western Railroad, a company in the Gould system, which lost access to California due to the attempted acquisition of the Southern Pacific Railroad by the Rio Grande's main rival, the Union Pacific Railroad. The Western Pacific Railroad acquired the Alameda and San Joaquin Railroad and began construction on what would become the Feather River Route. In 1909 it became the last major railroad completed into California. It used 85-lb rail on untreated ties, with no tie plates except on curves over one degree; in 1935 more than half of the main line still had its original rail, most of it having carried 150 million gross tons.
The Western Pacific was acquired in 1983 by Union Pacific Corporation, which in 1996 would purchase its long-time rival, the Southern Pacific Railroad. In July 2005 Union Pacific unveiled a brand new EMD SD70ACe locomotive, Union Pacific 1983, painted as an homage to the Western Pacific.
Brand/Importer Information
: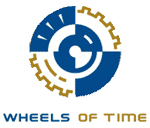 Wheels of Time was founded by Matthew Young in the fall of 1995. From an early age, Matthew has had a passion for trains, both in full-size and in miniature. His family frequently went out of their way so he could ride the train, or simply watch the action on the tracks. "On one occasion mom took us to San Francisco along the waterfront. Spotting a State Belt ALCo S-2 locomotive switching the wharves, I persuading my mom to follow it. I watched in wonder as I saw and heard the hit-cup sputtering of the ALCo engine as it revved-up to move railroad cars on and off the car float at Pier 43." Other early family experiences included watching Southern Pacific freight and Amtrak's San Joaquin Amfleet trains roll by as his family waited to be seated at Spenger's in Berkeley, which sat happily right next to the tracks. "My brother and I would shoot pictures of the trains with our Instantmatic 110 cameras, sometimes only getting the wheels or worse yet ... getting a real good close up of my big thumb."
Matthew and his brother built models of all kinds, but their model train career began in elementary school when they started making 3-D cardboard miniature trains from pictures found in the pages of Trains Magazine and Model Railroader Magazine. On a visit, many years later, with the late Richard Buike of Trackside Trains in Burlingame, California, the conversation turned to the lack of N-Scale passenger trains and how the few that existed didn't look right. "I told him right then and there that I was going to produce high quality, historically accurate passenger railroad cars. Even I was a little surprised when I said this." The first product was a 1950 Pullman-Standard "10-6" sleeping car made of brass. Wheels of Time became one of the first makers of historically accurate and realisticly detailed passenger train cars. At Wheels of Time, we research original equipment and recreate it with CAD software for production. We're lovers of history and sticklers for detail. On our line of Transit Motor Coaches (a fancy way of saying "buses"), even the destination *roll* signs are historically accurate. Be sure to check out all our beautiful and accurate products. We hope you'll come to share our passion for trains, here recreated in miniature. At Wheels of Time, you get to take home a piece of a fascinating history.
Wheels of Time manufactures historically accurate model trains, vehicles, and model railroad accessories with a real *wow* factor. Our obsession with detail and historical accuracy is reflected in our exceptional design and production: hold a Wheels of Time model in your hand and you'll be tempted to say, 'It's the real thing!'
Item created by:
CNW400
on 2019-05-03 12:49:23. Last edited by
CNW400
on 2020-06-05 18:31:24
If you see errors or missing data in this entry, please feel free to
log in
and edit it. Anyone with a Gmail account can log in instantly.