Specific Item Information: Limited Edition Set #3 "The Powhatan Arrow": one steam locomotive with 6 smoothside cars

- Rivarossi Steam Locomotive 4-6-4 Hudson # 607 & 6-axle tender
- Diner #494 "Frederick J. Kimball"
- Coach #532 "Powhatan"
- Coach #535 "Powhatan"
- Coach #539 "Powhatan"
- Coach #540 "Powhatan"
- Observation #581 "Powhatan"
(all smoothside cars)

Set also contains:
- Norfolk and Western Ry. circular patch
- 2 sided "Map and Timetable"
Series Information: Con-Cor "Limited Edition Sets" or "Limited Edition Collector's Sets" were started after requests to 'custom paint' replicas of great passenger trains of the past. As these sets were very limited in quantity, many were sold out before they got to the retailer. While the quality of painting varied from time to time, they are a handsome addition to any collection and impressive on a layout.
With the exception of the first set, all were furnished in a wood-grained cardboard box with colored foam storage insert. For some sets, the manufacturer furnished additional cars or add-on sets.
The number of the set in the series is not printed on the box, but a listing was kept by Con-Cor and available as print-out in the most recent sets or on the (former) Con-Cor website.
Sets #1 to #13 were without stock number; stock numbers have been assigned and printed on the side label starting with set #14.

The wood-grained cardboard box has been used for other sets called "Special Edition Set" by Con-Cor, that only received a regular stock number, but were not accounted in the "Limited Edition Set" collection.
Prototype History
: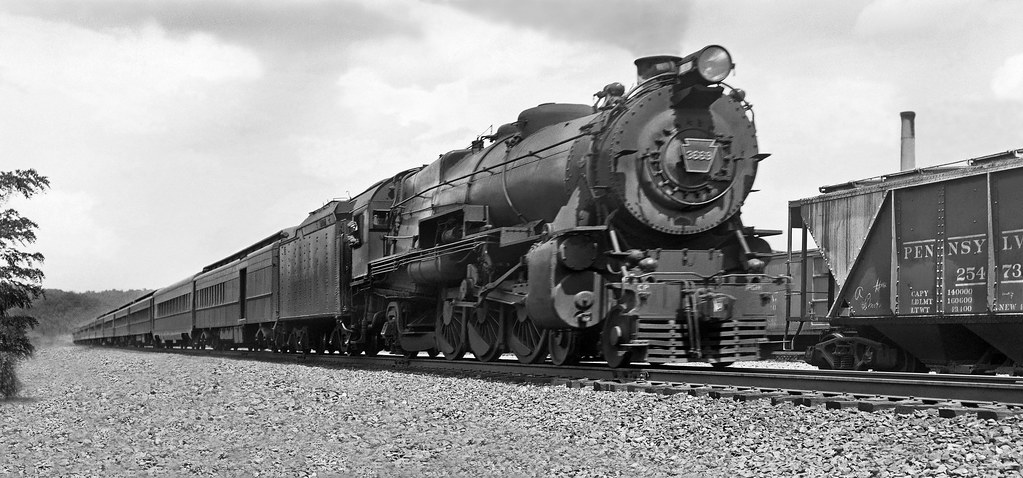 During the transition period (1939 - 1957), it was common to see both steam and diesel motive power on North American railroads. However, it wasn't the case that the only steam locomotives were leftovers from the war. Many new model steam engines were produced during this period. These were the latest and best technology that steam technology produced. These were especially common on coal hailing routes where fuel was plentiful, but steam was also common on passenger routes.
One example was the Norfolk and Western J class. These pulled some of their flagship named trains such as the Pochontas, Powhattan Arrow and the Cavalier. Steam passenger service continued well into the 1950s when N&W started the dieselization process.
Road Name History
: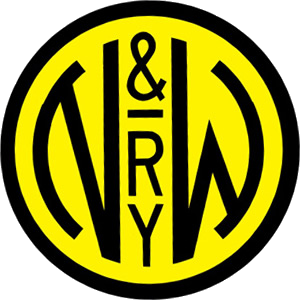 The Norfolk and Western Railway (reporting mark NW), was a US class I railroad, formed by more than 200 railroad mergers between 1838 and 1982. It was headquartered in Roanoke, Virginia, for most of its 150-year existence. Its motto was "Precision Transportation"; it had a variety of nicknames, including "King Coal" and "British Railway of America" even though the N&W had mostly articulated steam on its roster. During the Civil War, the N&W was the biggest railroad in the south and moved most of the products with their steam locomotives to help the South the best way they could.
NW was famous for manufacturing its own steam locomotives, which were produced at the Roanoke Shops, as well as its own hopper cars. Around 1960, NW became the last major American railroad to convert from steam locomotives to diesel motive power but didn't retire its last remaining Y class locomotives until 1964 and 1965. By 1965, steam on class I railroads was gone but steam wasn't gone on class II railroads until 1974 and class III and mining railroads retired their steam locomotives from their active roster until 1983. By 1983, steam in America on class I, II, III, and mining railroads had finally closed the chapter on America's 150 years of steam from 1830 - 1983.
In December 1959, NW merged with the Virginian Railway (reporting mark VGN), a longtime rival in the Pocahontas coal region. By 1970, other mergers with the Nickel Plate Road and Wabash formed a system that operated 7,595 miles (12,223 km) of road on 14,881 miles (23,949 km) of track from North Carolina to New York and from Virginia to Iowa.
In 1980, NW teamed up with the Southern Railway, another profitable carrier and created the Norfolk Southern Corporation holding company by merging its business operations with the business operations of the Southern Railway. The NW and the Southern Railway continued as separate railroads now under one holding company.
On December 31, 1990, the Southern Railway was renamed "Norfolk Southern Railway" to reflect the Norfolk Southern Corporation and on the same day, the renamed Norfolk Southern Railway gained full control of the Norfolk and Western Railway with the Norfolk and Western being transferred from the holding company to the renamed Norfolk Southern Railway, this began the final years of Norfolk and Western which was absorbed into the renamed Norfolk Southern Railway seven years later in 1997 (1990 to 1997 the Norfolk and Western continued operating by using paper operations).
In 1997 during the Conrail battle with CSX, Norfolk Southern Corporation's principal railroad, the renamed Norfolk Southern Railway, absorbed the Norfolk and Western Railway into their rail system, ending the existence of the Norfolk and Western Railway and having the renamed Norfolk Southern Railway becoming the only railroad in the entire Norfolk Southern system after that.
Brand/Importer Information
:

Con-Cor
has been in business since 1962. Many things have changed over time as originally they were a complete manufacturing operation in the USA and at one time had upwards of 45 employees. They not only designed the models,but they also built their own molds, did injection molding, painting, printing and packaging on their models.
Currently, most of their manufacturing has been moved overseas and now they import 90% of their products as totally finished goods, or in finished components. They only do some incidental manufacturing today within the USA.
Important Note: The Con-Cor product numbering can be very confusing. Please see here in the article how to properly enter Con-Cor stock numbers in the TroveStar database.
Item created by:
Alain LM
on 2019-05-15 14:51:22. Last edited by
Alain LM
on 2020-05-30 09:58:12
If you see errors or missing data in this entry, please feel free to
log in
and edit it. Anyone with a Gmail account can log in instantly.