Specific Item Information: Limited Edition Set #30 "Royal American Shows": one steam locomotive with 6 heavyweight cars and 3 flat cars with load. Locomotive and heavyweight cars are from Rivarossi, flatcars are from Con-Cor.

- Steam Locomotive 4-6-2 Heavy Pacific #2197, with tender marked "Royal American Shows, Tampa.Fla."
- Baggage Express #45
- RPO Combine car #47
- Coach car #50
- Sleeper car #53
- Diner car #56
- Observation Car #60
- Flat car #128 with trailer #123
- Flat car #136 with flat bed trailer with wooden poles
- Flat cat #187 with trailer #189
Series Information: Con-Cor "Limited Edition Sets" or "Limited Edition Collector's Sets" were started after requests to 'custom paint' replicas of great passenger trains of the past. As these sets were very limited in quantity, many were sold out before they got to the retailer. While the quality of painting varied from time to time, they are a handsome addition to any collection and impressive on a layout.
With the exception of the first set, all were furnished in a wood-grained cardboard box with colored foam storage insert. For some sets, the manufacturer furnished additional cars or add-on sets.
The number of the set in the series is not printed on the box, but a listing was kept by Con-Cor and available as print-out in the most recent sets or on the (former) Con-Cor website.
Sets #1 to #13 were without stock number; stock numbers have been assigned and printed on the side label starting with set #14.

The wood-grained cardboard box has been used for other sets called "Special Edition Set" by Con-Cor, that only received a regular stock number, but were not accounted in the "Limited Edition Set" collection.
Prototype History
: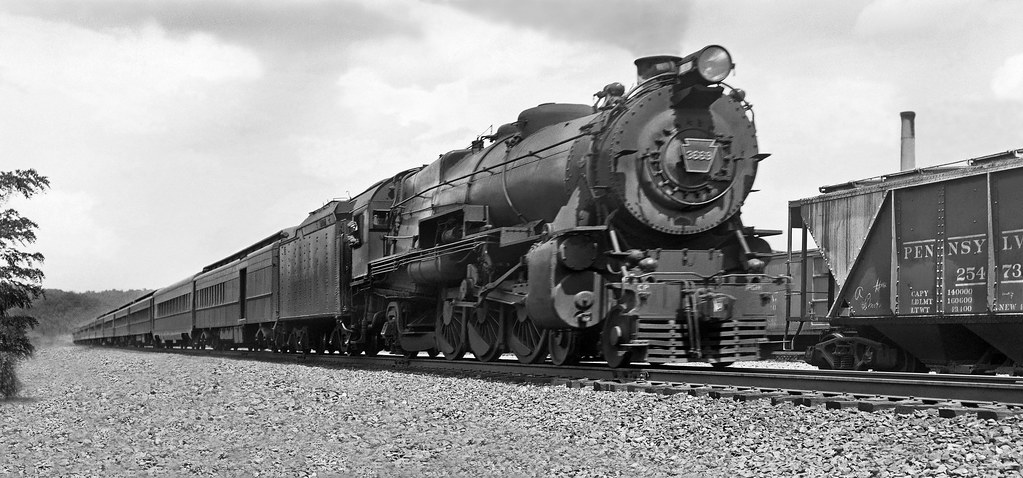 During the transition period (1939 - 1957), it was common to see both steam and diesel motive power on North American railroads. However, it wasn't the case that the only steam locomotives were leftovers from the war. Many new model steam engines were produced during this period. These were the latest and best technology that steam technology produced. These were especially common on coal hailing routes where fuel was plentiful, but steam was also common on passenger routes.
One example was the Norfolk and Western J class. These pulled some of their flagship named trains such as the Pochontas, Powhattan Arrow and the Cavalier. Steam passenger service continued well into the 1950s when N&W started the dieselization process.
Road Name History
: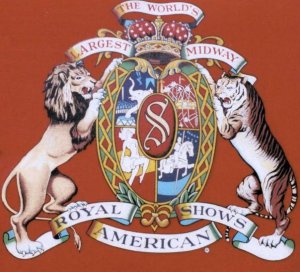 Royal American Shows was founded by Carl J. Sedlmayr, who was born in Nebraska in 1886, Royal American Shows was one of the largest American carnivals throughout most of the twentieth century. Although Royal American's first contract with the Calgary Stampede was in 1934, the company was unable to travel to Canada from 1942 to 1945, during the Second World War, as it relied on a large train (up to 90 rail cars) for transportation. During the war, use of the rail system was restricted by the United States government to the movement of military personnel and equipment.
In 1967 Royal American Shows was at its pinnacle in terms of size, over 800 people along with livestock and equipment and over 80 railroad cars in 1971. Royal American Shows carried the greatest number of flatcars ever carried by any traveling amusement organization in the world. The show traveled with a full complement of carpenters, canvas men, electricians, painters, full working machine shops with mills, lathes, drills, welders, mechanics, cookhouse, portable showers, and mail department.
Royal American Shows faced the changing economy in the 1970's that would have a huge impact on continuing to stay in business. Towards the end of the 1970's there was a tremendous loss of revenue for Royal American Shows caused by greater distances traveled with ever increasing costs with railroad transportation just to move the show from place to place. In addition, Royal America Shows lost its Canadian route in 1977 during a tax issue causing Royal American to lose all of that revenue on top of mounting expenses.
The carnival equipment seized from the 1975 tax issue at Edmonton and Regina was held in storage until the mid-1990's, at which time the assets were sold at auction and the proceeds were used to pay the outstanding fines. Royal American Shows continued to operate in the United States for the next twenty years, diminishing in size over time; Royal American Show's last spot was in Lubbock, Texas, in October 1997.
Brand/Importer Information
:

Con-Cor
has been in business since 1962. Many things have changed over time as originally they were a complete manufacturing operation in the USA and at one time had upwards of 45 employees. They not only designed the models,but they also built their own molds, did injection molding, painting, printing and packaging on their models.
Currently, most of their manufacturing has been moved overseas and now they import 90% of their products as totally finished goods, or in finished components. They only do some incidental manufacturing today within the USA.
Important Note: The Con-Cor product numbering can be very confusing. Please see here in the article how to properly enter Con-Cor stock numbers in the TroveStar database.
Item created by:
CNW400
on 2019-05-23 13:30:49. Last edited by
Alain LM
on 2020-05-30 12:28:49
If you see errors or missing data in this entry, please feel free to
log in
and edit it. Anyone with a Gmail account can log in instantly.