Model Information: This car was first produced by Mehano in the late 1960s or early 1970s. It is essentially a knock-off of the Atlas/Roco 3-dome model from 1967. It was imported by MRC, Model Power and Life-Like. Life-Like later produced a Chinese knock-off of this car. Hence the Life-Like model is a knock-off of a knock-off. Meta-knockoff?
Prototype History
: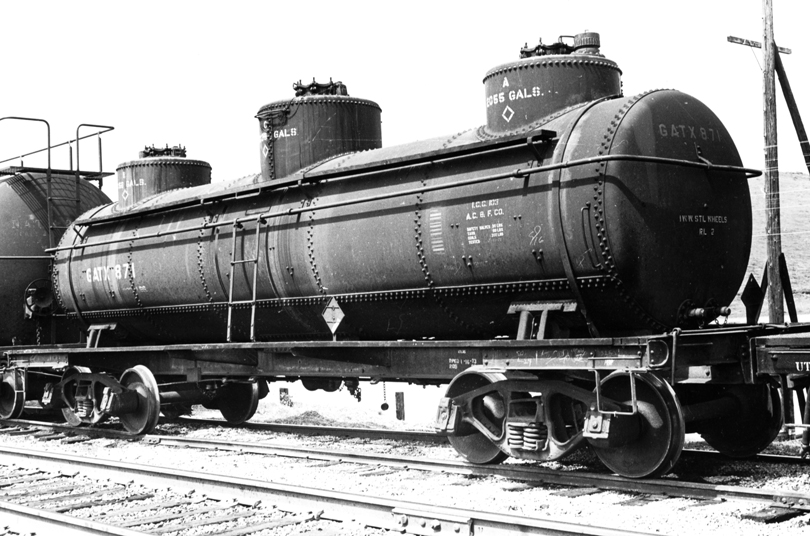 Triple Dome tank cars, while not as common as single-domes, are a railroad staple. They have been around since the first half of the 20th century.
The dome above tank cars serves as an expansion chamber as temperature affects the volume of any liquids contained within. With no dome, if the liquid did not 100% fill the tank, then it is possible for the liquid to slosh around inside the tank, causing instability and increasing the possibility of a derailment. The dome allows the tank to be slightly overfilled so that should the volume in the main section decrease due to colder temperatures or even a small leak, that there will still be sufficient liquid within to prevent sloshing. Similarly if temperature increases, the liquid can rise up inside the dome preventing excess pressure within the tank. While not as serious as an underfilled tank, an over-pressurized tank might present problems during unloading.
If you see
three
domes on a tank car it is because there are three separate compartments inside the tank car each containing a different liquid. This was desirable for many reasons.
Often times a delivery would consist of much less than a carload (LCL) of liquid. Remember the sloshing problem? So if you only had to fill a third of a tank with your commodity, then you can avoid the issue by using one of the three chambers within the tank car. Also, you might have several grades of a commodity to deliver such as unleaded, leaded and diesel fuel and you need them to be kept separate. Or you might be producing wine and you want your white wine kept separate from your red wine. Or maybe all three chambers had the same contents but were being delivered to three different customers. It can be very difficult to determine when one third of a single dome tank car has been discharged...
For all these reasons, three-dome tank cars were a common sight in the first half of the 20th century. However, with the rise of the interstate highway system and the modern trucking industry, LCL deliveries have primarily been accomplished with tanker trucks instead of tank cars and the three-dome tank car has gradually disappeared from the North American rail network.
Road Name History
:

The Canadian National Railway Company (reporting mark CN) is a Canadian Class I railway headquartered in Montreal, Quebec that serves Canada and the Midwestern and Southern United States. CN's slogan is "North America's Railroad". CN is a public company with 24,000 employees. It had a market capitalization of 32 billion CAD in 2011. CN was government-owned, having been a Canadian Crown corporation from its founding to its privatization in 1995. Bill Gates was, in 2011, the largest single shareholder of CN stock.
CN is the largest railway in Canada, in terms of both revenue and the physical size of its rail network, and is currently Canada's only transcontinental railway company, spanning Canada from the Atlantic coast in Nova Scotia to the Pacific coast in British Columbia. Its range once reached across the island of Newfoundland until 1988, when the Newfoundland Railway was abandoned.
Following CN's purchase of Illinois Central (IC) and a number of smaller US railways, it also has extensive trackage in the central United States along the Mississippi River valley from the Great Lakes to the Gulf of Mexico. Today, CN owns about 20,400 route miles (32,831 km) of track in 8 provinces (the only two not served by CN are Newfoundland & Labrador and Prince Edward Island), as well as a 70-mile (113 km) stretch of track (see Mackenzie Northern Railway) into the Northwest Territories to Hay River on the southern shore of Great Slave Lake; it is the northernmost rail line anywhere within the North American Rail Network, as far north as Anchorage, Alaska (although the Alaska Railroad goes further north than this, it is isolated from the rest of the rail network).
The railway was referred to as the Canadian National Railways (CNR) between 1918 and 1960, and as Canadian National/Canadien National (CN) from 1960 to the present.
Read more on
Wikipedia
.
Brand/Importer Information
:

Life-Like Products LLC (now Life-Like Toy and Hobby division of Wm. K. Walthers) was a manufacturer of model railroad products and was based in Baltimore, Maryland.
It was founded in the 1950s by a company that pioneered extruded foam ice chests under the Lifoam trademark. Because ice chests are a summer seasonal item, the company needed a way to keep the factory operating year round. As model railroading was becoming popular in the post-war years, they saw this as an opportunity and so manufactured extruded foam tunnels for model trains. Over the years, Life-Like expanded into other scenery items, finally manufacturing rolling stock beginning in the late 1960s. At some point in the early 1970s, Life-Like purchased Varney Inc. and began to produce the former Varney line as its own.
The Canadian distributor for Life-Like products, Canadian Hobbycraft, saw a missing segment in market for Canadian model prototypes, and started producing a few Canadian models that were later, with a few modifications, offered in the US market with US roadnames.
In 2005, the company, now known as Lifoam Industries, LLC, decided to concentrate on their core products of extruded foam and sold their model railroad operations to Wm. K. Walthers.
In June 2018, Atlas and Walthers announced to have reached an
agreement
under which all Walthers N scale rolling stock tooling, including the former Life-Like tooling, will be purchased by Atlas.
Read more on
Wikipedia
and
The Train Collectors Association
.
Manufacturer Information
:

Hobbycraft Canada (or Canadian Hobbycraft) has been the importer of Life-Like products in Canada. They produced Canadian versions of Life-Like rolling stock and engines.
Their license agreement from Life-Like expired in 2006 and was not renewed. The model train activity then continued as True-Line Trains.
Item created by:
Alain LM
on 2020-01-27 10:05:45. Last edited by
Lethe
on 2020-05-07 00:00:00
If you see errors or missing data in this entry, please feel free to
log in
and edit it. Anyone with a Gmail account can log in instantly.