Specific Item Information: Only 50 made. BLW custom decorated this series of cars. These cars are very rare and highly collectible.
Available under the same reference in three different variations of brown (Tuscan Red, Boxcar Red and Light Brown).
Model Information: This is Micro-Trains first body style. It was introduced in 1972. Its is a model of a Pullman-Standard PS-1 boxcar from circa 1957. Micro-Trains does not market it as a PS-1 so as to allow themselves some latitude so they can use this car to model non-PS prototypes. Hundreds of different releases have used this body style in various paint schemes and road names. They are equipped with 6' sliding doors, either Youngstown (4/5/4 rib pattern) or Superior (7 panels). It is not a model of a "modern" steel boxcar as the length (40 foot) and the roofwalk are more typical of the transition era (1939 - 1957).

In 2019, Micro-Trains started releasing this model with new body-mounted couplers attached to a new underframe.
Prototype History
: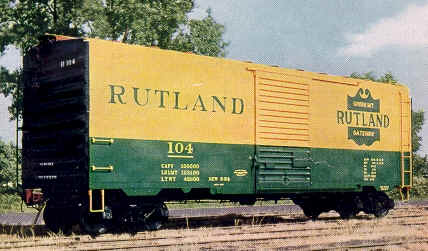 The 40' Boxcar is widely known as one of the most popular freight cars used by railroads as they transitioned from steam to diesel. In particular the Pullman Standard or PS-1 design was one of the most popular and was widely used by North American railroads. These boxcars were built beginning in 1947 and share the same basic design, with certain elements such as door size, door style or roof type varying among the different railroads and production years. When production of these cars ceased in 1963, over 100,000 had been produced.
So just what is a PS-1? Well the simple answer is it is any boxcar built by Pullman Standard from 1947 on. The design changed over the years – sometimes subtly, sometimes for customer request, and sometimes in a larger way. In general, most PS-1's built from 1947 to 1961 share the same dimensions and basic construction techniques. These cars all had a length of 40′, a height of 10'5″ or 10'6″, welded sides and ends and roof of Pullman's own design. The greatest variation was in the size and style of doors used. Pullman Standard also offered 50′ and later 60′ boxcars – also with the PS-1 designation.
Road Name History
: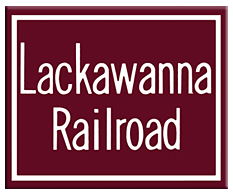 The Delaware, Lackawanna & Western Railroad Company (DL&W or Lackawanna Railroad) was a U.S. Class 1 railroad that connected Buffalo, New York, and Hoboken, New Jersey, a distance of about 400 miles (640 km). Incorporated in 1853, the DL&W was profitable during the first two decades of the twentieth century, but its margins were gradually hurt by declining traffic in coal and competition from trucks. In 1960, the DL&W merged with rival Erie Railroad to form the Erie Lackawanna Railroad.
The Liggett's Gap Railroad was incorporated on April 7, 1832, but stayed dormant for many years. It was chartered on March 14, 1849, and organized January 2, 1850. On April 14, 1851, its name was changed to the Lackawanna and Western Railroad. The line, running north from Scranton, Pennsylvania, to Great Bend, just south of the New York state line, opened on December 20, 1851. From Great Bend the L&W obtained trackage rights north and west over the New York and Erie Rail Road to Owego, New York, where it leased the Cayuga and Susquehanna Railroad to Ithaca on Cayuga Lake (on April 21, 1855). The C&S was a re-organized and partially re-built Ithaca and Owego Railroad, which had opened on April 1, 1834, and was the oldest part of the DL&W system. The whole system was built to 6 ft (1,829 mm) broad gauge, the same as the New York and Erie, although the original I&O was built to standard gauge and converted to wide gauge when re-built as the C&S.
The Delaware and Cobb's Gap Railroad was chartered December 4, 1850, to build a line from Scranton east to the Delaware River. Before it opened, the Delaware and Cobb's Gap and Lackawanna and Western were consolidated by the Lackawanna Steel Company into one company, the Delaware, Lackawanna and Western Railroad, on March 11, 1853. On the New Jersey side of the Delaware River, the Warren Railroad was chartered February 12, 1851, to continue from the bridge over the river southeast to Hampton on the Central Railroad of New Jersey. That section got its name from Warren County, the county through which it would primarily run.
In the wake of Hurricane Diane in 1955, all signs pointed to continued financial decline and eventual bankruptcy for the DL&W. Among other factors, property taxes in New Jersey were a tremendous financial drain on the Lackawanna and other railroads that ran through the state, a situation that would not be remedied for another two decades.
To save his company, Lackawanna president, Perry Shoemaker, sought and won a merger agreement with the Erie Railroad, the DL&W's longtime rival (and closest geographical competitor). The merger was formally consummated on October 17, 1960. Shoemaker drew much criticism for it, and would even second-guess himself after he had retired from railroading. He later claimed to have had a "gentlemen's agreement" with the E-L board of directors to take over as president of the new railroad. After he was pushed aside in favor of Erie managers, however, he left in disillusionment and became the president of the Central Railroad of New Jersey in 1962.
Read more on
Wikipedia
.
Brand/Importer Information
:

Brooklyn Locomotive works is a hobby shop that is located in Manalapan, New Jersey. Pete A. Postel founded BLW in 1979. They specialize in N Scale although they claim to cover other scales as well. In addition to serving as a volume discounter with competitive pricing for N Scale hobbyists, Brooklyn Locomotive works also often works with various manufacturers to create their own line of branded special runs. These special runs are usually only available through their retail operation (online or storefront). They also worked for a limited time in the early 1980s as a custom decorator. They bought undecorated kits from Micro-Trains and painstakingly custom painted and decaled a series of cars for collectors.
Manufacturer Information
: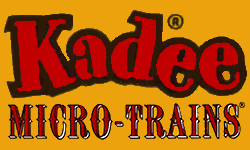 Kadee Quality Products originally got involved in N-Scale by producing a scaled-down version of their successful HO Magne-Matic knuckle coupler system. This coupler was superior to the ubiquitous 'Rapido' style coupler due to two primary factors: superior realistic appearance and the ability to automatically uncouple when stopped over a magnet embedded in a section of track. The success of these couplers in N-Scale quickly translated to the production of trucks, wheels and in 1972 a release of ready-to-run box cars.
In October 1990 Kadee separated in two companies, with the newly created Micro-Trains® Line Co. continuing the Z, Nn3, and N Scale product ranges, with Kadee retaining the HO range.
Commissioner Information
:
Brooklyn Locomotive Works
is a hobby shop, specialized in N-scale, located in Manalapan, New Jersey, that also sells on-line. BLW regularly commissions special runs.
The company was founded by Pete Postel who announced that he would retired by end of 2018. His brother Paul should continue the business from his own shop
Hogtrainz.com
.
Brooklyn Locomotive Works (BLW) released special runs from various manufacturers under its own brand until approx. the mid-1980s. Thereafter the special runs where sold under the manufacturer's name and denoted as special runs for BLW. Hence in this database, we assign the BLW brand in the former case, and the original manufacturer's brand in the latter.
Item created by:
Alain LM
on 2020-04-02 12:03:48. Last edited by
gdm
on 2020-07-24 07:29:15
If you see errors or missing data in this entry, please feel free to
log in
and edit it. Anyone with a Gmail account can log in instantly.