Model Information
: Excerpted from Irwin's Journal. For the full review, please visit:
Irwin's Journal
This was the first N scale steam locomotive based on an American prototype in the world! True if Lone Star's Treble-O-Lectric Baldwin based 0-8-0, released in 1963, is not included. Technically, that locomotive was not N scale because it was made to a scale of 1/152 but ran on 9 mm track. Introduced in early 1968 as Atlas? third, it was another rather unusual choice for Atlas/Rivarossi to have made since there were only three prototypes built and for only one railroad, the Indiana Harbor Belt R.R. (that?s why I included IHB in the title). Originally priced at $16.98, the price jumped to $19.98 when the loco was actually available. To quote Atlas? advertisement in the May 1968 issue of Model Railroader, "...which is slightly higher than originally announced many months ago. However, this new deluxe locomotive incorporates many new production and tooling changes to make it a truly superior product..." What those new production and tooling changes were, I have no idea. The locomotive was offered in IHB and Santa Fe (what else?) Road Names.
I remember that I wanted one of these so badly when they first appeared, but I didn?t have the money at that age. It would be about two years before I finally got one.
The construction is, again, a plastic shell over a zinc alloy frame. The same basic "dependable" Rivarossi can motor is used ,with modifications, to suit the drive in the new steam engine. The motor is mounted horizontally in the cab area and a longer shaft is incorporated with a worm on it to drive the worm gear. The worm gear drives various spur gears to eventually drive all four drive wheel axles. Thus, quartering is not critical and, in fact, the side rods are connected only to the first and third drivers. The rods have a slot at the front to connect to the first drivers to allow mechanism slop. Electrical pickup is with the four left side locomotive drivers from the left rail for the ground side of the circuit and with the right side wheels of the tender from the right rail for the hot side. The hot brush holder on the motor has an extension which reaches down to insert into a hole in the drawbar and a spring contact pushing against the extension conducts current to the brush holder. The headlight bulb socket press-fits into a recess in the front of the frame and this serves as the ground contact. The circuit is completed by a wire from the hot brush holder soldered to the center socket contact. The same bulb and socket is used as in the E8s.
After Atlas discontinued import of this model in the early 1970s, Con-Cor picked started importing them with dual-label packaging and multi-language instruction manuals.
DCC Information: Don't even think about it.
Prototype History
:
Under the Whyte notation for the classification of steam locomotives, 0-8-0 represents the wheel arrangement of no leading wheels, eight powered and coupled driving wheels on four axles and no trailing wheels. Locomotives of this type are also referred to as eight coupled..
Examples of the 0-8-0 wheel arrangement were constructed both as tender and tank locomotives. The earliest locomotives were built for mainline haulage, particularly for freight, but the configuration was later also often used for large switcher (shunter) types. The wheel arrangement provided a powerful layout with all engine weight as adhesive weight, which maximised the tractive effort and factor of adhesion. The layout was generally too large for smaller and lighter railways, where the more popular 0-6-0 wheel arrangement would often be found performing similar duties.
From Wikipedia
Road Name History
: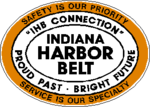 The IHB is an independent railroad which is jointly owned by Conrail Shared Assets Operations (51%) and Canadian Pacific Railway (49%). These shareholders trace their ownership stake in IHB to previous mergers and acquisitions in the railroad industry. This came from Conrail, which had owned a 51% controlling interest. Conrail's ownership is traced back to the Penn Central Transportation Company and prior to that, the New York Central Railroad and Pennsylvania Railroad. Canadian Pacific's ownership is through its subsidiary, the Soo Line Railroad, which had inherited it from the Chicago, Milwaukee, St. Paul and Pacific Railroad.
The line comprises 320 miles (510 km) of track?30 miles of single mainline track, 24 miles (39 km) of double-main track and 266 miles (428 km) of additional yard and side track?starting northwest of Chicago in Franklin Park, Illinois, traveling southeast around the city to its headquarters in Hammond, Indiana.
The line's largest yard, [Blue Island] is located in Riverdale, Illinois with other yards in Burnham, Calumet City, Alsip, Argo, LaGrange, Rose and Franklin Park. In [Indiana] Whiting, Hammond, Michigan Ave, Lake Front in East Chicago. The Gibson Yard located in [Hammond], is arguably the largest auto-switching operation in the United States.
Throughout the 1970s and 1990s to the present, Indiana Harbor Belt operated an extensive interlocking tower system including: East End, Osbourne, Calumet, State Line, Gibson, Stewart Avenue, Graselli, 55th Street and Argo towers with switch tenders at North Harvey and Columbia Avenue in Hammond. They later took over State Line tower from the Chicago and Western Indiana Railroad.
From Wikipedia
Brand/Importer Information
: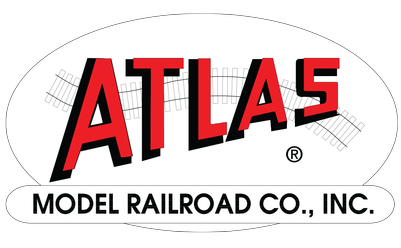 In 1924 Stephan Schaffan, Sr. founded the Atlas Tool Company in Newark, New Jersey. In 1933 his son, Stephan Schaffan, Jr., came to work for his father at the age of sixteen. Steve Jr. built model airplanes as a hobby and frequented a local hobby shop. Being an enterprising young man, he would often ask the owner if there was anything he could do to earn some extra spending money. Tired of listening to his requests, the hobby-store owner threw some model railroad track parts his way and said, "Here, see if you can improve on this".
In those days, railroad modelers had to assemble and build everything from scratch. Steve Jr. created a "switch kit" which sold so well, that the entire family worked on them in the basement at night, while doing business as usual in the machine shop during the day.
Subsequently, Steve Jr. engineered the stapling of rail to fiber track, along with inventing the first practical rail joiner and pre-assembled turnouts and flexible track. All of these products, and more, helped to popularize model railroading and assisted in the creation of a mass-market hobby. The budding entrepreneur quickly outgrew the limitations of a basement and small garage operation. Realizing they could actually make a living selling track and related products, Steve and his father had the first factory built in Hillside, New Jersey at 413 Florence Avenue in 1947. On September 30, 1949, the Atlas Tool Company was officially incorporated as a New Jersey company.
In 1985, Steve was honored posthumously for his inventions by the Model Railroad Industry Association and was inducted into the Model Railroad Industry Hall of Fame in Baltimore, Maryland. In addition, Steve was nominated and entered into the National Model Railroad Association Pioneers of Model Railroading in 1995.
In the early 1990s, the Atlas Tool Company changed its name to
Atlas Model Railroad Company, Inc.
Item created by:
gdm
on 2016-03-21 13:49:09. Last edited by
gdm
on 2020-05-31 10:21:06
If you see errors or missing data in this entry, please feel free to
log in
and edit it. Anyone with a Gmail account can log in instantly.