Prototype History
: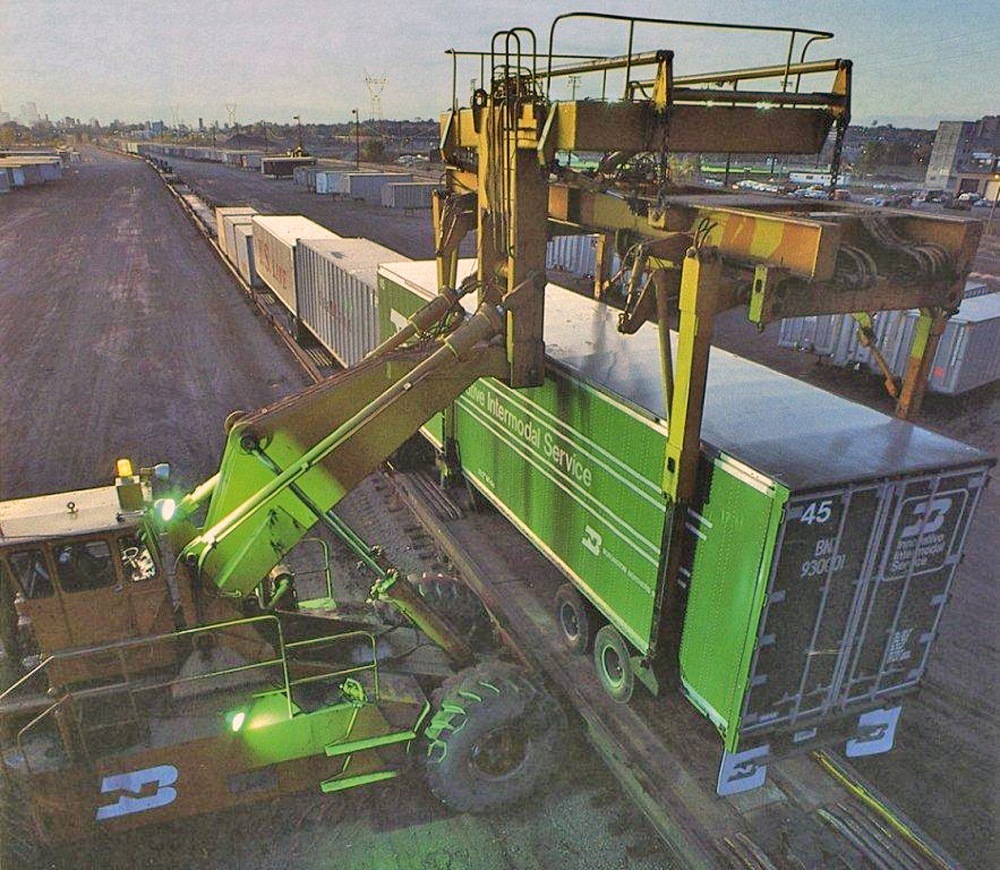 By the early 1960s, railroads in North America were routinely transporting truck trailers on specialized railroad cars called "piggyback" flat cars (known as Trailer On Flat Car, or TOFC). The loading and unloading of truck trailers from these flat cars was accomplished by way of a ramp at one end of the train, with a truck-tractor used to pull the trailer on and off the train. This was commonly referred to as "circus loading", and was a time consuming process: by this method, trailers on piggyback flat cars could only be loaded or unloaded sequentially. Furthermore circus loading required a very skilled driver, one able to navigate the narrow confines of a flatcar, especially when backing up to pick up a trailer.
In 1968, the FWD Wagner Corp. developed the P-80 and the PC-90. The boom on the PC-90 (and P-80) was redesigned to eliminate the tilting of the trailers during lifting by including a pair of horizontal stabilizing bars that served as a parallelogram. Folding grapple arms replaced the clamshell lift mechanism, eliminating the 10-feet clearance required with the '70. Further, by 1968, ISO standards had been established for the emerging maritime container business, replacing the proprietary lift mechanisms for SeaLand, Matson and others. Nelson saw the growth potential in adapting the Piggy-Packer for container handling, and chose the lift mechanism that had been developed by Ropco Corp. The first dual-purpose machine equipped with a container spreader entered service in UP's Seattle facility in 1968. Furthermore, lift capacity was beefed up to 90,000 lb (45 tons). The PC-90 quickly became the de facto standard for mechanization of TOFC operations.
Road Name History
:

Wagner products range from 2WD and 4WD Logstackers, Chip Dozers, Coal Dozers, Steel Slab Handlers, Steel Coil Handlers and Heavy Lift Transporters. Allied Systems is not only the OEM, but also provides used, rebuilt, remanufactured and rental machines. The flagship Logstackers range in capacity from 60,000 lb to 160,000 lb capacity for short wood to tree length logs. The unique design of the Chip Dozers allows it to push as much load in front of the bucket as it is carrying inside of it for maximum productivity of up to 100 cubic yards per pass. Decades of success prove that the Wagner products are the highest performing, most productive, safest and longest lasting material handling machines in the industry. Wagner is able to provide the best products while maintaining the lowest total cost of ownership by providing equipment that is purpose built for each application.
Brand/Importer Information
: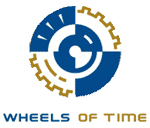 Wheels of Time was founded by Matthew Young in the fall of 1995. From an early age, Matthew has had a passion for trains, both in full-size and in miniature. His family frequently went out of their way so he could ride the train, or simply watch the action on the tracks. "On one occasion mom took us to San Francisco along the waterfront. Spotting a State Belt ALCo S-2 locomotive switching the wharves, I persuading my mom to follow it. I watched in wonder as I saw and heard the hit-cup sputtering of the ALCo engine as it revved-up to move railroad cars on and off the car float at Pier 43." Other early family experiences included watching Southern Pacific freight and Amtrak's San Joaquin Amfleet trains roll by as his family waited to be seated at Spenger's in Berkeley, which sat happily right next to the tracks. "My brother and I would shoot pictures of the trains with our Instantmatic 110 cameras, sometimes only getting the wheels or worse yet ... getting a real good close up of my big thumb."
Matthew and his brother built models of all kinds, but their model train career began in elementary school when they started making 3-D cardboard miniature trains from pictures found in the pages of Trains Magazine and Model Railroader Magazine. On a visit, many years later, with the late Richard Buike of Trackside Trains in Burlingame, California, the conversation turned to the lack of N-Scale passenger trains and how the few that existed didn't look right. "I told him right then and there that I was going to produce high quality, historically accurate passenger railroad cars. Even I was a little surprised when I said this." The first product was a 1950 Pullman-Standard "10-6" sleeping car made of brass. Wheels of Time became one of the first makers of historically accurate and realisticly detailed passenger train cars. At Wheels of Time, we research original equipment and recreate it with CAD software for production. We're lovers of history and sticklers for detail. On our line of Transit Motor Coaches (a fancy way of saying "buses"), even the destination *roll* signs are historically accurate. Be sure to check out all our beautiful and accurate products. We hope you'll come to share our passion for trains, here recreated in miniature. At Wheels of Time, you get to take home a piece of a fascinating history.
Wheels of Time manufactures historically accurate model trains, vehicles, and model railroad accessories with a real *wow* factor. Our obsession with detail and historical accuracy is reflected in our exceptional design and production: hold a Wheels of Time model in your hand and you'll be tempted to say, 'It's the real thing!'
Item created by:
nscalemodeler160
on 2016-04-14 14:11:19. Last edited by
gdm
on 2021-07-10 14:16:35
If you see errors or missing data in this entry, please feel free to
log in
and edit it. Anyone with a Gmail account can log in instantly.