Model Information: This model appeared sometime in the late 1960s or possibly as late as 1970. We know it was advertised in the Arnold 1970/71 catalog. It comes with truck-mounted Rapido couplers and deep-flange blackened metal wheels. The trucks are attached to the frame with screws.
It was offered until the early 2000s.
Prototype History
: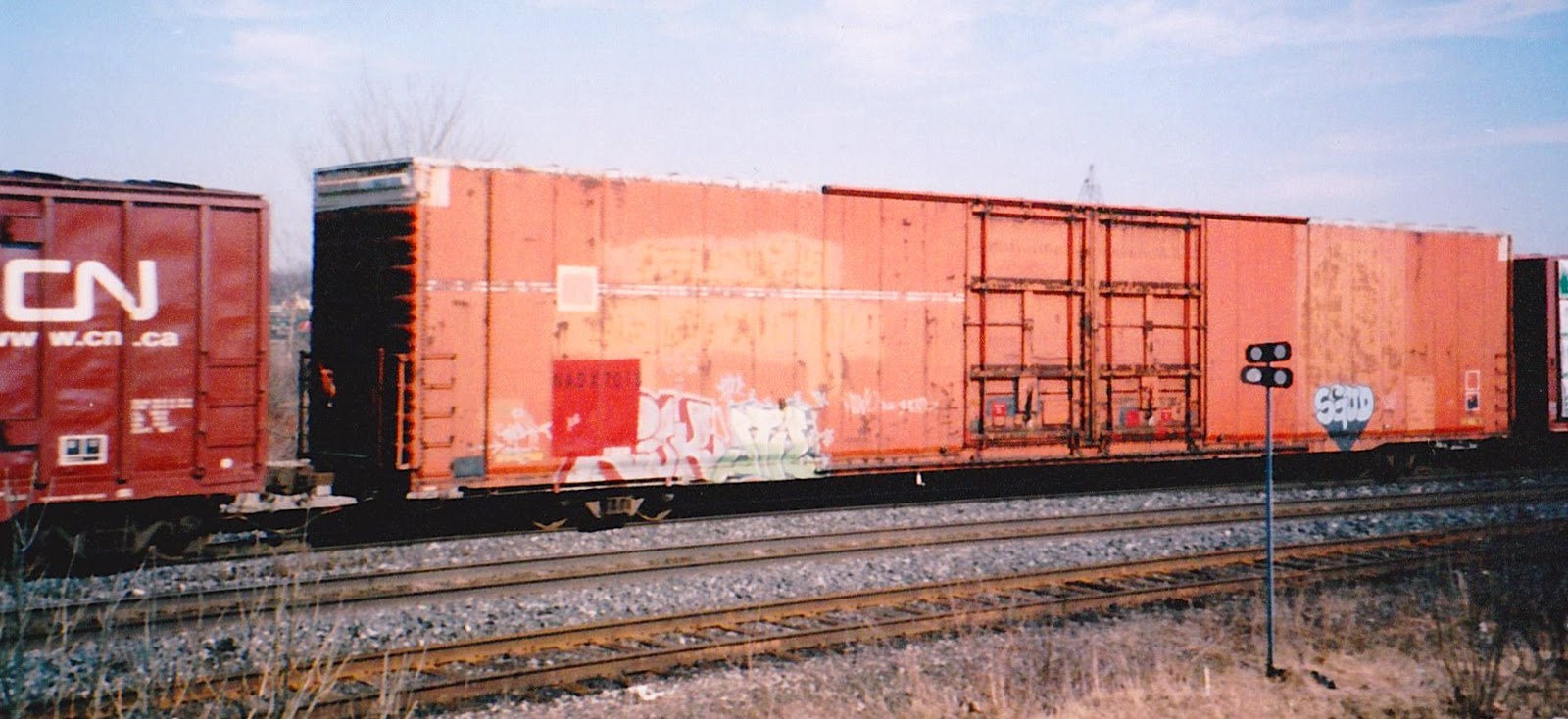 The three major automobile manufacturers in the United States, Chrysler, Ford, and General Motors, each developed specifications in the 1960s for specially built boxcars to transport automobile parts (not actual cars). They stated, if you build this type of car, your will be welcome to pick up and drop off parts at our plants. Thousands of these cars were built in the 1960s and 1970s. Three railcar manufacturers, Greenville, Pullman-Standard and Thrall took up the challenge and constructed 86 foot boxcars.
These cars are not only distinctive for their length (86 foot, also listed as 85 foot) but also for the fact that they were designed for a post-roofwalk world so they took advantage of the fact they didn't need to leave room for the roofwalk and instead are simply built taller. Hence they are considered High-Cube cars. They come in two major varieties: 8-door and 4-door. The eight door types were typically made for use at GM plants and have two sets of 9 foot doors on each side. When these doors are full opened, they created a pair of 18 foot opening on each side of the car. Their 4-door sisters, as specified by Ford and Chrysler, had one pair of 10 foot doors centered on each side, permitting a 20 foot opening.
As containers gradually replaced these cars for use in the auto industry, many were re-purposed for use in other industries that involve low-density commodities such as scrap paper.
Road Name History
: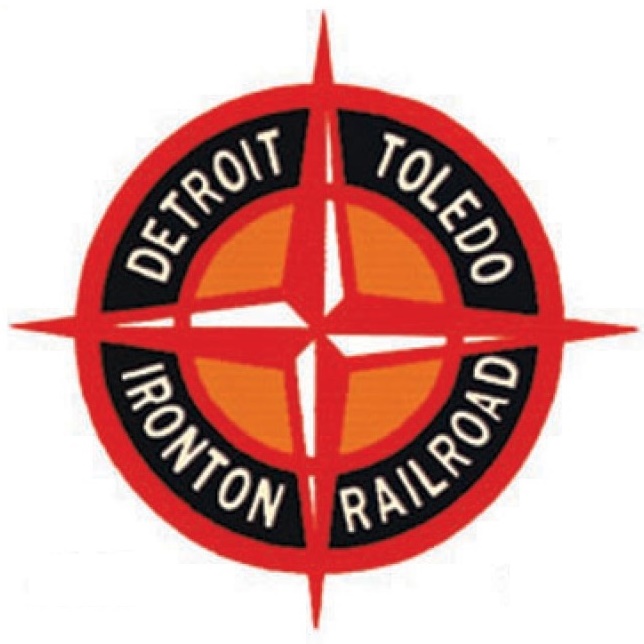 The DT&I was born in 1905 with the sale and reorganization of the Detroit Southern Railroad. Beginning in Detroit, the DT&I carved a huge northwest to southeast arc around western Ohio, serving Lima (like the bean, not Peru), Springfield, Jackson, and finally the Ohio River port of Ironton on the Kentucky border. Toledo was reached via a short segment of trackage rights on the Ann Arbor.
In 1920, as part of a complicated solution to realigning a shipping channel that served Henry Ford's River Rouge plant, Ford bought the DT&I. The Ford years brought a ban on facial hair, uniform white hats and an expectation that crews keep their overalls clean and tidy. He also strung catenary and bought heavy electric locomotives for a 17 mile line segment between his River Rouge plant and Carolton, Michigan. During this period, the DT&I closed for business on Sundays. In 1929, Ford sold the line to Pennroad Corporation, a holding company affiliated with the Pennsylvania Railroad.
The steam fleet of the DT&I was a pretty homely lot. 2-8-0s and Russian Decapods were the kings of the road for the first few decades. As the tide of traffic turned from coal and minerals from the south end of the line to automobiles from the north end of the line, DT&I went to Lima Locomotive Works for faster stronger 2-8-4 Berkshires. Although the DT&I Berks were light and stumpy by Berkshire standards, they were a bit too much for DT&I's physical plant so their final steam orders were for very heavy Mikados ( 20 tons heavier than USRA Heavy Mikes.) By 1955, they had completely dieselized with 37 EMD GP7's and GP9's setup for short hood forward operation (interesting given their ties to the Pennsylvania Railroad who preferred long hood forward operation) and 24 various EMD switchers.
The DT&I diesel fleet has always been solid orange but the logo on the long hood was smaller and more reserved in the 1950s. Second generation diesels included 8 GP35's, 21 GP38's, 6 GP40's, 5 SD38's (used in hump service,) 8 GP38-2's, and 20 GP40-2's. Features included a general lack of dynamic brakes and nose mounted gong style bells (a feature familiar to fans of Chicago & North Western.)
The freight car fleet was very, very colorful. Often, special colors were used to identify groups of cars for large customers. Ocean blue boxcars were for General Mills, Army green went to a paper mill on the Soo Line, yellow went to Campbell Soup, and of course, the auto parts cars which came in sky blue, cypress green, and magenta.
In 1963, and with control having been passed from Pennroad to The Pennsylvania Company (another holding company at arms length from the PRR,) the DT&I gained control of the Ann Arbor from their parent Wabash, turning the AA orange. This was part of the complicated arrangements made in the run up to the Penn Central merger. PRR needed to end their control of Wabash but wanted to hold onto DT&I and Ann Arbor. DT&I control ended in 1973 when AA declared bankruptcy.
In 1976, the DT&I was profitable even though parent Penn Central was in bankruptcy. Therefore DT&I was not included in the Conrail consolidation. In fact Conrail gave DT&I trackage rights on their lines from Springfield to Cincinnati, which gave DT&I even more Ohio River access as well as friendly connections with Southern and Louisville & Nashville. Meanwhile, The Pennsylvania Company, stripped of its Penn Central parent, put the DT&I up for sale. Grand Trunk Western offered to buy it and Chessie and N&W offered to jointly buy it. The ICC went with Grand Trunk Western and the sale was completed in 1980. Some locomotives were painted in GTW blue and red but with DT&I logos. In 1983, the DT&I officially merged into GTW.
Brand/Importer Information
: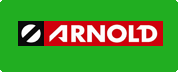 Founded in 1906 by Karl Arnold in Nuernberg, K. Arnold & Co. began its life producing tin toys and related items. They produced an extensive line of model ships, doll house items and other toys. In 1935, K. Arnold & Co. hired Max Ernst as their managing director. Ernst, not to be confused with the German realist artist of the same name, was a significant factor in the future of Arnold.
There are several distinct phases of Arnold's model train production. In the period of 1960 - 1962, Arnold marketed the Arnold Rapido 200 product line; this line was very crude yet it also was a sensation because of its much smaller size than TT.
The next phase was from 1963-1967, when the rapido product line begins to swing toward scale representations of the trains. It is during this period that the "Rapido Coupler" comes into production, beginning its widespread use by all model train manufacturers in N-Scale. It was in 1964 that the term "N-Scale" came into use. Between 1968 and 1970, rapido line of trains reached maturity, notably with its turntable and roundhouse. Arnold entered into a business relationship with the U.S. company Revell around 1968, beginning the marketing of Revell Rapido model trains. This relationship was marked by the beginning of production of more accurate North American prototype models by Arnold. This relationship continued for several years, ending in the late 1960s or early 1970s. Arnold continued their expanded production, with new models until the early 1990s.
On Max Ernst's 1976 retirement, Arnold employed perhaps 200 to 250 people, using three facilities in the Nurnberg area. The Company continued under family control until 1995, when Arnold went into bankruptcy and was sold to Rivarossi of Italy. Rivarossi, in turn, also went bankrupt, leading to the sale of all assets to Hornby of the United Kingdom. Production is carried out in China.
Item created by:
RoadRailer
on 2017-03-02 18:19:42. Last edited by
gdm
on 2020-05-28 16:31:10
If you see errors or missing data in this entry, please feel free to
log in
and edit it. Anyone with a Gmail account can log in instantly.