Company History
: The St. Louis Southwestern Railway (reporting mark SSW), known by its nickname of "The Cotton Belt Route" or simply Cotton Belt, is a former US Class I railroad which operated between St. Louis, Missouri, and various points in the states of Arkansas and Texas from 1891 to 1992.
The Cotton Belt was one of the lines comprising the railroad empire acquired by financier Jay Gould in the last quarter of the 19th century; according to the Handbook of Texas,
By 1890 Gould owned the Missouri Pacific, the Texas and Pacific, the St. Louis Southwestern, and the International-Great Northern, one-half of the mileage in the Southwest.
The railroad was organized on January 15, 1891, although it had its origins in a series of short lines founded in Tyler, Texas, in 1870 that connected northeastern Texas to Arkansas and southeastern Missouri. Construction of the original Tyler Tap Railroad began in the summer of 1875.
On October 18, 1903, the Cotton Belt gained trackage rights via the Thebes Bridge and the Missouri Pacific Railroad along the eastern shore of the Mississippi River to reach East St. Louis, Illinois, and then used Terminal Railroad Association trackage rights into St. Louis. The Cotton Belt also operated a yard and a locomotive servicing facility in East St. Louis, just east of Valley Junction, and south of Alton and Southern Railroad's Gateway Yard, and north of Kansas City Southern's East St. Louis Yard. They also had a freight station in downtown St. Louis. Union Pacific Railroad now operates the yard (still named "Cotton Belt Yard"), but the engine servicing facilities have been demolished.
The Cotton Belt and subsidiary St. Louis Southwestern Railway of Texas together operated 1,607 miles of road in 1945; 1,555 miles in 1965; and 2,115 miles in 1981 after taking over the Rock Island's Golden State Route. In 1925 SSW and SSW of Texas reported a total of 1474 million net ton-miles of revenue freight and 75 million passenger-miles; in 1970 it carried 8650 million ton-miles and no passengers.
The Southern Pacific Company gained Interstate Commerce Commission approval to control the Cotton Belt system on April 14, 1932, but continued to operate it as a separate company until 1992, when the SP consolidated the Cotton Belt's operations into the parent company. Cotton Belt diesel locomotives from 1959 on were painted in Southern Pacific's "bloody nose" scheme - dark gray locomotive body with a red "winged" nose. "Cotton Belt" was painted on the sides and in later years the letters "SSW" were painted on the nose.
In 1996 the Union Pacific Railroad finished the acquisition that was effectively begun almost a century before with the purchase of the Southern Pacific by UP in 1901, until divestiture was ordered in 1913. The merged company retains the name "Union Pacific" for all railroad operations. Many former SSW locomotives are used by Union Pacific today, although few still sport unmodified "Cotton Belt" paint. Most of the remaining units have been repainted into the UP scheme, while others wear patched SSW paint with a UP shield logo and new numbers applied over the SSW number.
From Wikipedia
Successor/Parent History
: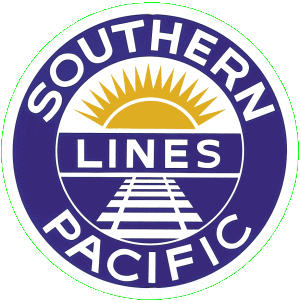 The Southern Pacific Transportation Company (reporting mark SP), earlier Southern Pacific Railroad and Southern Pacific Company, and usually called the Southern Pacific or (from the railroad's initials) Espee, was an American Class I railroad. It was absorbed in 1988 by the company that controlled the Denver and Rio Grande Western Railroad and eight years later became part of the Union Pacific Railroad.
The railroad was founded as a land holding company in 1865, later acquiring the Central Pacific Railroad by lease. By 1900 the Southern Pacific Company was a major railroad system incorporating many smaller companies, such as the Texas and New Orleans Railroad and Morgan's Louisiana and Texas Railroad. It extended from New Orleans through Texas to El Paso, across New Mexico and through Tucson, to Los Angeles, through most of California, including San Francisco and Sacramento. Central Pacific lines extended east across Nevada to Ogden, Utah, and reached north through Oregon to Portland. Other subsidiaries eventually included the St. Louis Southwestern Railway (Cotton Belt), the Northwestern Pacific Railroad at 328 miles (528 km), the 1,331 miles (2,142 km) Southern Pacific Railroad of Mexico, and a variety of 3 ft (914 mm) narrow gauge routes.
In 1929 SP/T&NO operated 13848 route-miles not including Cotton Belt, whose purchase of the Golden State Route circa 1980 nearly doubled its size to 3,085 miles (4,965 km), bringing total SP/SSW mileage to around 13,508 miles (21,739 km).
By the 1980s route mileage had dropped to 10,423 miles (16,774 km), mainly due to the pruning of branch lines. In 1988 the Southern Pacific was taken over by D&RGW parent Rio Grande Industries. The combined railroad kept the Southern Pacific name due to its brand recognition in the railroad industry and with customers of both constituent railroads. Along with the addition of the SPCSL Corporation route from Chicago to St. Louis, the total length of the D&RGW/SP/SSW system was 15,959 miles (25,684 km).
By 1996 years of financial problems had dropped SP's mileage to 13,715 miles (22,072 km), and it was taken over by the Union Pacific Railroad.
Read more on
Wikipedia
.
Brief History
: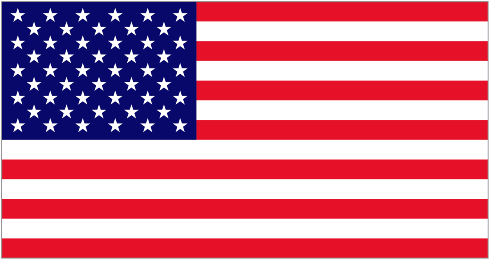 The U.S. is a country of 50 states covering a vast swath of North America, with Alaska in the northwest and Hawaii extending the nation's presence into the Pacific Ocean. Major Atlantic Coast cities are New York, a global finance and culture center, and capital Washington, DC. Midwestern metropolis Chicago is known for influential architecture and on the west coast, Los Angeles' Hollywood is famed for filmmaking.
Item Links:
We found: 4 different collections associated with
Cotton Belt - Railroad
Item created by:
gdm
on 2017-10-10 09:56:13. Last edited by
nscalestation
on 2018-04-29 19:15:07
If you see errors or missing data in this entry, please feel free to
log in
and edit it. Anyone with a Gmail account can log in instantly.